Building a buzz with book snaps
Susan Stephenson shares ideas for creating a buzz around library books through easy-to-make images.
---
Essentially, a book snap is about grabbing a short quote from a book and creating a shareable image about it. Typically, people take a quick snap or screenshot (if the text is digital) of something they are reading. Once it is an image, they add to it other images and text, then save and share it. While Snapchat has often been used for the sharing aspect, it doesn't need to be the only option. Book snaps can be annotated with text as simple as 'Love this part!' or 'Funny!' Or the text might be a sentence that summarises a section, a paragraph, a chapter or even a whole book — this is a really useful skill for students to develop. Many people add an image of the book cover to make sure they include the names of the author and illustrator.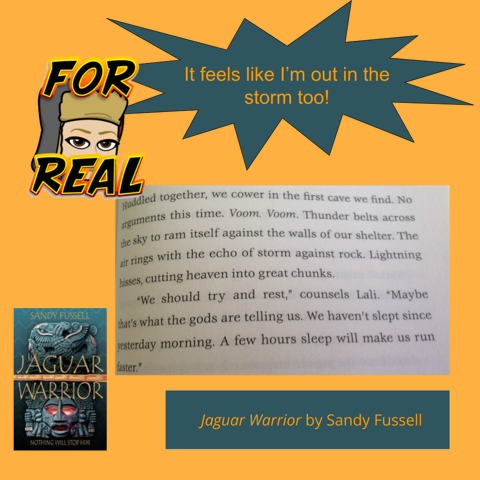 Why a book snap?
Book snaps are fun, and an excellent way to communicate visually. There is a social aspect when students share with each other, as they come across something they notice, like, or make a judgement about. Book snapping is also an opportunity to integrate technology with literature and literacy. It is much faster than writing a book report, but is still an authentic way to respond to text, be an active reader, and potentially read and communicate more. I love that book snapping is a natural extension of what kids and adults do naturally — that is, share their comments on the content they consume.
But what about copyright?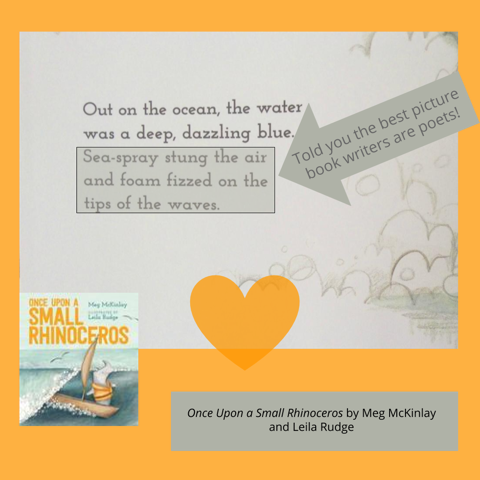 Book covers, illustrations and text are copyright to their creators, and I know teachers and librarians want to respect that, and model that for kids. I am conscientious about my own handling of copyrighted material in my book reviews at The Book Chook. I acknowledge the author and title and, as my purpose is to review, or make a judgement of the work, I consider this to be fair dealing. It is important for schools to ensure that their own approach adheres to copyright principles. You can find more information at the Australian Copyright Council. You can also read about the special agreement covering libraries and book covers.
So, how can you make a book snap?
You start with a tablet or computer. You also need something that can take a photo of a physical book or a screenshot of a digital book, and software to edit the image. Tablets and computers usually have regular image-editing software, tools, apps, or a combination of all three. You will also need a way to share the completed image with your intended audience. Here is the process I followed to make my sample book snaps by using the freely available software Google Drawings (drawings.google.com).
Take a picture of your chosen book
Take a picture of the front cover and/or the page you want to feature. You could choose to take a picture of a quote or a particular page from your book; perhaps you have found something that is really important to you. This might be via a screenshot if the reading is online, or via a tablet, phone or other camera.
Choose an image-editing program
There you can upload what you need to your workplace or canvas for the rest of the book snapping. For example, if you are using Google Drawings, you can set up your canvas/page to the dimensions you want. For my book snap images featured in this article, I chose an orange 1000 x 1000 px square. To change your canvas size, click on File/Page Setup, select 'Custom' and enter your chosen dimensions. To change the background colour, simply right-click on the canvas, click on 'Background', and choose your desired colour.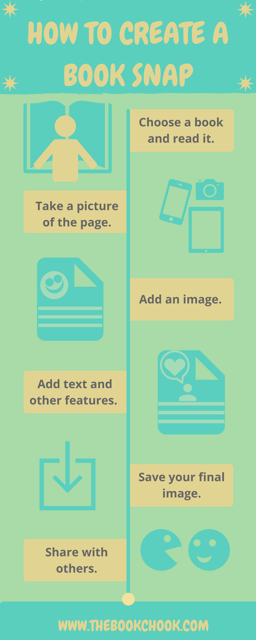 Add other images
For example, it is great to find an extra image that adds some emotion and colour to the book snap. I sometimes use the Bitmoji app on my iPad. If I want to use it, I save my chosen Bitmoji image and share it with myself. The Bitmoji Chrome Extension makes this even faster.
Other fun images can be smileys, clip art, avatars, and drawn or digitised images — anything you have saved to your device that you have the right to use.
Add text annotations and other features
In Google Drawings, this is a matter of using the textbox tool, positioning the text (for example, over a speech bubble or another shape) then choosing font, colour and size. The shapes menu in Google Drawings has arrows, callouts and a range of other shapes. It's useful to use rectangles and make them slightly transparent in order to make text stand out a little more. You can also embed a link via the 'Insert' menu. With a tablet, you can annotate by 'handwriting' and 'drawing' on the screen.
Save your final image
It is important to remember to title the image and save it to your device.
Share with others
The digital sharing aspect will depend on each school's or student's situation. I have read about sharing via class blogs, a class Snapchat account, a Padlet gallery, and Google Slides. A scrolling slideshow on a computer in a display area is another way of reaching a wider audience. Or, how about a noticeboard outside the library with printed book snaps?
Where can I find out more about book snaps?
Teachers are also using book snaps, perhaps to share what they are learning in their own professional development. The principles are the same as with students, although there is probably more emphasis on text when teachers share with each other. If you are part of a group or network that would be interested in commenting on part of a book or your online reading, book snapping is an almost instant way to communicate with them. On Twitter and Instagram, people use the hashtag #BookSnaps to share their images.
Tara M Martin, a US educator, started the book snap phenomenon and has many how-to videos on the 'Resources' tab of her website.
St Rita's College in Queensland have posted several book snaps on their library website and on their Instagram and Twitter accounts (@StRitasLibrary). In my opinion, they have elevated book snaps to an art form.
There is a great quote, often attributed to Einstein: 'Creativity is intelligence having fun'. As well as being fun, book snapping is one way for your students to share their reactions to the books they read. Why not build a buzz with book snaps and have a display or competition? Book snapping is a quick, easy and visually interesting way to share the joy of reading.
Image credits
From Jaguar Warrior
Text © 2010 Sandy Fussell
Reproduced by permission of Walker Books Australia
From Once Upon a Small Rhinoceros
Text © 2017 Meg McKinlay
Illustrations © 2017 Leila Rudge
Reproduced by permission of Walker Books Australia