School libraries and e-learning: where synergy equals opportunity
Anita McMillan explores the synergy between libraries and learning management systems, promoting e-learning as a skill in which school library staff should invest.
---
E-learning is gaining momentum in schools, and opportunities abound for school library professionals to support and even lead in this area.
School library staff are highly regarded for their information, critical and digital literacy skills, and well known for their early adoption of new technologies. Those school library staff who proactively engage with new technologies, as well as assisting others with their learning and becoming involved in decision-making processes, will undoubtedly succeed as leaders.
My school's story 
Just over two years ago, I was approached by the principal to form and lead an E-learning Strategy Group for the school. I jumped at the opportunity and set about electing departmental representatives who could work together, but had quite different perspectives reflecting their teaching, administrative and managerial backgrounds.
Our first port of call was to define e-learning. In researching the concept, we quickly realised it means very different things to different schools and, in fact, different things across industries. Our focus became how we ourselves could create content and resources for our teaching and learning, and how to facilitate students' ability to create, not just consume.
Being involved in a process such as this is but one way to further demonstrate the professional skill, knowledge and understanding of our school library staff.
Consensus was reached regarding our college-wide desire to have a new learning management platform. Our custom system hadn't been updated in years and we were aware that plenty of products in the marketplace offered so much more than content management. Over a 12-month period, the E-Learning Strategy Group investigated contemporary learning management systems (LMS) to support the delivery of our Prep to Year 12 curriculum. Below is a snapshot of the selection process we followed, which may be of assistance if you are thinking about undertaking any project implementation in your school library. The synergy between an LMS and an integrated library management system is undeniable. (Please note that vendor and product identification information has been omitted from this article intentionally.)
Finding the right learning management system
Initial research
We combed the internet to work out what other schools and universities, both in Australia and overseas, were providing for their academic environment. Schools were contacted by phone and email to determine whether they had a dedicated LMS and, if so, which vendors and products they use. We set up a collaborative Office 365 team site to capture our findings.
Sandbox/trial sites
Following the initial research, a number of LMS products were considered for trial. Vendors were asked to supply a trial site or 'sandbox' for interested staff to access. Login details were shared with the E-Learning Strategy Group and members were encouraged to test out each LMS.
Demonstrations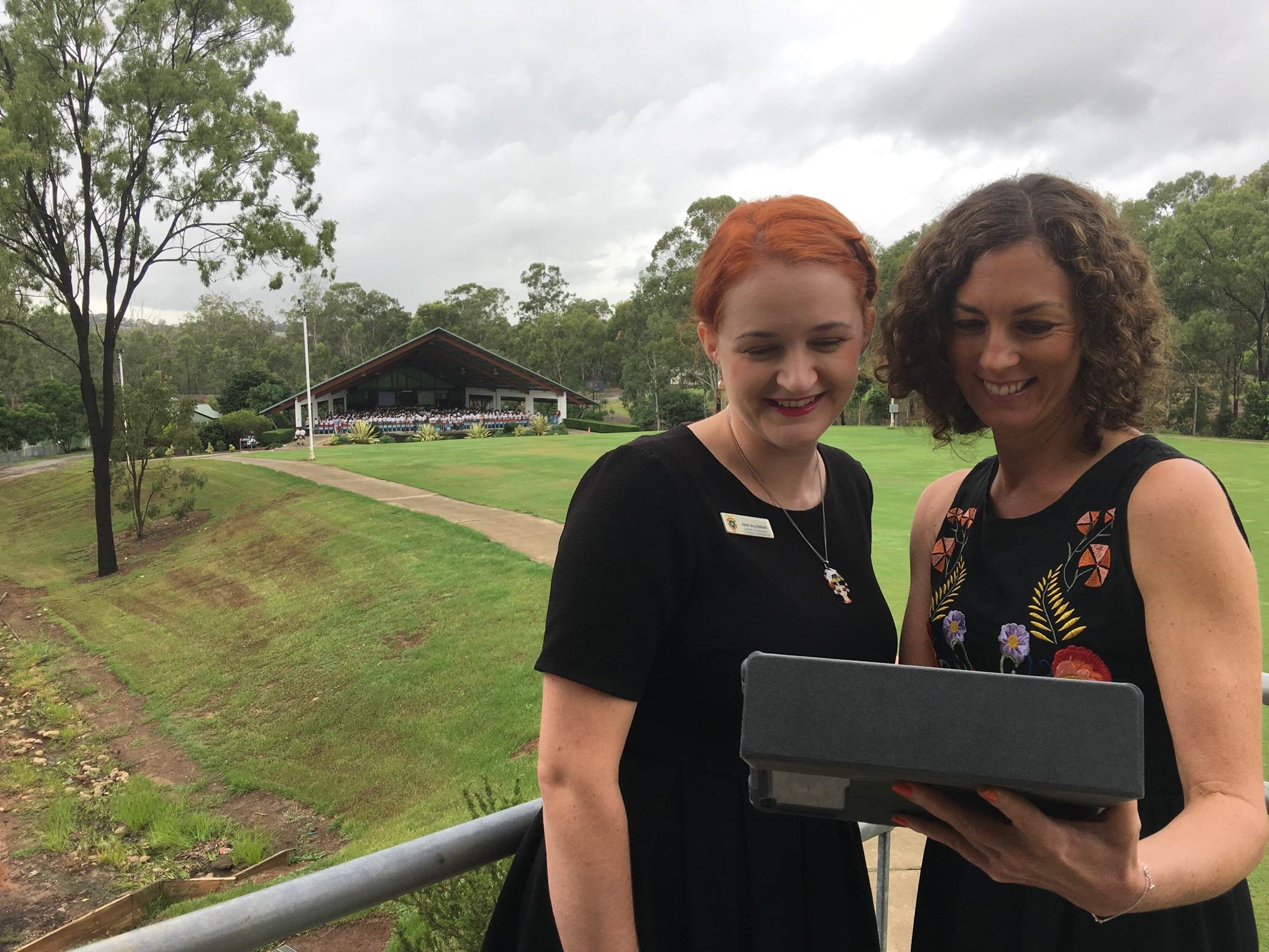 As a result of the LMS trials, four vendors were asked to provide online demonstrations of their products to the strategy group. We then selected three finalists, who were asked to provide onsite demonstrations of their LMS to more than 30 staff members, including the E-Learning Strategy Group, heads of departments, junior school team leaders and other selected staff.
Staff surveys
Feedback from staff was sought throughout the onsite demonstration process, with surveys completed after each demonstration. A summary of the feedback was included in the collaborative team site.
Showcase school visits
The opportunity to connect with other schools and explore their LMS environment in person was integral to our selection process. Staff at four schools spent hours demonstrating their LMS and student management systems, and their efforts were truly appreciated.
Other schools' success factors
Noteworthy success factors at the showcase school visits included: accessibility to devices through college-supplied laptops or Bring Your Own Device (BYOD) programs a strong existing culture surrounding the use of digital technologies and a clear vision for their LMS infrastructure to support access dedicated deployment resources including e-learning leaders, trainers and lead teachers bottom-up and top-down approaches, including dedicated professional development time, new staff appointments to lead implementation and training, retirement of previous systems, and a staged approach with clear timelines.
Identified risks and challenges
To ensure successful implementation and take-up of the new LMS at our college, a number of challenges needed to be overcome:
Choosing between on-premises or cloud-hosted LMS — whether the college could support either option
Breadth of project scope — some LMS were purely teaching and learning tools, and some were all-in-one school solutions
Access during class — ensuring there was enough equipment for students to access the LMS and that login procedures were simple and quick
Access from home — ensuring that students had at-home access to the internet
Implementation resources — giving thought to what our design would be; how we would roll out the system; what training staff would need; what the communication strategy for staff, students and our families would be
Look and feel — implementing single sign-on; creating professional branding; ensuring minimum standards for course and class pages
Current data quality — considering whether the data in our student management system was accurate and whether the new system would seamlessly integrate with current systems.
Risk mitigation
The college is subject to limited and constrained internet access, which was an important consideration when we evaluated cloud-based application suites. One particular LMS provided a number of deployment scenarios that would allow us to mitigate likely problems. It could be deployed in the cloud or on premises, thereby avoiding any potential internet bottlenecks that could affect performance and response times.
Costs
Costs were analysed over a projected five-year period. Quotes included initial implementation, training, ongoing support and yearly licences (fee per student).
Our decision
One of the finalists was a pure teaching and learning portal. The other was a one-stop-shop community and education portal. Given that the school wished to retire its current system, the latter was the logical choice. To ensure a clear and transparent process, a vote was put to the E-Learning Strategy Group. The result was a majority vote for the all-in-one solution.
Recommendations to the executive
Three members of the E-Learning Strategy Group were then called upon to present recommendations to the executive team. It was recommended that the college choose the all-in-one system, and to implement it over a number of terms, one portal at a time. The LMS would only be released to students and families after teachers were trained and given a realistic timeframe in which to add their courses. The strategy group also recommended the employment of a new digital training officer to oversee LMS operations; create templates, policies, procedures and how-to videos; and train teachers and support staff.
E-learning outcomes
A contemporary Prep to Year 12 LMS used by teachers, support staff, students and parents would enhance the college's teaching and learning experience, extracurricular program and house/ year-level systems. Teaching would be enriched through the inclusion of digital tools, media and virtual environments, which could be collated and created within the one system.
The expected business outcomes outlined:
increased efficiency in teacher practices and processes
a consistent approach to curriculum delivery across the college
the integration of digital technologies and tools across the curriculum
a reflection of current 'real-world' virtual experiences
the transition from 'chalk and talk' to e-learning that also supports face-to-face delivery
the ability for parents to access course materials to gain a better understanding of student learning and academic achievement
monetary savings on software applications that can be replaced by the new LMS (eg resource-booking software)
an analysis of student academic achievement.
Conclusion
Our college's experience in investigating and implementing a new LMS highlighted the synergy between e-learning and libraries. Library staff have always been and will continue to be early adopters and leaders, and this is set to continue as each phase of the LMS implementation occurs.
Being involved in a process such as this is but one way to further demonstrate the professional skill, knowledge and understanding of our school library staff. We feel that investing in e-learning is investing in our future, and you might find the same should you decide to implement an LMS at your school.