School library spotlight: Good Shepherd Catholic School
SCIS speaks to Helen Tomazin, WASLA award-winning library technician from Good Shepherd Catholic School in Lockridge WA, about what's happening in her school library.
---
What is your job title and what does your role entail?
In my role as library technician, I assist in organising, operating and maintaining the school library. I look after loans and acquisitions, and maintain library records and equipment. I inform users of circulation policies and procedures and generate overdue reports. My main focus is to maintain a high level of customer service to support students, staff and parents. My teacher assistant qualifications enable me to assist students in literacy, numeracy and information literacy. Patrons often need assistance in locating resources and using our library catalogue and equipment such as computers, the printer/photocopier, and the laminator. Maintaining a high level of presentation in the library also helps to create a wonderful experience for students, staff and parents.
To stay current in my profession, I volunteer as a committee member for the Western Australian School Library Association (WASLA). The committee's professionalism and dedication to its members are second to none. I take the knowledge gained through WASLA back to the library with me in order to improve our library services.
My principal is supportive of my role in learning and building relationships with the students so they feel inspired and excited to read.
What is the most rewarding aspect of working in a school library, and why?
The most rewarding aspect is the feedback we receive from our students. It is always wonderful to see their enthusiasm when they enter the library.
There are times when students do not know what book to choose, and I occasionally come across a reluctant reader. In both cases, I get to know their abilities and interests and will suggest a particular title for them. Before I know it, they have come into the library to thank me.
This is the best reward I can receive.
What do you see as the most important part of the library's role in the school community?
The library is the central hub of the school, where students, teachers and the community get together to enjoy literature and learn. It should be a modern learning space where students can create, experiment, relax, and feel inspired. To do this, we need to engage with, listen to, and get to know our students.
We need to demonstrate a supportive culture for students, staff and the community. We are here to help students in all aspects of their learning, including literacy, numeracy and information literacy skills. It's important that library resources are aligned with the curriculum and available to all staff.
The library should feel like a safe and comfortable place for students to learn and to discover and develop their imagination and problem-solving skills; it should encourage curiosity and innovation.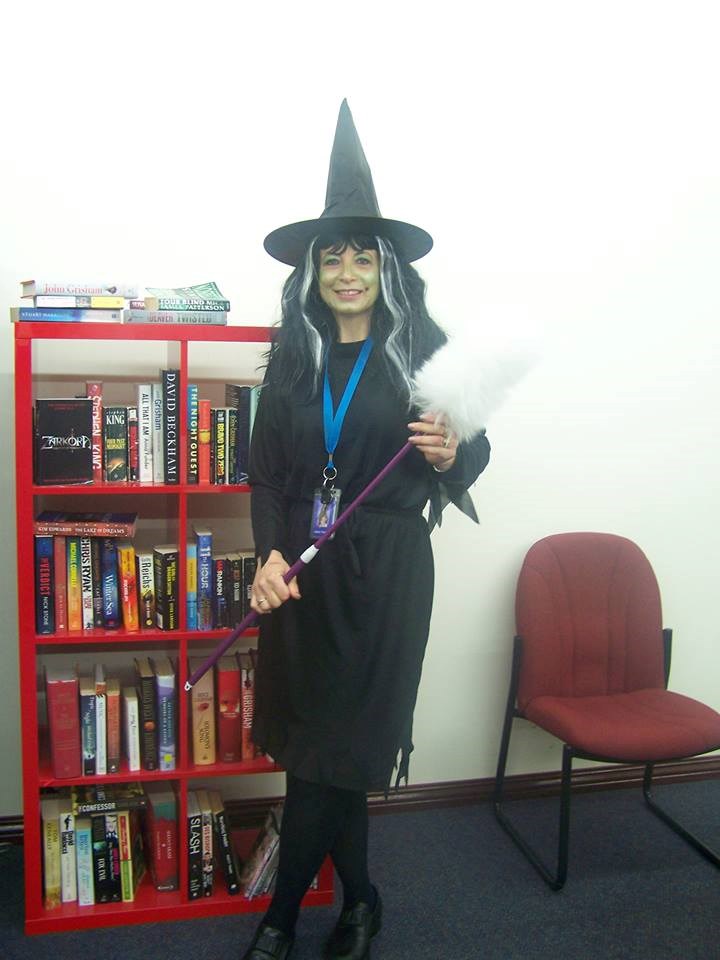 Are there any current issues or challenges facing the library?
One issue we recently faced was where students were unable to borrow books on a Friday as the library was not staffed. To overcome this challenge, we have set up a self-checkout for the students and they are now using this self-checkout with much enthusiasm. This has been a great success for our staff and students.
How do you promote reading in your school?
We are very fortunate to have an excellent school leadership team that supports and promotes a love of reading and literacy. We have a variety of reading programs and initiatives including Literacy Pro, Reading Mastery and Reading Recovery. We have dedicated staff who support and promote reading and literacy in our school. There is a teacher reference area, and I regularly collaborate with teachers to provide them with new reading and literacy resources.
We run various events including Book Week, Book Fair, and National Simultaneous Storytime (NSS). Our principal is very supportive of these events. During NSS, he reads the chosen book to our lucky pre-primary and kindy students and then to the whole school, during assembly. This is fantastic modelling for our students, and we find many requests for the book afterwards.
We also have displays of new, interesting and creative books in the library, classrooms, resource areas, and even in the staffroom. This creates a positive environment for reading, allowing students to spend more time reading and interacting with books. I also share the knowledge I have gained from WASLA. All staff share the same passion to have students become lifelong readers, and as a result we have a wonderful school culture of promoting reading and literacy.
How do you encourage students to make use of the library?
It is wonderful to see all the students make use of our library during class time and during the day. We make a constant effort to stock the library with the latest and most popular books, as well as the classics. We especially cater for reluctant readers; for example, with graphic novels, which students love.
The students love the many comfortable areas to read including reading corners, couches and beanbags. There is plenty of natural light and it is a very welcoming place. It's important for students to feel welcome and safe when they enter the library.
When students borrow books, I always ask for feedback on the titles they read. This is important because we need to be role models for the students and show interest in their reading, which allows us to better cater for their needs. We are also happy for students to suggest books for us to purchase.
What is your favourite thing about SCIS?
Having the SCIS subscription is wonderful as I can add resources to the catalogue much faster than if I had to create the records myself. The library is busy and having SCIS saves us so much time. I love the new SCIS Data website — it is very easy to navigate. I particularly enjoy their professional learning webinars available to users. SCIS is also doing an amazing job cataloguing resources relevant to the Australian Curriculum, with new records always available to download. The SCIS team is professional, resourceful and efficient. I recently needed some assistance and they were able to sort out my issues within 24 hours — sometimes even within an hour.