Unique libraries: The School of St Jude in Tanzania
Read this report written by our friends at St Jude's to see all the things the school's three libraries are doing with few resources but great dedication to their students. If you would like to support their efforts with books – or even volunteer at the school in the future – see below.
---
The School of St Jude is a unique school that is home to three unique libraries.
St Jude's is located in Arusha, Tanzania. The school provides 1,800 bright students from poor backgrounds with free, quality education. Established in 2002 with just three students, St Jude's now stretches across three campuses. There is a primary school, a girls' O Level school (the first four years of secondary) and another secondary school, which comprises boys' O Level and  co-educational A Level (the final two years of secondary). Each  of the schools has its own library.
In Tanzania, school libraries are few and far between. The staff in our three libraries have a challenge on their hands – to provide our students with quality library resources and services with a limited budget. 'We have beautiful libraries,' smiles Miss Judith, the librarian at our girls' secondary school. 'Now, we are putting more focus on getting the right materials for our students.'
'We always love when people donate books on our wishlist. And we love to welcome experienced library volunteers,  people who would like to see what we're doing and share their recommendations and expertise,' Miss Judith says.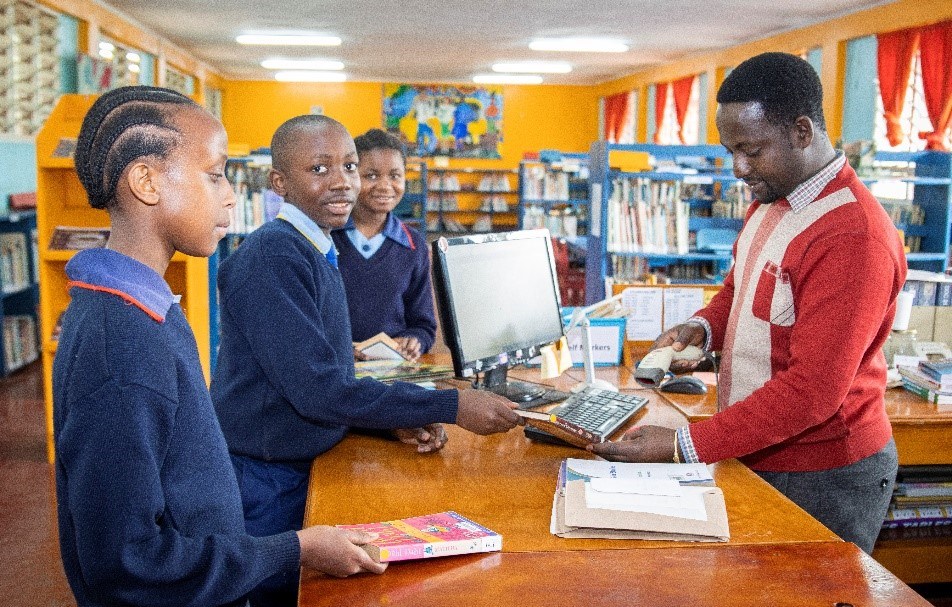 Primary Library
Mr Forehead is St Jude's primary library teacher. He's never met another Tanzanian with the same job. 'It is not a common role,'  he laughs. 'I don't know any others.'
Mr Forehead has worked at St Jude's for 13 years, starting  as a library guard. Then he completed a diploma and Bachelor of Teaching. Today, he mainly teaches library classes. 'I teach students how to utilise the library, how to find books, how to borrow and how to take care of the books,' he explains. 
When students begin at St Jude's, in Standard 1 or 2 (the first years of primary school), it's usually their first time in a library.  'When they first arrive, they are so excited about the library,' explains Mr Forehead. It's also their first time speaking English, as St Jude's is an English medium school, where all subjects (except Kiswahili) are taught in English. The libraries play an important role in helping students learn the new language. 'Reading definitely helps them to improve their English,' says Mr Forehead. 'You'll see when they start, you give them a book and they'll just know one or two words, and then over time, as we read more and more, it just improves so much.'
Mr Forehead has lots of ideas for encouraging reading.  'The students have reading competitions and then they make presentations about what they have read. And I always remind them to bring their library bags so they can borrow a book to read at home. And the young ones especially, I give them stickers when they finish a book, which gives them a lot of motivation. I also remind them to read the right books for their level, so they don't get discouraged,' he says. 
Mr Forehead's enthusiasm for reading is particularly remarkable given that his own school did not have a library.   'We had a few books in boxes which were kept in the headmaster's office and if you wanted to borrow a book, you would have to ask the headmaster. A year might go by without anyone borrowing the books and then you would find they had been spoiled,' he recalls.
Girls secondary library
Miss Sylvia is the Library Assistant at St Jude's Girls' Secondary School library. She takes a keen interest in her students to help them thrive in their first four years of secondary education.
Miss Sylvia's efforts are rewarded as she sees their appetite for reading bloom. 'My students are big fans of novels. The most popular books are those in the Twilight series by Stephenie Meyer and the Mortal Instruments series by Cassandra Clare,' she says. But, Miss Sylvia isn't content to leave her students to read only the most popular books. 'I get to know students and staff members, so when they visit I can tell them about the certain things they're interested in. So, students start to think, "Oh, Miss Sylvia is really interested in me," and it makes them feel important, that I care about them.'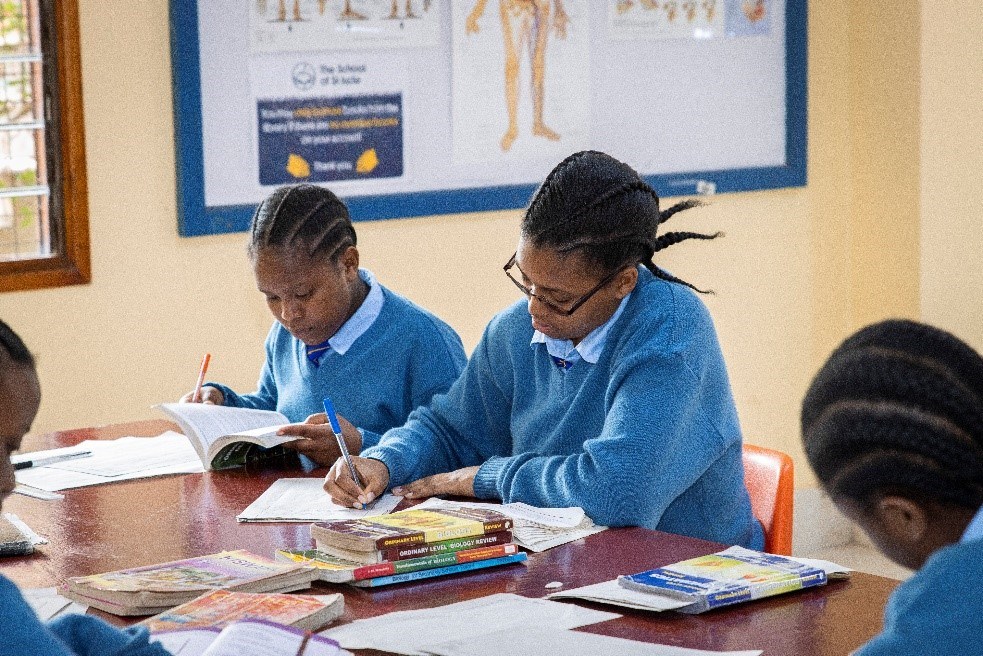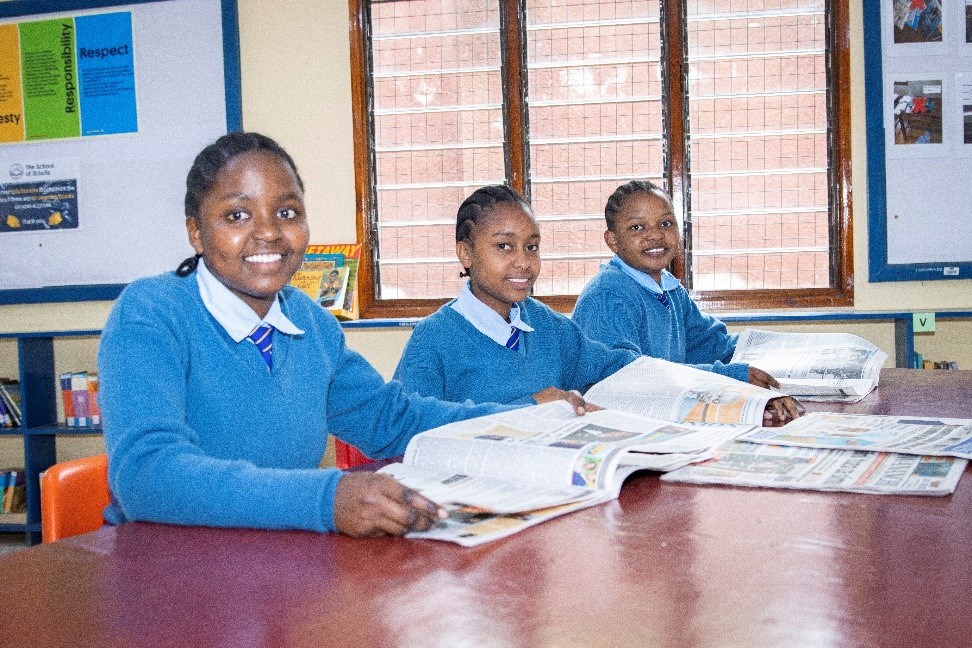 In St Jude's libraries there are more than books on offer.  The secondary libraries in particular are hubs for other activities. During breaks and after school, the libraries are full of students studying. 'In addition to borrowing and reading, they can use the computers for research, use the reference books and read newspapers,' explains Miss Sylvia. While St Jude's has computer labs and classrooms, our students do not have the same, constant access to computers as most Australian students, so the library computers are popular additions. 
The libraries also contribute to the school's thriving program of extracurricular activities. 'We host the journalism club in our library once a week,' says Miss Sylvia. 'We also have games in the library, including Scrabble and puzzles, which are very popular.'
SCIS and St Jude's
For the last two years, SCIS has supported St Jude's by donating their annual licensing fee and it's made a huge difference in our libraries. 'SCIS is a great help. We can do smarter cataloguing of materials and it fits perfectly with Oliver [their library management system]. We are saving time and it makes it much easier for us to find the correct resources,' enthuses Miss Judith.
SCIS also assisted library staff with a series of webinars  in 2020 to help them get up to speed and make the most of everything SCIS has to offer. Mr Forehead recalls, 'I especially liked learning about headings and subjects and the importance  of that in the system.'
In a country without a huge network of libraries, it's been great for St Jude's library staff to have a link to experts in Australia for inspiration and learning.
The impact of COVID-19
Over the years, St Jude's libraries have been stocked with books donated by generous visitors. The school prepares a 'wishlist' of requested books each year so that visitors who wish to donate books can bring those which will be most useful.
Unfortunately, COVID-19 has reduced our international visitors from around 1,100 every year to almost zero. And no visitors means no new books. 'The biggest challenge is having enough books. The students love to read, and they've almost read all the books,' says Mr Forehead. 
In our secondary schools, there's a great need for non-fiction resources. 'On our wishlist, there's a lot of science content, because our students love science. We really need resources to support their studies in addition to the curriculum,' explains Miss Judith.
A crucial role
St Jude's strives to provide our 1,800 students with high-quality education, for free. Our libraries have a crucial role to play in this mission. They support our students' English skills, provide a safe place for study and research, allow our students to discover new worlds and help them to form friendships and gain support. 
St Jude's is incredibly grateful to SCIS for their support. With SCIS, our library staff have more time to spend with students, supporting, guiding and inspiring them as they learn and grow.
Image credits
All photographs supplied by The School of St Jude, Arusha, Tanzania © The School of St Jude, Arusha, Tanzania.
Donate
If you would like to donate books to St Jude's, please contact us  for a copy of our wishlist. We can then arrange for staff or visitors  to bring the books to Tanzania. Or, you could even visit yourself!  We would love to welcome any experienced librarians for short-term volunteer opportunities in our libraries. Please contact [email protected].
You can also visit our website www.schoolofstjude.org or follow us on social media to keep up to date with all our latest news and inspiring stories.