Why do I use Instagram to promote my school library?
Librarian Helen Farch provides compelling insight into how she uses Instagram to promote her school library.
---
'Social media can help you find new ways to interact and connect with your school community to support reading, inquiry, and digital literacy. It can promote interest and curiosity, and show that your library welcomes student involvement.' - National Library of New Zealand
Social media! Does even the thought of using social media have you reaching for a good book to read instead? Does the idea of social media have you ready to break out into a cold sweat, not unreasonably, about false news and cyberbullying? Why, I hear you asking, would I need to use social media for my school library?
Well, I am here to tell you about my experiences with social media and why using Instagram to advocate for my school library has been an overwhelmingly positive experience.
I work at Forest Hill College, a government co-educational secondary school in Melbourne with approximately 650 students. Our school library is staffed with one FTE Library Technician. This is my eighth year working at Forest Hill College, and during that time I have seen the library grow into a vibrant and busy part of our school community.
Why social media?
As part of my role, I am always looking at new ways to keep the school library relevant to our school community. This is not easy when, like many of you, I feel a degree of isolation from the rest of the school staff as I am always on duty in the library. When other staff members are able to socialise at meetings, recess or lunchtimes, I am in the library supervising students.
So, I needed to get creative in thinking of ways to make sure school leadership, other staff, students and the wider school community are aware of just what we do in the school library and how much we have to offer.
Social media is tailor-made for doing just this. It has been well established that more and more people are getting their news from social media platforms instead of traditional news sources. This means that if you want to get your news and information out there, social media is a powerful tool. I'm not saying it should be the only way to get your message out, but as part of an overall marketing and communications strategy, social media needs to feature.
As school library staff, advocating for the importance of school libraries and reading must be an important part of our role. The positive effects of social media include encouraging people to be social, to connect, to communicate, to interact and to have fun. All things that I believe are part of what a school library also strives to do. Additionally, you can use your employment of social media to model digital literacy (including creative, safe and ethical uses of social media), to support reading and inquiry, and to make contact and interact with your whole school community.
My first foray into social media for the library was with Snapchat, which only had minimal success. A few students followed the library on Snapchat but it didn't really provide any active engagement. So, I did some research and settled on Instagram as the social media platform I thought would best suit my library and my strengths. Why?
Firstly, Instagram is predominantly a visual platform – perfect for showing off our library collection, space and activities. This particularly appeals to me as I love taking photos.
Secondly, Instagram is a social media platform that appeals to a wide range of age groups – perfect for reaching the different audiences that make up the wider school community, which includes students, staff, families, and alumni.
How do I use Instagram
As I've already mentioned, I love taking photos, so even before using Instagram I was already in the habit of taking lots of photos around the library. I continue to take photos of displays, books, students doing activities (after seeking their permission first), possums found in circulation desk drawers (yes it did happen), basically anything and everything in and around the library and school.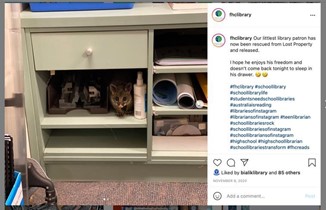 I work on posting to the library's Instagram feed twice a day from Monday to Friday during the school term, and at least once a day on weekends and school holidays. I aim to post one reel and one photo per day. But that is what suits me – you can set a posting schedule that suits you and your situation.
Instagram posts stay on your profile forever, unless you delete them. Instagram Stories disappear after 24 hours. They are a great way to capture moments throughout the day that aren't necessarily planned (like photos you post on your feed), or to share posts from other Instagram accounts. Reels are short videos where you can add lots of creative effects and music – so they are fun and creative.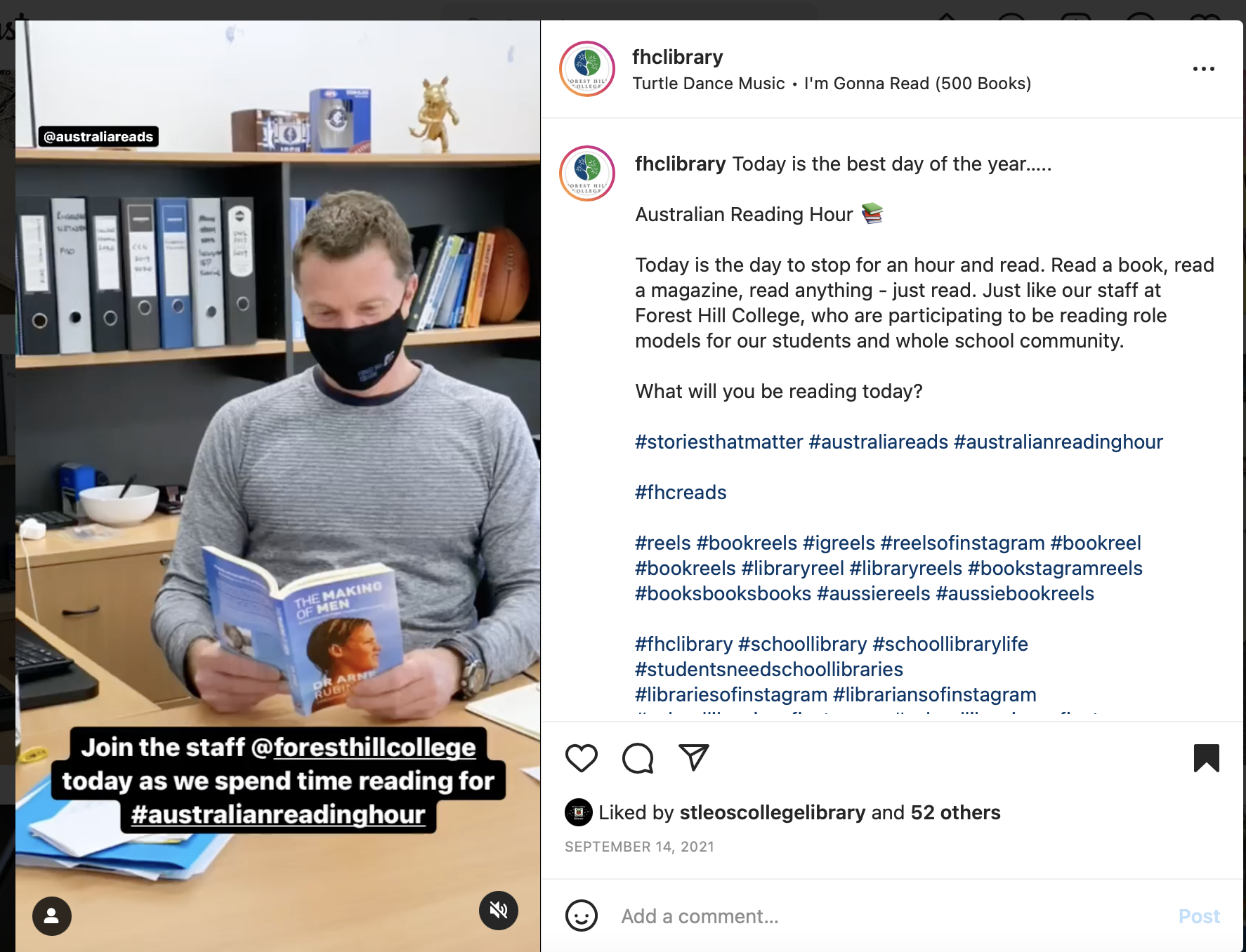 I have found Instagram a great way to promote library resources that support the curriculum, significant calendar events, and most importantly, recreational reading.
Events such as Australia Reads provide a lot of photo opportunities, and our staff (in this case, our Principal) are always happy to pose for me. I don't even have to bribe them, and our leadership team are always up for a bit of competitive fun to see whose posts get the most 'likes'.
Events such as Australia Reads provide a lot of photo opportunities, and our staff (in this case, our Principal) are always happy to pose for me. I don't even have to bribe them, and our leadership team are always up for a bit of competitive fun to see whose posts get the most 'likes'.
I particularly like to support Australian authors. I have found that posts about the library's everyday and 'behind the scenes' activities have been among the most popular.
In 2021 we did a lot of work giving our library space a makeover, so of course I documented the whole process on Instagram.
What have been Instagram's benefits
I have found using Instagram in my school library has had many benefits, both for the library and for me personally and professionally.
It has taken time, but I am finding that the mutual engagement with our student population, staff and wider school community is growing. Our students enjoy featuring in the photos I take for Instagram and are now quite used to me asking them if I can take their picture.
Staff also talk to me about photos I have posted, and request books seen on Instagram. I get other comments from staff and students on posts I make.
I have found that the Instagram account has allowed a greater connection with the wider school community, and parents sometimes message me directly through the Instagram account with questions, requests for assistance with their child or just with feedback.
Instagram has created a positive vibe for the library, and generates positive feedback from school leadership about our efforts to give the library a much higher profile in the school community.
As a professional networking tool, Instagram has allowed me to connect with many other school libraries, both in Australia and overseas. I have found this incredibly beneficial for getting new ideas to use in my library, and it always interesting to see how other school libraries do things.
Instagram has also allowed me to connect with authors and publishers. I enjoy being able to show support for Australian young adult authors by promoting their books around the world. Making connections with authors and publishers has given me the opportunity to receive advance readers' copies of books to review on the library Instagram account. These books then get added to the school library collection. And as with many school libraries, if you are working with minimal budgets, any extra book is a bonus.
On a personal level, I have found chatting to other 'bookstagrammers' rewarding and fun. It has greatly expanded my own personal reading habits and taken me outside my comfort zone with book selections. And I am already planning for a trip to Ireland to visit a good friend who I met because of Instagram.
What would I do differently?
As with most things, using Instagram for my school library has been a learning experience and I am always trying (and finding out about) new things. My five main learnings would be these.
Document a socⁱal media policy so that everyone in your library team is on the same page. My colleagues have been happy to let this be my project, but if you are sharing responsibility for the account, document things to make sure you are all aware of ethical use of the account, what you can (and do) post and how often. My school is happy to support my initiatives with social media, but I know this is not the case for all school libraries, so having a documented policy may help convince school leadership of its value and safety.
When taking photos where you can see students, I always ask them if they are happy for me to take their photo to be on the library Instagram. It is important they know they can say 'no' and what the photo will be used for. If they agree, I check if they are happy for me to show their face or not. For general photos of the library I usually use an angle where you are not able to see students' faces. If I am taking a photo of a class activity, I always ask the teacher if it is ok.
Our admin staff have a list of students who have not given permission for their images to be used for school purposes, so it is best to check if such a list exists at your school and who is on it.
If asking students or staff to provide photos of themselves doing an activity, such as reading, from outside school, check school policies on what is permissible. For instance, for bonus points for a reading challenge we had a challenge for the students to provide a photo of them reading outside school. To adhere to our school policies, these photos could not include any other members of their family or friends from outside our student population.
You don't have to 'follow back' everyone who follows you. Be selective about who you want to follow, as that will dictate what you see on your Instagram feed and make it easier to have meaningful engagement with accounts similar to yours.
Spend time looking at what hashtags other library accounts use and use those ones on your posts. Good use of hashtags can help increase your audience.
Don't get too stressed about the numbers, unless you have a specific goal in relation to engagement or number of followers.
When I first created the Instagram account for the library, I made it a personal account, but quickly changed this over to a professional account, as this provided access to many more creative tools.
Find a scheduling tool that works for you. There are a number of free Instagram scheduling tools available. Being able to schedule posts makes managing the account much easier. I use Facebook Creator Studio.
Final word
My experience using Instagram as a marketing tool for the school library has been a success and a lot of fun. I have found it incredibly rewarding and have enjoyed developing my creative side when thinking up yet another way to photograph books.
I'd say that, if your school allows you to have an Instagram account for your library, if you want to try something new for engagement and marketing, then go for it – and don't forget to follow my account. Search @fhclibrary on Instagram.
Want to read more?
Robertson, Nikki D. (2017). Connected Librarians: Tap social media to enhance professional development and student learning. International Society for Technology in Education
Brogan, K. (2019, 14 May). 5 steps to create a library Insta your students will love to follow! Retrieved from dontyoushushme.com/2019/05/14/5-steps-to-create-a-library-insta-your-students-will-love-to-follow
Alexandria. (2020). 7 ways to promote your school library using social media. Retrieved from www.goalexandria.com/7-ways-to-promote-your-school-library-using-social-media
National Library of New Zealand. (n.d.). Social media and the school library. Retrieved from natlib.govt.nz/schools/school-libraries/library-services-for-teaching-and-learning/your-school-library-online/social-media-and-the-school-library
Antonelli, W. (2020, 20 September). A beginner's guide to Instagram, the wildly popular photo-sharing app with over a billion users. Business Insider Australia. Retrieved from www.businessinsider.com.au/what-is-instagram-how-to-use-guide-2020-9
Taylor & Francis. (n.d). How libraries are applying social media. Librarian resources. Retrieved from librarianresources.taylorandfrancis.com/insights/library-advocacy/how-libraries-are-applying-social-media
Brami, D. (2020, July 31). Differences between Instagram Stories and Reels and how to use them. Pictalo. Retrieved from: www.pictalio.com/blog/differences-between-instagram-stories-and-reels-and-how-to-use-them-june-2021-edition
Nizam, A. (2021,17 May). Video for Instagram: how to choose Between a post, a Story, a Reel, and IGTV. Lemonlight. Retrieved from www.lemonlight.com/blog/video-for-instagram-how-to-choose-between-a-post-a-reel-and-a-story
Alexandra. (2020, 29 August). Difference between Instagram Stories and Reels. Preview. Retrieved from thepreviewapp.com/difference-between-instagram-story-and-reels
"Introducing Instagram Reels." Instagram, 5 Aug, 2020, http://about.instagram.com/blog/announcements/introducing-instagram-reels-announcement