School library spotlight: Glen Eira College
Karys McEwen, College Librarian at Glen Eira College, talks to SCIS about what's happening in her library.
---
What is your job title, and what does your role entail?
I am the College Librarian, which means I manage the library and all the diverse, rollicking, fabulous things that entails! Every day is different, but the main tasks I focus on are collection development, encouraging a love of reading through library programs and astute readers' advisory, working with teachers to provide information literacy sessions and curriculum support, and creating a warm, vibrant library space for the whole school community. I am lucky to have an incredibly supportive team of staff and a group of dedicated student library monitors that help keep the library cogs well and truly turning.
How long have you worked in school libraries, and what inspired you to go down this path?
I have been in school libraries for four years. My undergraduate degree was in Fine Art and I worked in art galleries and museums for several years, which I did enjoy, but I never felt quite like myself in those jobs. I have always been passionate about libraries and archives, so on a bit of a whim I enrolled to study a Master of Information Management. Six months into my degree, I was offered a position at Korowa Anglican Girls' School, and as corny as it sounds, I realised that I had found my calling, and perhaps my move in this direction wasn't on such a whim after all. At the beginning of this year I moved to Glen Eira College, with the incredible opportunity to manage the library, and my love for school libraries continues to grow.
What is the most rewarding aspect of working in a school library, and why?
I think working with teenagers is very tough at times, and certainly quite emotionally draining. I find that even more so now that I am working in a school with a more diverse student body, where the library is relied upon for support and wellbeing. In saying that, I find the welfare aspect of my job immensely fulfilling. When I finally match a reluctant or struggling reader with their perfect book, help someone find the information they need to get through a difficult life experience, or receive an email from a parent saying the welcoming and positive nature of the library is one of the reasons they chose to send their child to Glen Eira College (this happened last week!), those are the moments that keep me motivated.
How do you promote reading and literacy in your school?
We have numerous programs, events and displays to support reading and literacy in the library, but we are also fortunate to have teachers and a school leadership team that support and promote a love of reading and excellent literacy standards throughout the school. All English classes have wider reading sessions with reflection activities and reading logs, and the students can select their own books to read during these classes, rather than having material prescribed, which I think makes a huge difference. Because modelling is so important, we also have a considerable staff collection in the library, which helps encourage the teachers to borrow and read for pleasure as well.
How do you encourage students to make use of the library?
Our library is very well-utilised, and we do a number of things to motivate this usage. The obvious ones are keeping the collection fresh and exciting, and focusing on making the space an inclusive safe haven. We give the students ownership over their library by requesting feedback for improvement or ideas through surveys, offering to purchase resources they suggest, and taking them on book-buying excursions. I also like to make the library super visible throughout the school, which last term prompted a successful pop-up library on the basketball courts at recess to encourage holiday reading. Another thing is offering alternative entry points to the library. We work hard to keep the space flexible, so it can be used for different purposes such as student committee meetings and clubs, as well as offering left-of-centre options for students that may not be interested in traditional library resources, such as a zine collection, games and tutoring services. We do what we can to get people into the library in the first place, and find that once they do, they tend to stick around!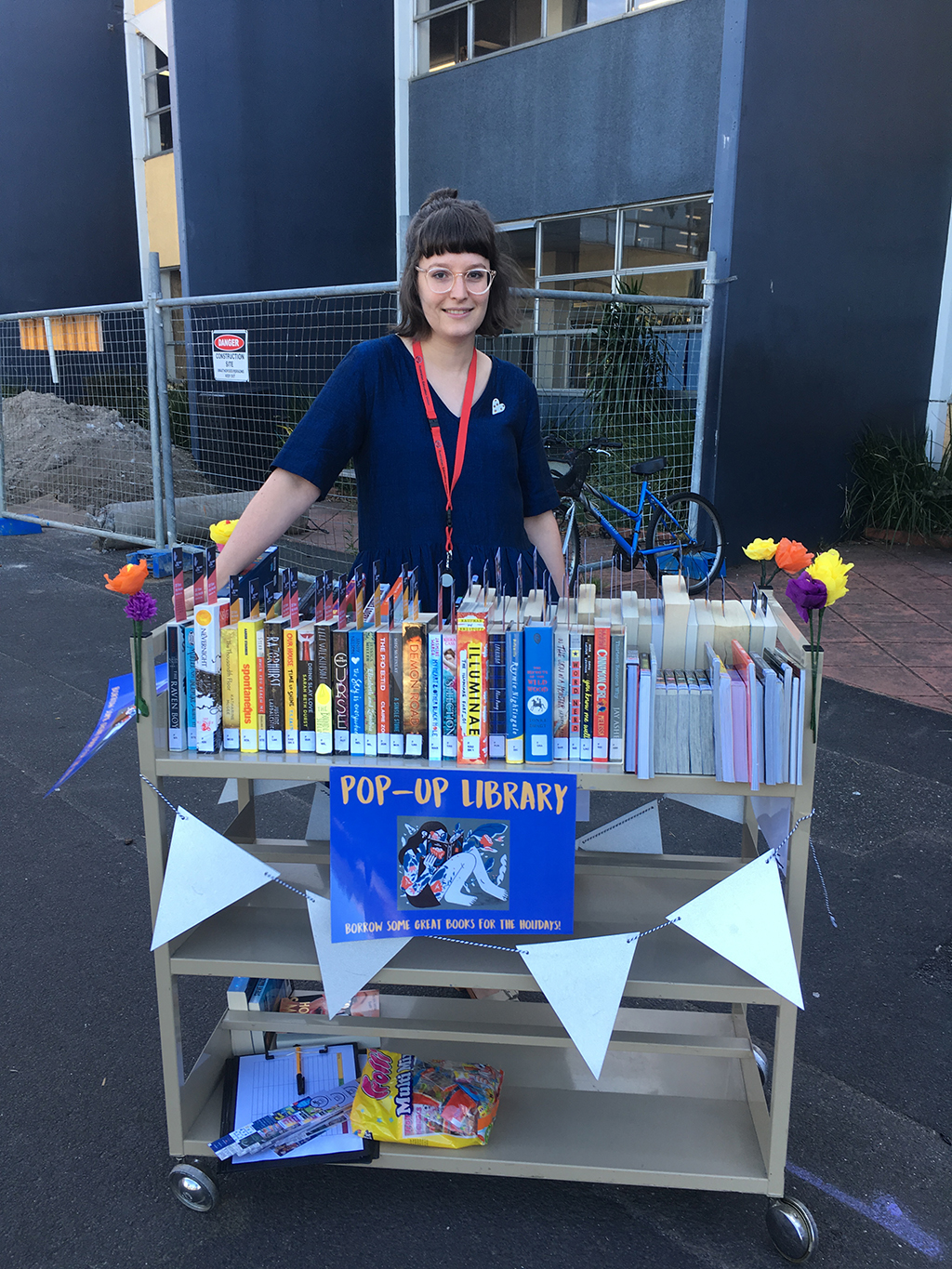 How do you engage with your students in a digital environment?
Our library management system Accessit has a really customisable OPAC where I post about new books, events, competitions and other library-related information. Anyone can access the OPAC while at school, and we have a computer at the front desk for patrons to use. I wasn't sure if this would take off, but it seems every time I look over there are students (or teachers) keenly searching for books, reading news items, and clicking on the links to quirky articles and websites. We also have a number of desktops and laptops that students can use in the library, and various subscriptions to digital resources and databases, including ClickView, A to Z of World Cultures and Echo Education.
Are there any current issues or challenges facing your library?
How are you working to overcome these? Leigh Hobbs, the current Australian Children's Laureate, recently posted on social media that he is shocked by the lack of funding and staffing in school libraries in Australia today. We are lucky at Glen Eira College to have a well-resourced library with a team of qualified librarians, but of course it is always on my mind that we need to keep our standards high and make ourselves indispensable. There are numerous studies and articles (Softlink 2016; ALIA 2017) that show academic success and student wellbeing are closely linked to great school libraries; however, there seems to be an ongoing problem with getting people to realise this. To overcome this immense challenge, I aim to keep our library relevant, visible and appreciated.
What is your favourite thing about SCIS?
School libraries are busy places, and where I am at the moment is the busiest one I've ever experienced. Having a SCIS subscription means our lovely, hard-working Library Technician Megan Gatt doesn't always need to catalogue from scratch, so she can also be involved in other aspects of the library and not be constantly chained to her desk. Updates to SCIS mean the system is getting better all the time, and the recent addition of genres was particularly exciting for us. We are both grateful for the support SCIS provides in giving us one of the most precious resources: time.
---
References