Book launches: connecting schools, students and local authors
With the help of its resource centre committee students, Moama Anglican Grammar recently hosted its first book launch — for Fleur Ferris's book Found. Resource centre manager Jenna Hildebrand shares how they made the event a success.
---
Reading culture
As school library staff, we strive every day to establish libraries and resource centres as places that support our students' reading and information literacy. In our relentless quest to promote reading for pleasure, one major challenge is the structured class context. 
We need to look hard for opportunities to connect to students and families outside of the classroom — through social events and, of course, social media. One novel (excuse the pun) way of achieving this is through the hosting of a local author book launch.
Book launch
Fired by the need to reach outside the box, the staff at Moama Anglican Grammar Resource Centre recently offered to host the book launch of Fleur Ferris's YA thriller, Found. Local author Fleur's YA thrillers are some of the most popular books in our senior school collection, and our students were excitedly waiting on the release of her latest book.
Fleur, like most authors, is a passionate advocate for developing literacy in local students. Our library space, her need for a place to launch her new novel, and our mutual commitment to teenage literacy made for a perfect fit. Moreover, a book launch offered the opportunity to connect personally with the often-elusive audience of teenage readers.
Being a regional school in NSW, over eight hours from Sydney, opportunities to connect with authors and attend writing festivals are seriously restricted. Moama Anglican Grammar had been in contact with Fleur before, booking her to run creative writing workshops for our secondary students. Our head of communication reached out to Fleur again, this time asking if she was planning a book launch and offering her the use of our new resource centre.
The Found launch was to be held in the resource centre on a Friday evening. We extended an invitation to five local secondary schools, who together formed a panel to interview Fleur at the launch. This gave students and teachers from the different schools an opportunity to network at the launch. They put together a variety of questions including about the censorship of YA content, finding inspiration, and overcoming writer's block.
Our school's acting principal and head of English introduced the launch. Both were delighted to support the event, which clearly raised the profile of both the resource centre and the school. The launch was reported in the local newspaper, and attended by writers' groups, librarians, students, teachers and parents who were invited through the newspaper and school newsletter.
Connections within the community
For our school, hosting the event provided an avenue to strengthen our students' connection to and interest in Fleur's books and other Australian YA thrillers. Moreover, by hosting an event that celebrated a local author, the school promoted literary success to the wider community, and made it accessible by holding a festive atmosphere, open to all.
It was wonderful to see the students from different schools, who normally don't come into contact with one another, discussing their English classes and favourite books. Likewise, it was interesting hearing the English teachers swap notes about potential events and opportunities for networking. The head of our local public library also attended, giving the resource centre staff the opportunity to discuss the latest reading trends and popular initiatives in our respective libraries.
Tips for hosting a book launch
If you search for the tags #aussieya, #loveozya or #aussiereaders on Instagram, it is quickly apparent that our communities are full of fantastic local authors busily promoting their work. Take advantage of this to connect to teenage and YA authors in your community. Ask them if they need a venue to promote their next book.
Use social media to connect with readers as well. In between scanning pictures of friends, young readers will readily find pictures of people lounging on holiday with the latest bestseller, attending events, and reviewing newly launched titles. Communication outside of the traditional library setting is all good.
Student involvement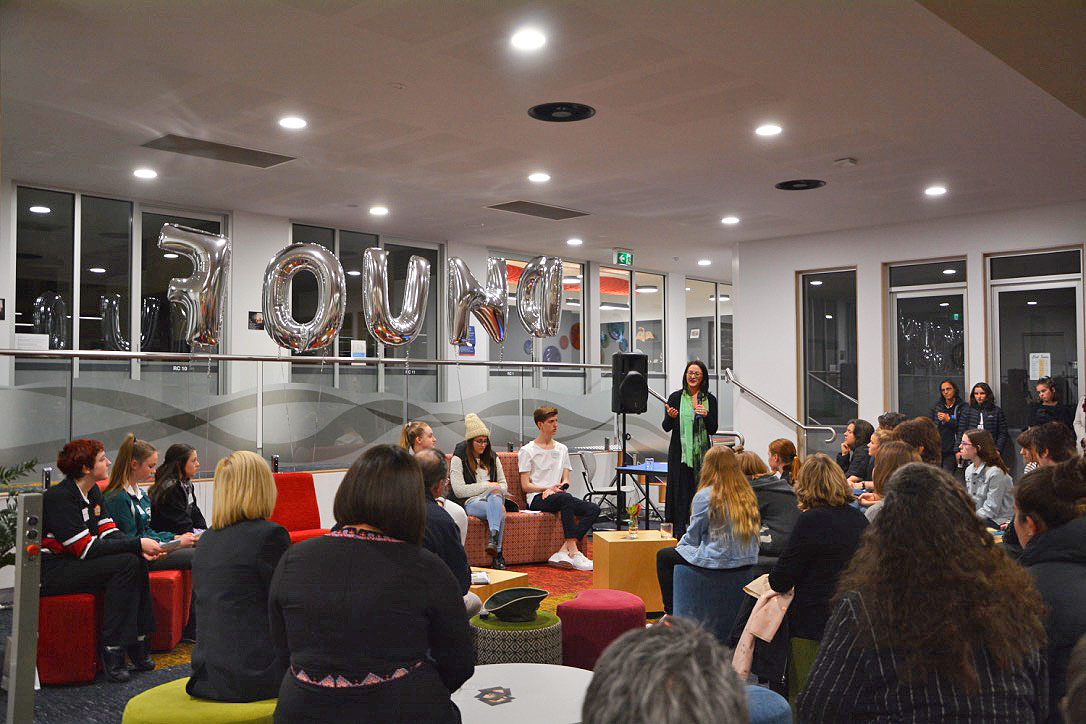 When planning your event, keep your students involved and excited about the process. Moama Anglican Grammar has a resource centre committee of students who help run events in the space, organise our Book Week costume parades, promote and run the annual Great Book Swap to raise funds for the Indigenous Literacy Foundation, and run informal lunchtime activities. Our committee was thrilled to be given the chance to run and engage with a public event, particularly when the local press would be there.
At a typical book launch, the author is interviewed by an adult. We decided to give local students some ownership of the event. We reached out via our library network to our neighbouring school librarians, asking if they had any avid readers or YA thriller fans who would like to form a panel. 
Students from St Joseph's College, Echuca College, Barham High School and Deniliquin High School responded to the invitation. They were each asked to come up with three questions, which we vetted before the launch to avoid double-ups and to give Fleur the chance to see them beforehand. We received a variety of questions, both shallow and deep, which made for maximum entertainment and education. Students asked some great questions about how to survive the drafting process, write about dark subject matter for young audiences, and draw inspiration when constructing a story. The students, who sat at the front of the room with Fleur, engaged in a lively and interesting discussion with her.
Promoting the event
Fleur was already in contact with our local paper, the Riverine Herald, which meant it was simple to invite the journalist covering her upcoming book to the launch. We wanted to make sure we promoted the event to as many teenage readers as possible, so we contacted local schools asking them if they would post the Found launch flyers on their school social media pages, and print the posters for display in their libraries and on noticeboards. Our resource centre committee members put up posters in local businesses and the local bookshop. We also emailed electronic posters to the public libraries to print and display on their notice boards.
Benefits of author events 
Fleur generously donated ten copies of her books for our library collection as a thankyou for hosting the event. The total 25 copies of Fleur's books, Risk, Found, Wreck and Black are never on our shelves, and often have reserve lists.
The launch was held in June 2018 and, in 2019, applications to join the resource centre committee more than doubled, and we had to turn many down. While this has been incredibly difficult, it's fantastic having a committee that is so popular with the student body. Above everything else, hosting the launch was a lot of fun.
It brought our school community together, as well as local book lovers, libraries, and other schools. It was definitely a lot of work, and we couldn't have done it without support from school leadership, our enthusiastic school admin team, and the students of the resource centre committee; however, I would highly recommend the experience. If the opportunity arises, you will definitely see the benefits of reaching out to the local authors in your community and becoming involved in the launch of the fabulous new teenage and YA literature being generated in your own backyard.
Image credits
Image supplied by Jenna Hildebrand