Ten easy tips to be a library rockstar
Gwyneth Jones, a teacher librarian based in the USA, shares ten tips to brand yourself as a library rockstar.
---
The first thing I need to say is that I don't know that I really love the term 'library rockstar', because I think all librarians and library professionals are rockstars or have an inner rockstar just waiting to come out. I also think it sounds a wee bit elitist. But who doesn't want to rock at their job? I was recently interviewed for an article with this title already chosen, and rather than fighting against it, I went with it!
1. Work smarter
Hard work, a sense of humour, tenacity, and a positive mental attitude will get you far in the library world (and in life in general!) Of course, you're going to work hard but that doesn't mean staying in the building every night until seven o'clock. There's great stuff out there that's already been created — go out and find it! You may wish to adapt it. If you do, always give attribution to the creator. Working smarter, not harder, saves time and alleviates stress.
2. Be reliable
The one trait that I really appreciate, value, and admire is reliability. Some people talk a great game, but then let you down. I never want to be like that. Don't overcommit. If you can't do something, it really is OK to smile and say, 'Thank you for asking, but that isn't going to work out for me'. Then stop. Don't list a whole bunch of reasons or excuses. Just can't say no? Temporise. Say, 'Let me think about it' or 'I'll check my calendar'. Need more information? Ask, 'Wow. That sounds interesting. Can you email me the specifics and I'll get back to you?' I won't say I will do something unless I can do it, and then I know I can do it well!
3. Be reflective
When things get tough or daunting, it is important to take stock of what's really important: our students. During vacation, I take time and tide reflection and consider all the things that went well the previous year — lessons that inspired, projects that showed promise, and programs that popped! I also think about the things that didn't go so well, and how I could improve. Sometimes, though, you can't change a situation and you have to learn to graciously accept it, or cleverly work around it!
4. Be positive
Happiness is a choice. Optimism is too. Sometimes it's a difficult choice, but a necessary one. Never vent about your profession, your administration, or your students. Because if you do, it will likely come back and bite you. It also makes you look bad. We all have frustrations in our jobs, but the teachers' lounge, a blog, or social media is not where to express them. We have the best job in the world and every day and every school is a new start and adventure!
5. Be mission-driven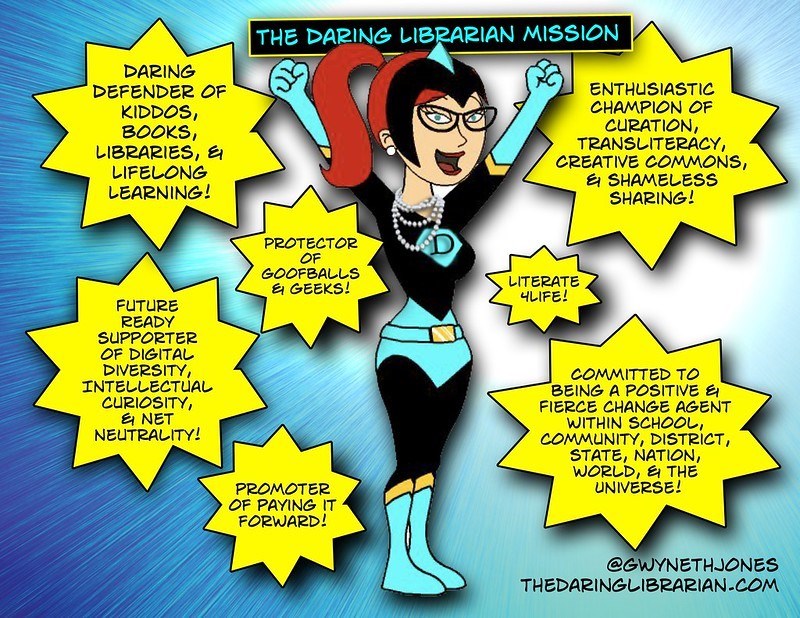 Consider writing a mission statement. Think about what matters to you. Is your library program focused on lifelong reading and literacy, creativity, constructivist learning, the maker movement? Is it future-ready, brain-centred, participatory, transparent, positive, becoming a vibrant and active learning commons? Sure, use all the buzzwords you want, but be able to back them up. When crafting a mission statement, really think about what is important to provide, every day, to better serve our most important customers — students.
You can write it in a paragraph or even make a cartoon. Then, I would distil that mission into a 30-second 'elevator speech'. People often ask me what makes me daring and I say, 'I'm a defender of lifelong reading, transliteracy, innovative learning, and goofballs and geeks everywhere!'
6. Push the positive
Brainstorm ways to promote the awesome that goes on in your library every day. Don't worry that it looks like you're showing off — you're not — it's sharing with the community! Don't humble yourself out of a job and don't hide your light under your circulation desk. There's enough negative in the world about schools, why not counteract that and promote the positive? Make sure the sharing is at least 90 per cent focused on the student or your profession though. Because it's not all about you — library branding and your mission should be mostly about our students and our community.
The easiest way to start branding and sharing with the community is with a professional Instagram and/or Twitter account. I use social media only in a professional sense — to share the cool things that go on every day in my school and my library, to celebrate my amazing students, and to connect with my parents, and our local and global community. I also share the lessons and activities, reading promotions, makerspace, TV studio, and the neat things I do with other educators.
I professionally share my wins, fails and lessons learned to help others. If you are comfortable doing so, sharing occasional personal content can show you're human — and it's good for the students to see you also have a life outside the school.
Don't want to share via social media? Consider creating a digital newsletter that can go out to parents and the community. Get a digital photo frame or create a rotating display of pictures of kids holding up a book they just checked out — a 'shelfie'. Consider taking pictures of the books that were just returned; kids love to see what other kids are reading.
7. Be Insta-fabulous
If you're in a secondary setting, and only want to pick one format for your foray into social media, I'd make that Instagram. Teens these days are not so much on Twitter, and they think Facebook is sort of fuddyduddy (though they might have one, they don't 'live' there). However, almost every student I've talked to lately has Instagram, and I prefer it to Snapchat because I don't have to follow them back. Creating a professional Instagram account ensures that whenever interesting things go on at school, I can handily snap and share them with our kiddos, parents, community, and the world.
Before you start any online sharing, check your school or district rules about social media and follow them. Most teachers and library staff have their mobile phones with them anyway; why not get together to make it a powerful sharing tool? Connect it to your Twitter for easy social media cross-posting. Create a sign that says 'Follow and tag us on Instagram!' and post it up around the library so that kids can see themselves doing cool things. Create your own library hashtag and use it consistently. By doing these things you live and model a positive example of how social media can be used.
Once you master the foundations of the job, then you can add the sizzle. Don't try to do everything at once. Choose one thing, one challenge, for every month, quarter, or even school year. Set a reasonable goal for your profession and your practice for next year and keep it.
I suggest using your own name for your account, rather than your school's. What if you switch schools someday? Best to start establishing your own positive professional digital footprint that you can take with you — <YourName>EDU is a good choice. Throughout the years, you may not always be in the library but, most likely, you will be part of the education field.
8. Just say 'hello'
A simple thing like that can make a world of difference. Say hello to kids in the mornings — in the hallways, when they come to your school library, or out and about. Pick a shy kid who rarely smiles to always greet without expectation. That might be their best interaction of the day. To quote an educator I truly admire, Dr Justin Tarte of St Louis, Missouri: 'If we choose not to greet our students each and every day, we are missing one of the easiest and most impactful ways of showing our students that we care'.
9. Take one thing at a time
Once you master the foundations of the job, then you can add the sizzle. Don't try to do everything at once. Choose one thing, one challenge, for every month, quarter, or even school year. Set a reasonable goal for your profession and your practice for next year and keep it. If you achieve it, brilliant! Why not make another goal? And, remember, you don't have to commit to everything new thing you choose. If it's not for you, feel free to dump it and try something else. Otherwise, you run the risk of burning out, getting discouraged, and feeling overwhelmed.
10. Respect your personal life
As a South Australian librarian friend of mine Hajnalka Molloy once said to me during a challenging time, 'You can't pour for others from an empty cup'. Wise words. If you work yourself into a tizzy, you will not be your best for yourself, your family, your school, or your students. Self-care and mindfulness are important.
Last thoughts
Remember, in education, every year is a do-over. Your library practice will improve as long as you always put the students first, practise positivity, and keep your passion for our profession. Pay it forward. Share shamelessly the awesome that goes on every day at your school and the helpful content you create so that other library professionals can find it more easily.
For more resources, advice, and tips from real teachers in the trenches, check out my Daring Librarian blog with that same title or hit me up on Twitter or Instagram.
Image credits
Graphic design by Gwyneth Jones