School library spotlight: Ocean Reef Senior High School
SCIS speaks to Sarah Betteridge of Ocean Reef Senior High School in Western Australia about what's happening in her school library.
---
What is your job title and what does your role entail?
I am a qualified teacher librarian, employed as the school librarian at Ocean Reef Senior High School, which is a years 7–12 government co-educational school, with approximately 1,200 students.
My role includes supervising the day-to-day running of the library, overseeing the library's strategic direction, and planning and promoting library activities. My main focus is on encouraging a love of reading, and creating a warm, welcoming and vibrant library space for the whole school community. I am responsible for resourcing the curriculum, developing the collection, and providing information services. 
I love collaborating with teachers to support student learning through providing information literacy, research and referencing sessions, and curriculum support. Our school library was one of the 17 Western Australian schools appearing on Australia's Great School Libraries Honours List.
The library team is small. I manage two school administrative support staff who job-share one full-time role. We are also extremely fortunate to have some supportive and reliable parent volunteers 
to help us.
Every day is busy, and no day is the same, which can be frustrating, but also extremely satisfying.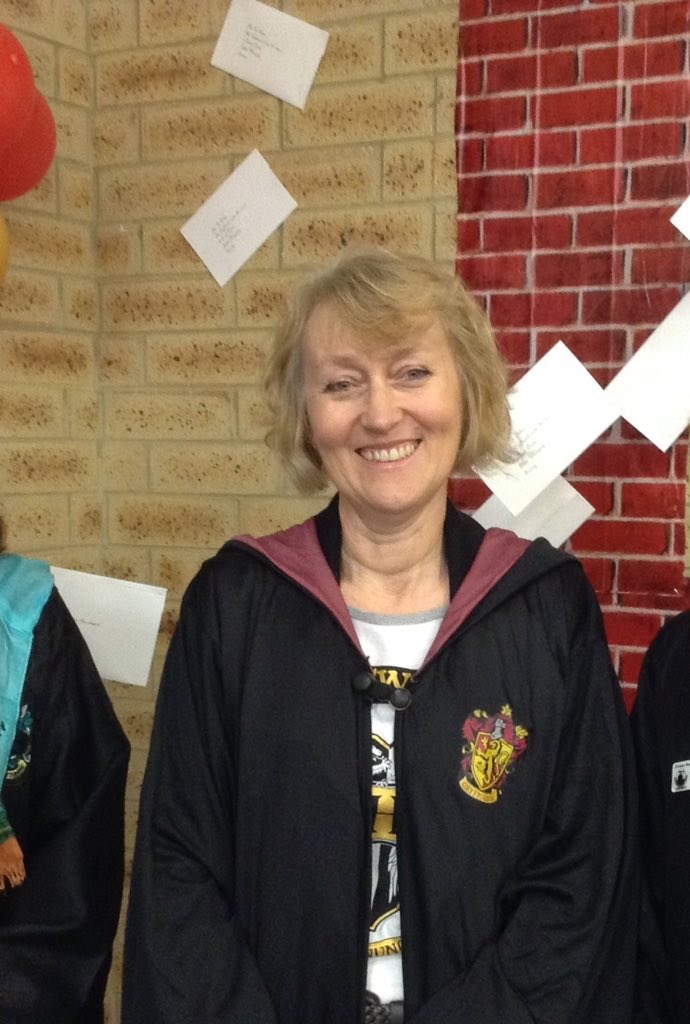 What is the most rewarding aspect of working in a school library, and why?
The EveReaders Book Club meets every week in the library, and I find the enthusiasm of its members and the daily updates on their reading extremely rewarding. I love the interaction with our 'regulars' and, after seven years here, it is wonderful to see the progression of students from youngsters in years 7 and 8 to mature upper-school students.
It is particularly lovely to have past students popping in to say hello on occasion. I have also found it extremely rewarding to work closely with English teachers in promoting reading for pleasure within the school. I have enjoyed watching the library transition from a very quiet and under-utilised space to one that is vibrant, collaborative, welcoming, and safe.
What do you see as the most important part of the library's role in the school community?
For me, the library should be the hub of the school. It should be a safe, inviting, welcoming space which promotes a love of reading, books and learning. As well as being a collaborative learning space with different areas to work and read in, the library should be an attractive, interesting, and vibrant space that promotes books, authors, and different genres.
All students should feel welcome in the library. It is a space where they can socialise, and make friends across year groups, particularly within clubs such as the Book Club and Chess Club. For teaching staff, the library should be a collaborative space where their students can work and research effectively. Teachers should also feel supported in accessing print and digital resources to enhance student learning.
Are there any current issues or challenges facing your library? How are you working to overcome these?
I find one of the biggest challenges is building relationships with students and teachers in the learning areas that do not use the library, or see its value. Another challenge is that all year 7s and 8s now have their own devices at school. Teachers tend to rely on these for online research within the classrooms, rather than bringing students to the library to research online, or access print resources. I am working to overcome these issues by offering individual teachers support for research tasks in the form of collections of print and online resources within our library management system (Destiny), via library research guides, and also in the form of referencing, research, and information literacy workshops with upper school classes.
I have enjoyed watching the library transition from a very quiet and underutilised space to one that is vibrant, collaborative, welcoming, and safe.
How do you promote reading and literacy in your school? Are there any challenges in doing so?
When I started at the school, no English classes were visiting the library on a regular basis. Now all Year 7 and Year 8 English classes visit on a fortnightly basis with their teachers. During this time, they are able to borrow, return, and renew books. The Year 7 classes do a proper library orientation, and a session creating Destiny library accounts on their laptops. They are encouraged to create bookshelves within Destiny Quest of the books that they have read, and want to read and, also, to write book reviews to share with their peers.
This year, we will also give the Year 7s a personal reading challenge. They will be asked to set themselves a reading goal for each semester. Each book will be signed off by the English teacher or librarian once the student has handed in a short book review or done a verbal book talk to a group or the whole class. There will be regular rewards and opportunities to go into prize draws.
All students reaching their individual reading goal will receive a certificate and a chance to win in a major prize draw.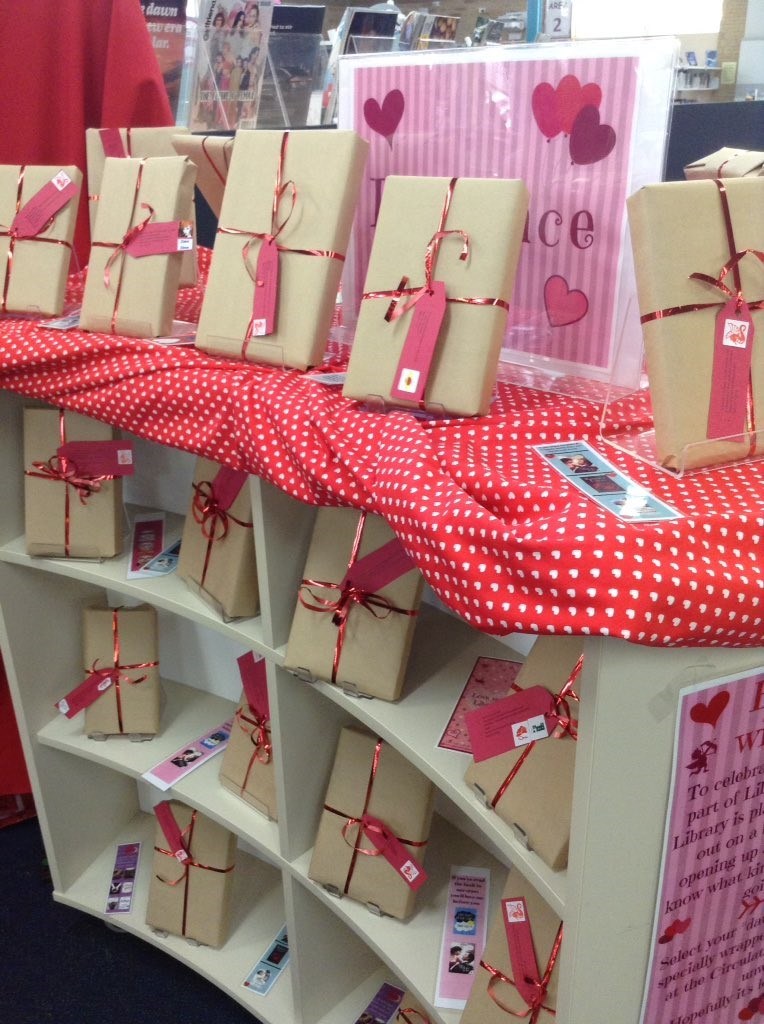 Other reading promotions include regular book talks and book trailer presentations to both Year 7 and Year 8 classes, and many different colourful displays, including using student work such as posters and 'booksnaps' created in Canva to promote favourite books, authors, and series. Between Terms 1 and 3, we promote the West Australian Young Readers Book Award shortlisted titles and encourage students to vote for any titles that they have read. These titles are nominated by students the previous year. During Term 3, we also promote the Children's Book Council Award book titles, and Book Week. We also celebrate Literacy and Numeracy Week with competitions and activities in the library including Speed Date a Book, where students and teachers tell each other about their favourite books for a minute before swapping tables.
Another popular reading and literacy promotion was Harry Potter Month in August 2016, when we celebrated the release of Harry Potter and the Cursed Child as part of our Book Week celebrations.
We decorated the whole library with the Harry Potter/Hogwarts theme, and library staff even dressed up as Hogwarts staff during Book Week. Students absolutely loved this celebration and many who had not read the Harry Potter series were encouraged to do so.
How do you encourage students to make use of the library?
We promote library activities through the school's daily notices system, and signage around the school, and within the library. The library also has a noticeboard within the English department. Students also follow our Instagram account @orshslibrary, which gives regular updates on events and activities in the library. The library website, hosted by LibGuides, is another way to promote our activities, but word of mouth is often the best way. Whenever the Year 7 and 8 classes come into the library, they receive regular updates about events and activities that the library is planning, and also about club activities. We also have promotional posters about library activities and forthcoming events within the library, and make announcements during student assemblies.
Students are encouraged to participate in the Chess Club and the EveReaders Book Club, and the library also hosts other events during the year, such as movies and craft activities. These events often draw students in for the first time and they become aware of the lovely spaces and return more regularly with their friends.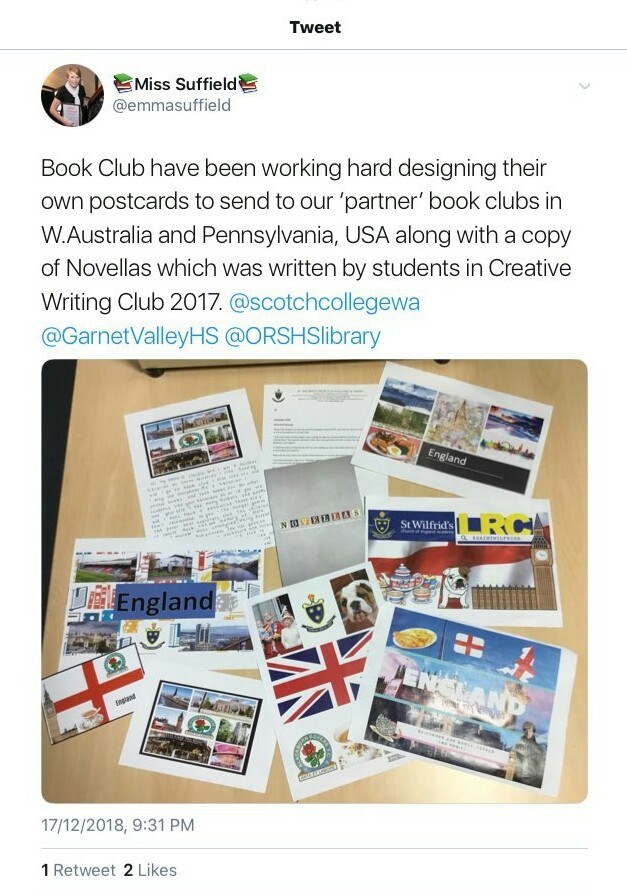 How do you engage with your students in a digital environment?
As well as our Instagram account and website, the library also has a Twitter account (@ORSHSlibrary) to link globally with other school libraries and educators, and to demonstrate appropriate use of social media. To encourage students to share their reading experiences with their peers, I also like to promote the use of technology tools such as Canva, Padlet and Storyboard That. In the last two years, I have enjoyed collaborating globally with other like-minded educators in the use of these creative and collaborative tools, such as Lucas Maxwell and Emma Suffield in the UK, and Ali Schilpp in the USA.
This year, the EveReaders Book Club has already received a lovely parcel of postcard book recommendations from Emma Suffield's school, Saint Wilfrid's Church of England Academy in Lancashire. Our students are now writing their own book recommendations, which we will soon share with Saint Wilfred's via Padlet.
What is your favourite thing about SCIS?
We use SCIS for all our cataloguing and are very happy with how easy it is to use and the regular system updates. We really appreciate the support that SCIS provides, and the Connections articles are always interesting and inspiring to read.
Image credits
Images supplied by Sarah Betteridge