The positive potential of ebooks within school libraries
Trish du Temple of Wheelers Books explores how a digital library can support students navigating various life challenges.
---
'What lies behind us and what lies before us are tiny matters compared to what lies within us.' — Ralph Waldo Emerson
How can we help students flourish in a world filled with increasing pressures and uncertainty? Academic expectations, social relationships, technology overload and identity formation are just the start. There may also be anxiety and self-esteem issues at play or learning challenges such as dyslexia.
Research has shown that overwhelming stress or trauma negatively impacts a student's ability to think, feel, learn, and grow. Schools are acknowledging this, with many exploring initiatives around mindfulness and resilience to help students navigate these challenges, with good results.
School counsellors and other learning support staff play a critical role, but many are reported to be feeling under-resourced and under pressure, struggling to service the increasing number of students seeking help, and at risk of burnout themselves.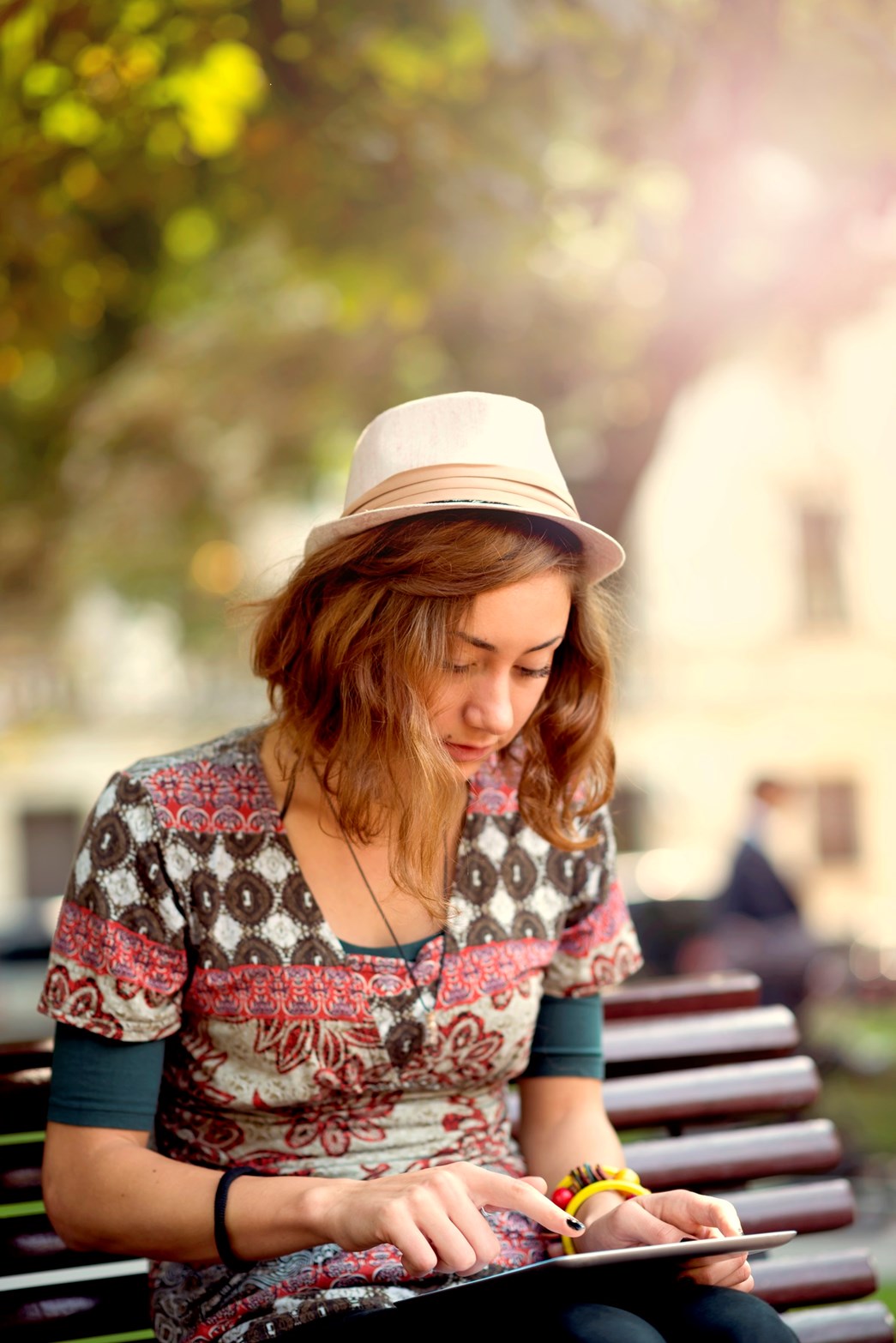 I believe school libraries can help. They have an opportunity to provide resources to improve students' mental wellbeing, strengthen resilience and better equip them with the knowledge, skills, and confidence to live their best life.
They can also help by providing ebooks and audiobooks. Indeed, there are at least seven ways that they can be leveraged to improve the mental health and wellbeing of your school community:
1. Students can immediately and privately access a huge range of ebooks and audiobooks for support on personally challenging topics such as cyberbullying, social anxiety, gender identity and depression. Ebooks offer a discreet way to choose titles without fear of judgement or being ostracised. Carefully crafted fiction books about the issues students face are also a valuable resource that can be both educational and empowering. If a student reads about topics like what they are confronting, they can feel less alone and more open to getting help. 
2. Ebooks enable students to access practical, evidence-based programs and workbooks — like the MBSR (mindfulness) Programme for Teens, or more specific workbooks addressing teen self-harming behaviours, thoughts, and feelings. Such workbooks are not typically available within a print library but, within apps like the ebook library lending platform, ePlatform. Within this platform, students can add highlights and record their own notes. They can even email their notes to themselves to track their progress or discuss them with their school counsellor.
3. Digital wellness resources can also be valuable to school counsellors, teachers, and support staff. The work they do is downright hard. The more that can be done to support their work and their own wellbeing, the more likely students can thrive.
4. Audio books/resources enable all students (even those less able readers) to be guided through wellbeing practices. They can tune in anywhere, from the park to the privacy of their bedroom.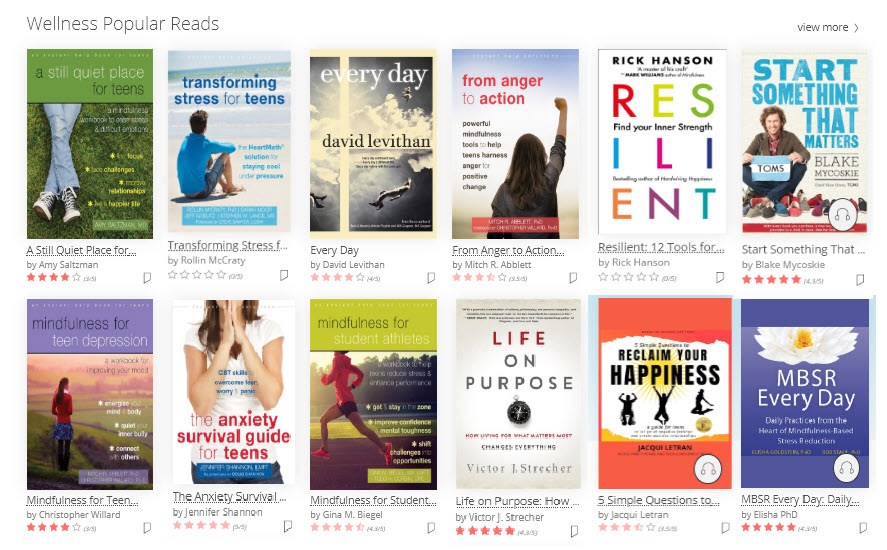 Such resources can also be used within school to facilitate student group wellness sessions. Shared experiences and open conversations in a safe environment that normalise mental health concerns and foster connections are highly valuable.
5. Digital reading platforms also empower students with reading challenges like dyslexia as they offer special customisable settings to help them to read. With ePlatform, students can discover for themselves which font type (including Open Dyslexic), font size, spacing between letters, words and lines, and background colour enables them to read most easily, and then default to that customised setting. Instead of knocking their self-esteem (which limiting their access to 'special' books can do), students feel empowered.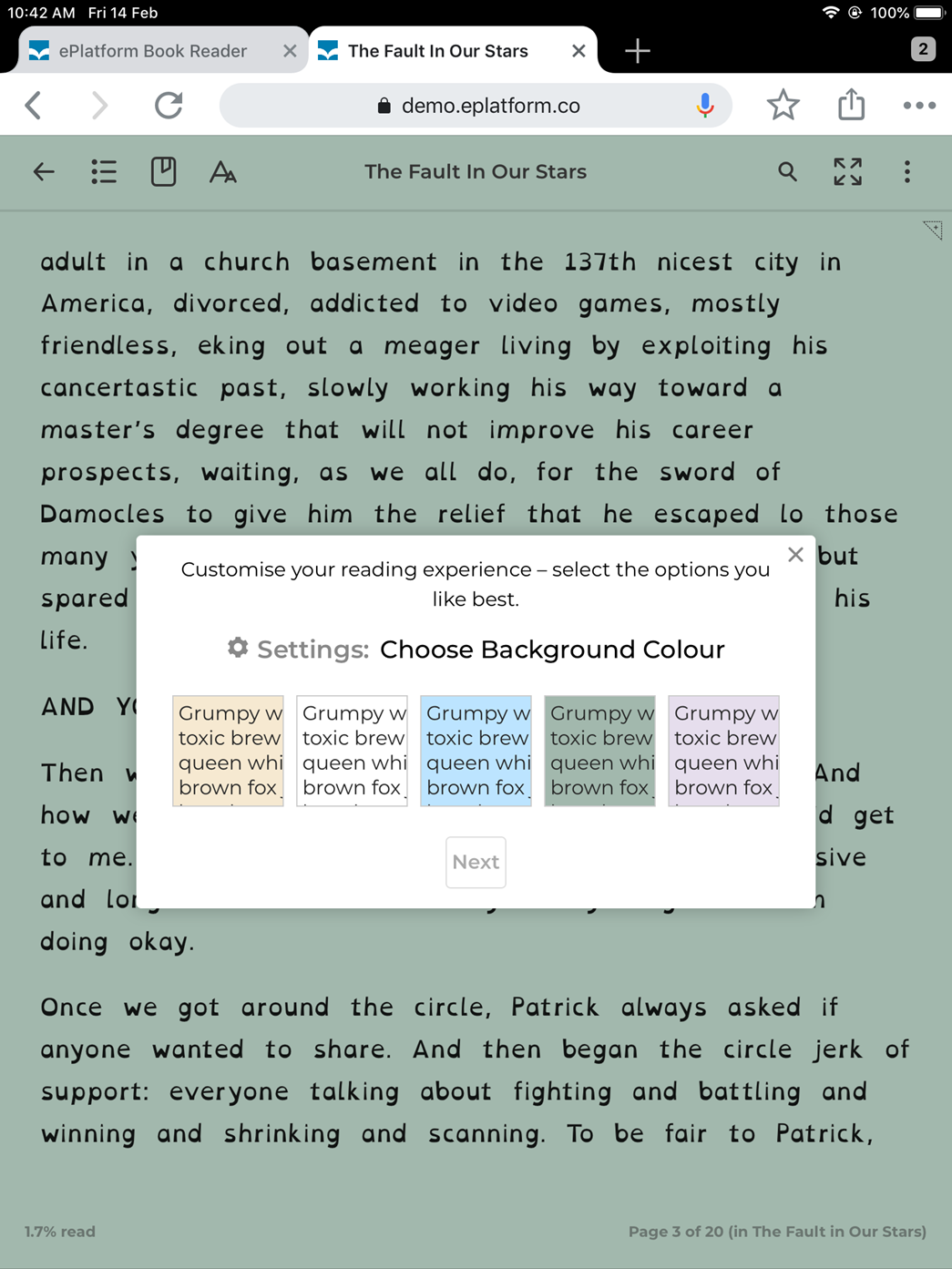 6. Ebook platforms also have innovative features that can improve literacy outcomes and students' confidence. Students can add highlighting and notes, define words and access synonyms, Google links, and even a translator. Less able readers may also be more inclined to try reading as they can access easier titles without being perceived by their peers as less capable.
7. Ebook platforms report to librarians on who is reading what, which can be valuable in guiding students to additional resources even when the content is sensitive.
Schools are uniquely positioned to play a key role in children's and teen's wellbeing. High school, in particular, is recognised as a critical time to intervene as behaviours related to mental health that are established during these years are often taken into adulthood.
School should be a launching pad to a meaningful life and there's clearly value in educating and empowering youth with coping mechanisms to better navigate life's challenges.
Image credits
Images supplied by Trish du Temple
References
Beauchemin, J., Hutchins, T. L. & Patterson, F. (2008). 'Mindfulness Meditation May Lessen Anxiety, Promote Social Skills, and Improve Academic Performance Among Adolescents with Learning Disabilities'. Complementary Health Practice Review, 13, 34–45.
Biegel, G. M., Brown, K. W., Shapiro, S. L. & Schubert, C. M. (2009). 'Mindfulness-based Stress Reduction for the Treatment of Adolescent Psychiatric Outpatients: A Randomized Clinical Trial'. Journal of Consulting and Clinical Psychology, 77, 855–866.
Campbell, E. (2014). 'Mindfulness in Education Research Highlights', Greater Good Magazine, https://greatergood.berkeley.edu/article/item/mindfulness_in_education_research_highlights
Lewis, S. (2018). 'School Counsellors Operating in "Crisis Mode"', Stuff, https://www.stuff.co.nz/national/health/108782281/school-guidance-counsellors-operating-in-crisis-mode
PISA 2015 Results (Volume III) – Students' Well-Being, https://www.oecd-ilibrary.org/education/pisa-2015-results-volume-iii_9789264273856-en;jsessionid=2ntp10o0ip977.x-oecd-live-02
Sawyer, S. M., Afifi, R.A., Bearinger, L.H., Blakemore, S., Dick, B., Ezeh, A.C. & Patton, G.C. (2012). 'Adolescence: A Foundation for Future Health', The Lancet, https://www.thelancet.com/journals/lancet/article/PIIS0140-6736(12)60072-5/fulltext