TikTok and libraries: a powerful partnership
Kelsey Bogan, Library Media Specialist at Great Valley High School (USA), explains what TikTok is and why it has a place in school libraries.
---
'Miss Bogan, you're TikTok famous!'
These words greeted me early one morning shortly after I had finally caved in and created a TikTok account for our high school library. I had posted a TikTok video the previous night, you see, and in less than a day, it had more than 300,000 views! Within a week, it climbed to well over 500,000 views. I had gone 'viral' and my students were duly impressed (going viral is, apparently, a great ambition of many of my students). I had secured my spot as 'the cool librarian' forevermore.
The days that followed my first viral TikTok video were very thrilling, as many students came to tell me that my video had shown up on their 'for you' page (essentially their TikTok feed) and to share how excited they were that their friends in other schools kept messaging them to ask if 'that viral library TikTok' was from their librarian. Who knew that 'mad TikTok skills' would give them such pride in their library and librarian?
Who knew that 'mad TikTok skills' would give them such pride in their library and librarian?
While I was taken aback that a silly 15-second video of me showing off library resources while a popular sound played in the background would be this well liked, I was even more surprised at how instantly relatable this made me to my students. I knew, based on their excitement and feedback, that there would be no going back for our library. Our TikTok account is here to stay, and the impact it has had on our library program and community has been beyond anything I could have predicted.
What is TikTok?
TikTok is a social media platform with video-based content, similar to the way Instagram (Insta) is photo-based. Users create an account and can be content consumers (watching other people's videos), content creators (make their own videos) or both. The app makes it easy and fun to create videos, which are usually 15 to 60 seconds long and incorporate things like music, special effects, text and stickers. The content is diverse and covers hundreds of things, from the funny, outrageous or lewd to serious issues, social commentary, education, book recommendations, politics and activism.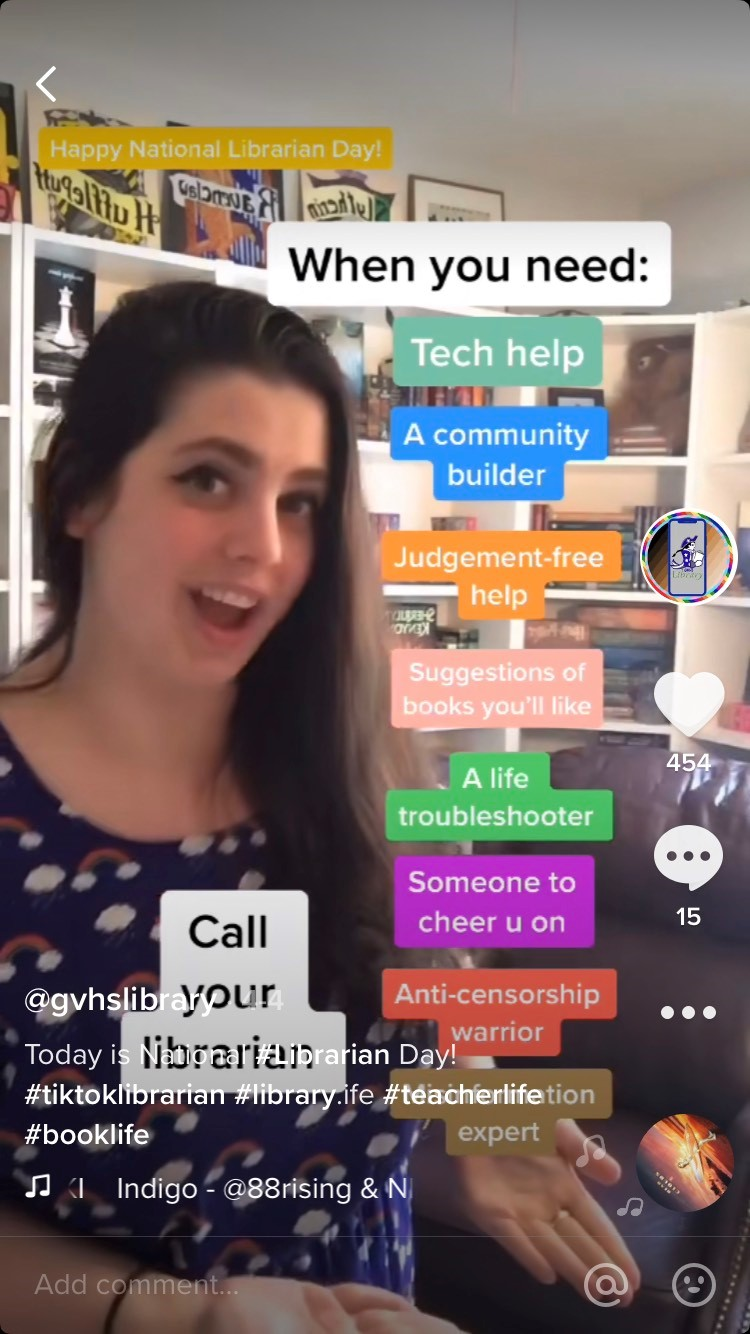 There really is a little something for everyone, and the ways you can use TikTok are limitless.
Is TikTok safe?
Recently there has been discourse in the media seeming to indicate that TikTok is 'more dangerous' than other apps. I have researched and reviewed reports from security experts and my opinion is that TikTok is about as safe and secure (or unsafe and unsecure, depending on how you feel about social media) as any other social media app. One of the biggest concerns often referred to is that TikTok collects data from its users. While this is true, this is actually something that is very common for all social media platforms. Facebook and Twitter also collect user data, so TikTok is no different, and I have not yet found any credible evidence to make me feel that TikTok is in any way 'more dangerous' than other social media apps. I would, however, always encourage everyone to do their due diligence and thoroughly research and review any new app before choosing whether to use it themselves.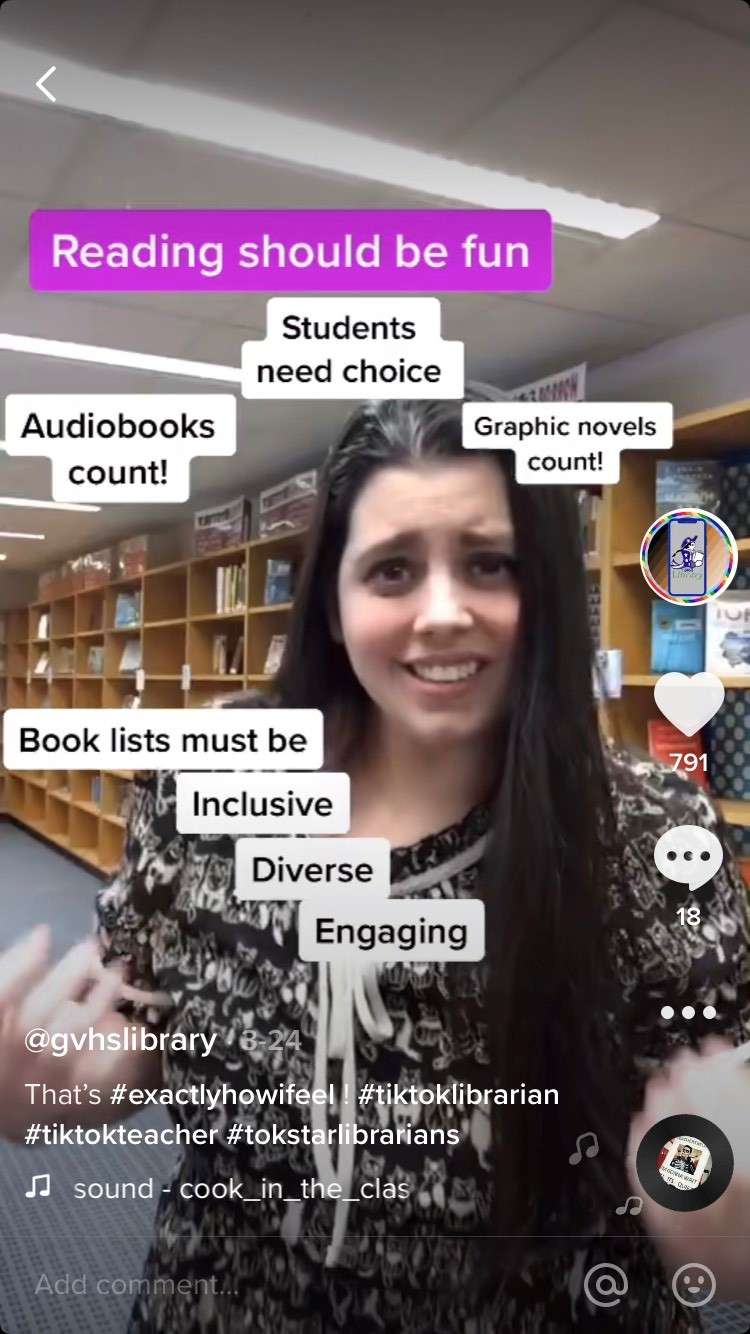 What is the benefit for libraries?
It is my opinion that libraries benefit from a robust and engaging social media presence. Our library's social media presence has been one of the most influential aspects of our library program, especially in terms of generating support and engagement from our community. Here are a few reasons TikTok (in conjunction with our Insta) benefits our library program:
Community building – Our Insta and TikTok help us establish a virtual 'common room' environment of connectivity that extends beyond the physical school or library walls. It allows us to continue to be a positive and helpful presence in our students' lives, even after the regular school day concludes.
Advocacy efforts – As librarians, we know how critical advocacy is to the success of a library program. It is more important than ever that we – librarians – are able to successfully tell our stories, and communicate our value to our stakeholders. TikTok has been the single most effective tool in my personal advocacy toolbox. I've created TikToks that clarify common misunderstandings about libraries and librarians (like how libraries are not just quiet book warehouses), TikToks that stress the need for diverse books, and even TikToks that celebrate and announce grants I've secured. Our school's parents and administrators have responded overwhelmingly positively to my advocacy TikToks, and their popularity with our community has had a wonderful impact on our library program. TikTok is a great and fun way of showing our stakeholders exactly how much value we bring to our schools.
Readers advisory and collection development – TikTok has a fantastic sub-community known as #booktok, which is a great resource to tap into for readers advisory and collection development help. I use the information gathered here to learn about books to add to our collection, but I also use it as a fun and easy way to share book recommendations with my students. When I see a great book-recommendation TikTok, I simply share the video directly to our Instagram Stories so my students can enjoy it. It's a priceless resource!
Professional learning community – When I first started using TikTok there were very few librarians using the app, but recently our numbers have swelled! You can now find many wonderful librarians on TikTok, and we have a blast learning from and connecting with each other. If you search hashtags like #tokstarlibrarians, #tiktoklibrarian, and #librariansoftiktok, you'll be able to connect with librarians from all over the world.
The best way to start on TikTok is to create an account and start following and watching other educators and librarians. Here are a few excellent accounts to follow on TikTok:
@gvhslibrary (This one is mine!)
@mrspopeslibrary
@tokstarlibrarians
@teachinatardis
@chsbookmasters
@akbusybee
@libraryunicorn
@thenextgenlibrarian
Excellent #booktok accounts to follow:
@thebookishmuslim
@a.very.queer.book.blog
@penguin_teen
@24hourlibrary
@epic_reads
I can say without hesitation that our library program would not be as successful, supported or engaging were it not for our robust social media presence. To serve our students, we need to speak their language and we need to live where they live. And right now, a lot of our students are speaking and living TikTok. And so should we.