Learning online: MOOCs for library staff
Martin Gray, a teacher librarian from Singleton High School, looks at how he used MOOCs to further his professional learning with two very different online courses.
---
With teachers being required to take on regular professional development, but often being both time and funding poor, many educators are turning to the phenomenon of the Massive Open Online Course, or MOOC.

A MOOC is a form of distance education which can be studied at a student's own pace and in their own time. As the name implies, these courses are usually offered for free online with open access. Many offer certification of some form, and some can be used for formal institutional credits if tasks are completed and a fee is paid. Not being part of a structured course, there is often no set start or finish time, adding to the flexibility.

This year I decided to use MOOCs to improve my knowledge of current issues in librarianship and to hone my computer skills. The two courses I chose were at very different levels. The first was 'Mapping with Google' and the second a course on 'New Librarianship', which is run through Syracuse University with the option of doing it for 'fun or credit'.
Mapping with Google: Google Maps
The Google mapping short course involved watching a series of five short videos, completing five mapping tasks, and then answering a one page test about each activity. It was possible to complete every activity in the space of one week by doing an exercise after work each day. An advantage of this course is that you are presented with a certificate at the end.

The aim of the course was to familiarise users with the new features of Google Maps, Google Maps Engine Lite, and Google Earth. Several of these features could be useful for students beyond geography; for example, a teacher or student could create a virtual tour of a city that is the setting for studied events. These maps or tours can be shared and have embedded notes.

Library staff are often asked to assist classes with geographically oriented activities and this is an application freely available to all.
New Librarianship Masterclass: Syracuse University
This second course, offered by a library studies faculty, was far more complex and had the option for credit. The structure of the course was very similar to the distance courses offered by Charles Sturt University as part of their Master of Education (Teacher Librarianship). It consisted of lectures delivered by video, several readings, and then a series of assessments to earn the credit. All of these tasks were available to non-paying students, but a fee was required for accreditation. There was also an online forum for the discussion of ideas raised and for students to interact with each other and the professor.
I chose to only watch the video lectures, rather than complete the course; a decision based on time constraints and not needing another university credit. The time to watch all the videos for week one alone was close to two hours so the full course would have been a significant time commitment. All up, just watching the videos during my regular working week took two months, rather than the four weeks the course was scheduled for, which would have included readings and activities.
The level of information was definitely tertiary and covered several issues of relevance to librarians. I had never heard the terms 'Conversation Theory' or 'The Salzburg Curriculum' before, but both could have effects on the future of librarianship. Conversation theory will be familiar to librarians who have recently completed tertiary courses, as there is an emphasis on creating knowledge through conversation. This includes finding out what your community needs and advocating for them, as a way of improving your usefulness within your community. The Salzburg Curriculum–named for a symposium on 'Libraries and Museums in an Era of Participatory Culture' held in Salzburg, Austria–deals with the core of New Librarianship in the modern world. It also promotes collaboration and self-reflection, through methods such as collecting statistics and surveying users, and examines the skills required by librarians today.

This course was worthwhile to keep up to date with current theories and to provide a framework and structure to the way libraries can move forward. Of particular interest is the idea of libraries as a platform, a topic which was widely discussed on the forums. Rather than just a place of lending, the library is a place of creation and sharing; a place where groups can come together and share each other's knowledge, or create more. This brings to mind local history groups who meet at public libraries and create documents which can then be lent or the chess clubs in schools, who meet and improve each other's skills through playing.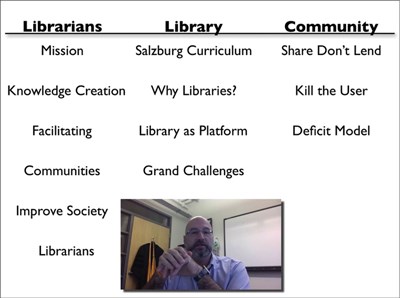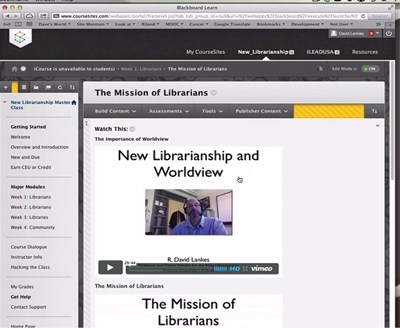 Pros and Cons
Both these courses would be useful for school library staff and teachers, whether library qualified or not. The mapping course is a good introduction to self-paced learning courses, being short, simple, and useful across faculties. The New Librarianship course is a good explanation of the skills needed and challenges faced by librarians, while also advocating for qualified librarians.

As with any distance learning or free course, there are advantages and disadvantages. The advantages are the convenience of cost, access to teachers, time, and location. The disadvantages include absence of face to face contact and the lack of motivation due to time restraints or lack of commitment to a free course. The validity of courses varies from provider to provider but a well-chosen course can provide a useful learning experience.
Next MOOCs?
The next course I plan to undertake is a Google course on Power Searching. This course is designed to teach users the features available on Google Search: boolean logic, keywords, filtering results by colour, and fact checking. These are all skills useful for the finding and selecting of information. The course takes about nine hours and while it can be started at any time, there is a time limit for assessments.

Other MOOCs I have looked at include San Jose University's 'The Hyperlinked Library'. There are also several library related courses on iTunes U.¹