Save time and effort with Scootle learning paths
An overview of the use and functionality of Scootle learning paths.
---
Scootle plays host to more than 20,000 digital learning resources, all of which target Australian teachers and students, and many of which are aligned to the Australian Curriculum. The good news is that you can save your favourites and organise sequences of resources into learning paths.
Learning paths are organised sequences of Scootle resources. You can create your own learning paths or view others that have been shared by Scootle users.
How do I find shared learning paths?
Log in to Scootle.
Select the 'Learning paths' tab in the navigation bar at the top of the screen.
Enter a topic in the Search field under 'Find learning path'.
In the drop-down menu, select User Tags or Title (it is worth trying both). 
Select the magnifying glass to begin your search.
For example, a search on 'Australia Day' and 'Title' retrieves two learning paths. The second is 'Australia Day resources – January 2015'. When you select the name of the learning path, you are rewarded with 14 resources, including videos, interactives, photographs, and cartoons. You can even make a copy of the learning path if you wish.

How do I create my own learning path?
There are a number of ways to create a learning path. If you've never made one before, try this:
Once you have found a resource you would like to add to a learning path, select the small box to the left of the thumbnail.
Click on the green 'Add 1 item(s) to my learning paths' button towards the top of the page.
You will be prompted to create a new folder. For example, you can call the folder 'History'.
Give your learning path a name, eg 'Chinese history'.
If you wish, write a description of your learning path – you can always edit it later.
Click on the green 'Add to learning path' button.
Repeat steps 1, 2 and 6 with other suitable resources for your learning path.

What can I do with my learning path?
There is a lot you can do to maximise the usefulness of your learning path. If you select 'Edit details' from the Action box in the top right hand corner, you can edit your description or add additional comments that will appear at the end of your path.
For each resource in the learning path, you can edit the description or add a comment by selecting the 'Actions' menu. Comments are particularly useful. They appear below a resource and provide a great space to enter questions or instructions for students.
If you wish, you can re-order the sequence of resources by dragging and dropping them to where you would prefer them to sit.
How do I share my learning path with other Scootle users?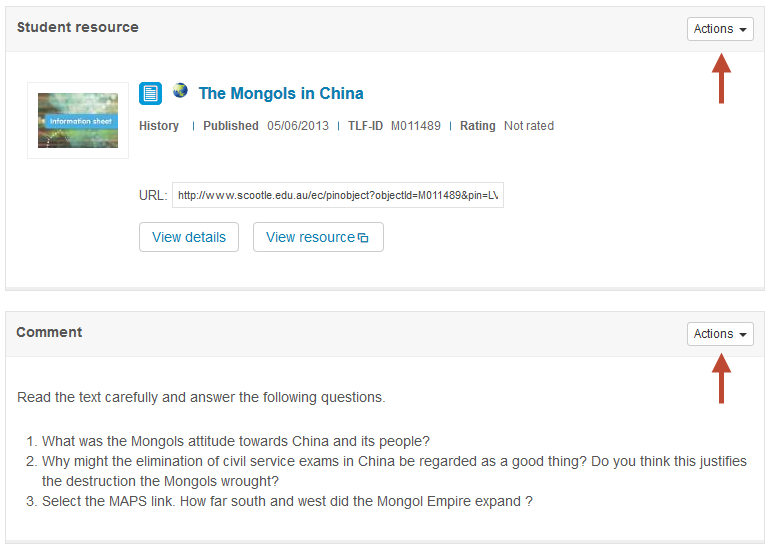 Select 'Share' in the Actions box.
In the pop-up, select the relevant year levels, learning areas, and audience.
Add up to three user tags – these are terms that will help people discover your learning path when they carry out a search.
Select 'Share' – you can always unshare your learning path at a later date.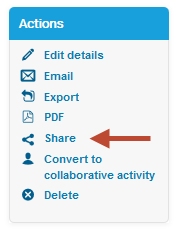 How do I share my learning path with students?
You'll notice that your learning path has a PIN. If your students go to the Scootle website then select 'Student login' at the very top of the page, they will be prompted to enter this PIN. Once they've entered the PIN they will have access to your learning path.
Conclusion
Learning paths enhance the value of Scootle resources significantly and can save you a lot of time. They are useful for teacher collaborations, for curating ideas for a class project or unit of work, or for creating a list of resources that you would like to come back to at a later date.
In the next edition of Connections we'll look at collaborative activities, as well as some of the helpful ways you can filter content in Scootle.