Lending an ear for literacy
Leah Sheldon and Janine Sigley share how their not-for-profit organisation, Story Dogs, uses Dog Teams to engage students struggling with literacy in Australian schools.
---
The mission of Story Dogs is 'To make reading fun for children, so they become confident lifelong readers. No child should be left behind in literacy.' Earlier this year Connections approached Janine and Leah to share how their organisation is helping to address the issue of literacy in Australian schools.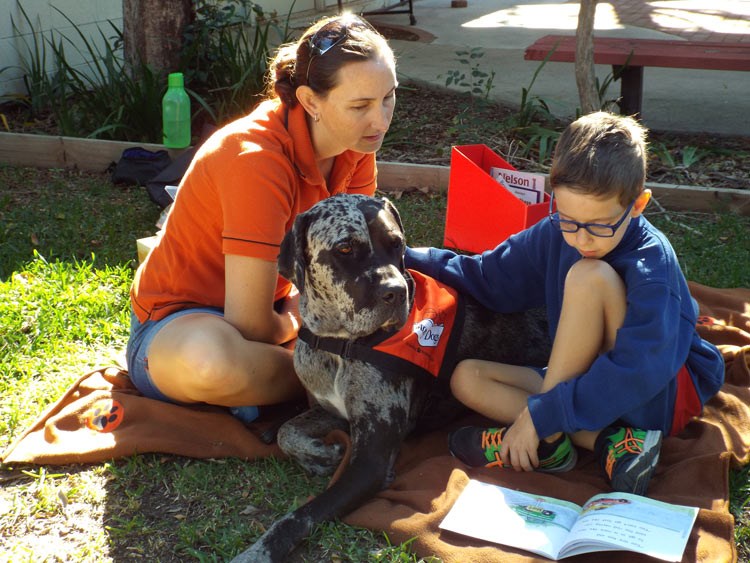 When Brock was seven years old and in Year 2, he was chosen for the Story Dogs reading program because he was a non-reader. His teachers were very concerned as Brock had been diagnosed as autistic, and they doubted if he would be able to progress at the same rate as his peers. Yet, after a year in the Story Dogs program he had amazed his teachers and the principal by leaping up 18 levels in reading. Along with Brock's hard work, the Dog Team-Kelpie cross Pia and her owner Kate-had worked magic. This is just one example of countless children that the Story Dogs program has helped.

Story Dogs is a reading support program targeted at year 2 students who struggle with their reading or confidence. The program accredits dogs and their owners to form a Dog Team which then enters schools at a set time each week. Target students, chosen by teachers, come out of their classroom and sit one-on-one with the Dog Team to read. A reading session is usually 20 minutes long, and includes some time for fun with the dog as well as time for the student to read stories to the dog. Normally a Dog Team will see the same four or five students each week. A relationship is initially sparked, and grows throughout the year giving students a chance to gain confidence and increase skill in reading. The owner of the dog, or handler, is trained to make the reading sessions fun, interesting, non-threatening, non-judgemental, and to ensure a healthy interaction with the dog. Their role is not to be a teacher but usually to help the student read the dog a story. Sometimes the handler will read a book instead, which is an experience that some student's may have previously missed out on.
The Story Dogs not-for-profit organisation was formed in Murwillumbah, NSW in 2009 by Leah Sheldon and Janine Sigley, both parents of primary and high school children. It is based on the successful American literacy program, Reading Education Assistance Dogs (R.E.A.D.), which was launched in 1999. R.E.A.D. was the first comprehensive literacy program of its kind, built around the idea of children and young adolescents reading to dogs. Underpinning the objectives of the Story Dogs program is the knowledge that 'students with reading difficulties find themselves in a cycle of almost unrelenting failure that ensures an ever-widening gap between them and fluent readers' (Konza, 2006. p. 152). During 2009, a trial was run at Murwillumbah East Public School (MEPS), with three Dog Teams. This trial was very successful, with positive feedback coming back from students, teachers, the principal, and parents. From that trial the program has continued to expand across Australia.
One parent offered to share the results achieved by having their child participate in the Story Dog program:
My daughter has a desperate fear of dogs and this has had a large impact on her life. When Story Dogs started coming to her school she began spending time with a beautiful, but very large, black poodle named Nero. With the help of Evelyn, who is Nero's handler, they are slowly helping my daughter to overcome her fear of dogs and improve her reading. Every week without fail my daughter goes off to school excited that it's Story Dogs day, and that she will get to spend some special time with Evelyn and Nero.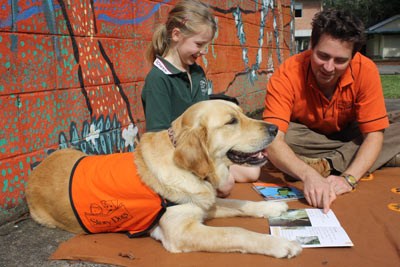 The Story Dogs program is designed to fit in with teaching routines. Handlers do not bring the dog into a classroom unless invited. Instead, individual students come out of their classroom at a time that fits into their teacher's schedule. Feedback from teachers involved in the Story Dogs program is overwhelmingly that there is a significant change in the attitude of Story Dogs participants towards reading. Struggling readers grow to seek out books and look forward to their reading sessions. They come to school excited because it is 'Story Dogs day'.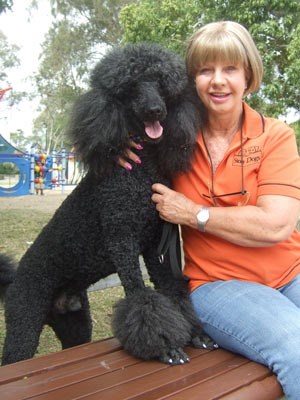 Some teachers on the Gold Coast in Queensland have volunteered to share the experiences they have had with the Story Dog program:
I have been fortunate enough to work with the Story Dogs program for two years now. In that time I have found it to be an engaging and rewarding experience for all students involved. Students look forward to their one-on-one time with the dogs each week and their growing enthusiasm and confidence about reading carries over into other areas of their studies. I would strongly recommend the program to anyone looking for a way to improve young learners' aptitude and attitude towards reading. - David.
Evelyn and her story dog 'Nero' have been coming to our school to work with our special needs students for a year now. In this time the therapeutic aspect of having a dog read with the students has motivated students to engage in reading again. We definitely find the program to be beneficial to some of our disengaged and challenged learners. It has also improved self confidence in one student tremendously. We cannot thank the Story Dog team enough for their support and efforts to make these huge achievements with our students. - Nicole.
The program is free for students; however, it does cost $500 to put a Dog Team into a school for one year. As Story Dogs is a not-for-profit, registered charity which receives no government funding, it is reliant on Dog Sponsorship and donations to cover this cost. The money is used to ensure the handler is not out of pocket, and includes items such as: a reading rug, books, insurance, training, dog accreditation, annual vet check for the dog, and a shirt for the handler. Dog Sponsors are rewarded by knowing that they are part of the solution to improving literacy in Australia. They also receive media exposure by having their logo featured on the dogs' vests, and on the Story Dogs website. Schools are usually able to hold one fundraising day a year to raise the funds required to have a dog help students at their school.
To become a Story Dogs volunteer, the dog and handler must pass a 10 point accreditation test by a qualified dog trainer. They then attend a half-day training course which covers how to run a Story Dogs reading session, the expectations of a Story Dogs volunteer, and how to manage their dog at a school. After this they attend an in-school training session with an experienced Dog Team. Story Dogs then organises to place them in a school which suits them, one that they may already have an association with, or is in their local area. All dog handlers are required to have a current Working with Children Check appropriate to the State they are in.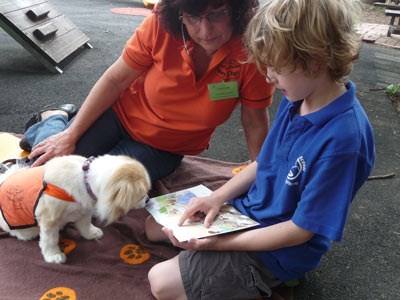 The long term goal of Story Dogs is to have a Dog Team in every primary school in Australia. All participating schools are listed on the website: www.storydogs.org.au. If Story Dogs is not currently in your area please contact us at: [email protected]. Advertising in your school newsletter may also help to find some suitable volunteers in your area.
---
Image credits
Kelly and 'Clyde' the Great Dane help at Karalee State School in Queensland. © 2015 Story Dogs - All Rights Reserved
Ben and 'Lizzie' the Golden Retriever help children at Tumbulgum Public School in New South Wales © 2015 Story Dogs - All Rights Reserved
Maree and 'Ella' the Tibetan Spaniel help at Uki Public School in New South Wales. © 2015 Story Dogs - All Rights Reserved
Evelyn and 'Nero' the Poodle. © 2015 Story Dogs - All Rights Reserved