The new librarian: leaders in the digital age
At a time when many school libraries are undergoing cuts, Vancouver Public Schools in the U.S. are revamping their libraries, with teacher librarians guiding schools and student learning into the future.
---

As school districts confront budget constraints and cuts, one of the first places administrators often look to for savings is the school library. Numerous districts, large and small, have cut librarian staffing to part-time or eliminated positions entirely.
These cuts can impact both students and teachers. Although libraries remain open, they lack trained educators to support students, despite a technological landscape that makes information literacy more important than ever. Student research increasingly occurs outside of the library and with the advent of digital content, new standards, and 1:1 computing, teachers need librarians to help navigate these new choices.
For these reasons, Vancouver Public Schools (VPS) in Vancouver, Washington, has been investing in its librarians while others are cutting back.
The district's cohort of 33 teacher librarians is viewed as indispensable to the vision of a technology-infused path to improved student outcomes. After the community passed a $24 million technology levy in 2013, the district began its weLearn 1:1 initiative, which by 2017 will provide all grade 3–12 teachers and students with an electronic device in a flexible learning environment, and a personalised digital curriculum.
Teacher librarians at VPS play a crucial role in this digital transformation, as well as other strategic initiatives. As a result, they are expanding their role to spend more time in the classroom, curating digital content and lesson plans with teachers, teaching digital citizenship to students, and even emerging as technology experts within their schools.
VPS Superintendent Steve Webb considers teacher librarians among the district's visionaries. Their story offers a blueprint for maximising the impact of libraries and librarians on student learning.
Reasserting relevance
A decade ago, after several librarians retired and the district's budget continued to tighten, VPS considered not refilling positions at several elementary schools. At the time, librarians reported feeling out of the loop and disconnected from district leaders.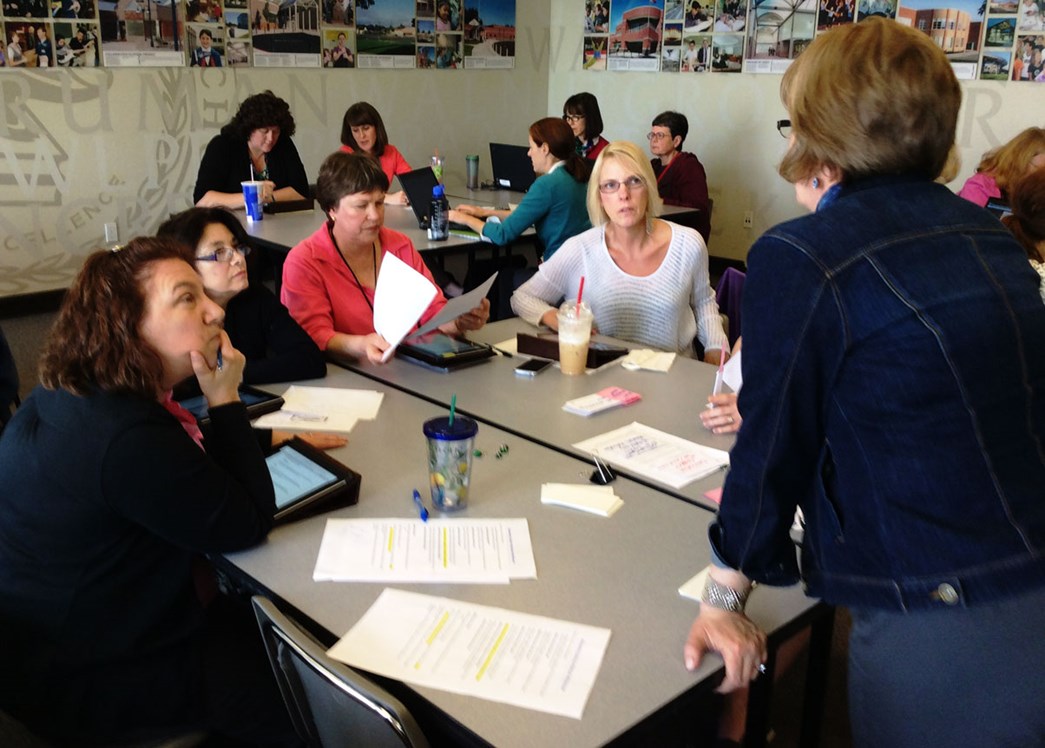 The teacher librarian cohort banded together and came up with a plan to reassert their relevance in the district. Mark Ray, a high school librarian at the time (now the district's director of instructional technology and library services), was appointed to lead the cohort and better understand how librarians could fulfil the district's strategic goals. For the first time, district leaders and librarians were in the same room, talking about topics of shared interest and importance. These conversations led to significant increases in responsibility for teacher librarians, from digital literacy to support of instructional quality.
To replenish the talent pipeline for librarians, the district worked with nearby Portland State University to offer a one-year library certification program for educators who were working as librarians. VPS also bolstered professional development, with Layne Curtis, the district's director of curriculum and instruction, and its former chief information officer, Lisa Greseth, leading efforts to involve teacher librarians in key projects.
As these efforts began to demonstrate effectiveness, teacher librarians increasingly assumed strategic leadership roles in their own schools and on local and state committees. This tact aligned with Superintendent Webb's push to widen his circle of instructional leaders and foster ubiquitous leadership throughout the district.
Emerging as leaders
Ray understands the value that teacher librarians can bring to the table: 'By virtue of their training, relationships, systems knowledge, and instructional roles … teacher librarians are ideally suited to lead, teach, and support students and teachers in 21st century schools,' he says.
As such, VPS teacher librarians are designated trainers for a new online teacher evaluation system in the state of Washington, and are adapting the evaluation and instructional framework to their new and emerging roles in the classroom. Ron Wagner, a teacher librarian in the district, runs day-long workshops to train other teacher librarians in teaching students to understand complex texts, read for information, and conduct research.
Many teacher librarians say they now feel connected to something bigger than their own school, namely the strategic plan to redesign instruction across the district. Traci Chun, teacher librarian at Skyview High School, is on a panel that designed the district's new social studies curriculum. Chun is an example of how the gap between the librarian and the classroom instructor is closing. She now spends about half of her time in the classroom, co-teaching with other faculty, leading in-class lessons, and teaching research skills to students in social studies, language arts, and chemistry.
Rising to the 1:1 challenge
The district boasts nationally recognised magnet schools. At the Vancouver School of Arts and Academics, students have access to industry-standard stage production equipment, a recording studio, and film production suites. Skyview School offers an engineering academy within their comprehensive high school. In recent years, the district opened iTech Preparatory and Lewis and Clark High School, which both reimagine traditional ideas of school time and space through competency-based 1:1 learning environments and teacher mentoring. The nature of these programs requires support for teachers and students that create unique roles for librarians.
To that end, VPS is taking a deliberate approach to weLearn. Device rollout for the district's 23,000 students has been staged over a six-year period.
By design, teacher librarians are playing an important role in this implementation. And while they have received technology training for the last five years, the iPads have posed new challenges for them. While some teacher librarians were early adopters of smartphones and iPads, others were new to the technology.
Teacher librarians now receive annual training in instructional technology leadership, and going forward are considered the key point of contact for schools introducing new technology. This is the latest evolution in the constantly changing role of VPS teacher librarians, several years after their positions were almost cut.
Even before the new iPads and laptops arrived, teacher librarians were often approached by principals to spearhead efforts to teach students about digital citizenship. Now, with students more often working online, in computer labs, at home, and in classrooms, the teacher librarian role as a digital maven is even more important. They are no longer isolated behind their library walls.
Rethinking library spaces
 While Vancouver's teacher librarians may represent a new breed, changes to the district's library spaces are happening more slowly across its schools. Some libraries are enclosed, while others occupy spaces within common learning areas. Print encyclopaedias still have a place on the shelves, and computer labs have not yet given way to mobile technology. However, early shifts in the library programs and collections are underway.

Ironically, what Vancouver views as a potential prototype for its future school library opened in 1995: Discovery Middle School, which was created to support project-based learning. The library was part of a large, well-lit, and flexible space called the 'Toolbox' that housed computer and science labs and an adjacent pottery room.
With some modifications to account for mobile devices and a more collaborative space, the library could resemble 'maker spaces', which foster hands-on, multimodal learning and creation.
At schools already embracing a mobile, tech-integrated learning environment, like iTech Preparatory Academy, libraries can be difficult to recognise. The STEM academy features two sites: a standalone middle school and high school colocated at Washington State University, in Vancouver.
In the middle school, the library consists of a table with several book kiosks in a hallway. And at the high school, teacher librarian Katie Nedved works out of a corner of what is primarily the lunchroom. With this arrangement, students can access resources during leisure time or, when the cafeteria is empty, there is ample space for students to work in small groups. As each student owns his or her own laptop, a full-scale library space isn't needed. iTech offers just 800 print books, which are mostly print counterparts to the digital content the district offers.
For Nedved – a librarian without a library – it is natural to view her role non-traditionally: mentoring students one-on-one, teaching digital citizenship, and helping both teachers and students curate the vast array of digital resources available online.
The year iTech opened without a teacher librarian, logs showed that students accessed the library's digital resources and databases only 400 times. In Nedved's first year, after showing students how much information was available to them, they logged on more than 7,200 times before springtime.
Helping navigate the noise
With student research moving online and VPS progressing through its weLearn 1:1 initiative, school librarians have also emerged as key advocates for digital citizenship.
Like many districts, Vancouver employs policies to meet district, state and federal guidelines, and uses filters that apply to school and home technology use. Currently students cannot access Facebook and YouTube on school devices, nor play games or download music. However, filters and policies only go so far, so to prepare students for college, careers, and life beyond high school, digital citizenship is an explicit component of VPS' flexible learning environments. Teacher librarians have completed a gap analysis to identify resources, develop a scope and sequence, and recommend policies and principles to the district. In addition to a focus on cyberbullying, students learn about online safety, digital identity, and data security.
A new outlook for libraries
Ray said it has taken nearly a decade for teacher librarians to get to where they are now in Vancouver. 'My strategy has been advocacy based on results rather than on some platonic form of what the library should be', he said. 'It's not waving a flag for school libraries. It's about how they support student learning.'
Overall, Vancouver is like other districts in that it sees technology as an opportunity to empower learning for all students and overcome some chronic barriers to success. Given the infancy of Vancouver's instructional and technology initiatives, it is too early to say whether the iPads and laptops are meeting these goals, or what the results will look like when both students and teachers have years of experience with them in the classroom.
Webb thinks it will take three or four years for technology to transform the classroom, but he sees early indicators that things are moving in the right direction. Student engagement is up, and absenteeism and disciplinary problems are down. In a city of both wealth and poverty, Webb believes these digital learning tools 'have the potential to be the great equaliser in public education.' Vancouver Public Schools is counting on teacher librarians to help make that happen.
---
Article and images republished with permission.

To view the original article, please visit http://www.digitalpromise.org/blog/entry/teacher-librarians-chart-a-new-course-in-vancouver-public-schools