Guerrilla book fair: getting staff involved in your school library
UK-based school librarian Lucas Maxwell recommends ways to encourage teachers to make use of school libraries.
---
Getting staff members involved in your school library can be tough. They are busy people, and any free time they do have is precious to them. Over the past few years, I've identified several ways to get staff excited about library programs, which in turn helps to make your library the thrumming heart of the school.
Speak at whole school assembly
This might sound obvious, or it might fill you with dread. Either way, it is important to get your face out there to both students and staff. If your school does year group assemblies and staff briefings, even better. Promote yourself, promote the library's activities, and pat yourself on the back. It will work to get staff through the library door as much as it will the students.
Attend staff meetings
My first meetings were with the English department, primarily so I could introduce myself. In those meetings I was able to throw around a few ideas: reading logs, research lessons, competitions — all things that would require no extra work on their part.

In addition, I also attend meetings with subject leaders, where I encourage them to look over the collection with me to ensure we are offering students the best non-fiction resources. These friendly, typically one-on-one meetings are important because they show that you are interested in connecting with staff in a positive manner. Adopting this approach will go a long way in attracting staff to the library.
Welcome back bags
This idea can be time consuming, but it is worth it. During our summer holidays, I bought 200 neon green gift bags to put in the staff pigeonholes so they would have something from the library when they returned at the start of the school year.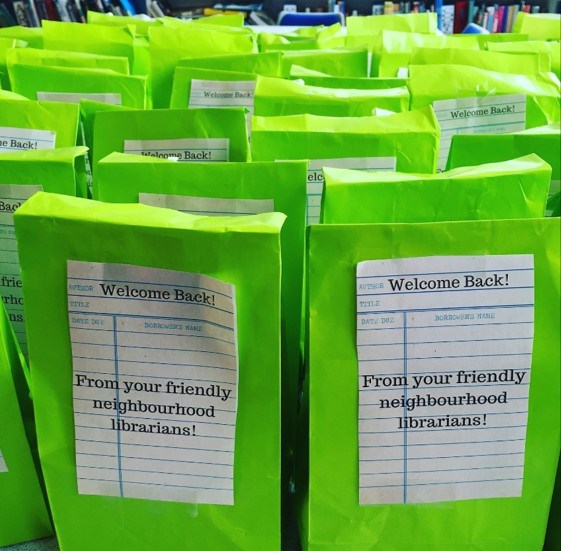 The only problem was that I had nothing to fill them with. I contacted my local independent bookshop and they were more than happy to provide hundreds of free things: magnets, pencils, bookmarks, and more. I contacted book publishers via Twitter, and they also supplied a lot of free materials.
In addition, I made a laminated postcard that outlined the library's services, who I was, what our hours were, and how we could help them throughout the school year. Two months later, I am still approached by staff in the hallways thanking me for the gift bags. Again, it is very time consuming, but it will certainly pay off.
Offer your library's services
As previously mentioned, teachers are busy people. I found that offering my services for context and research lessons pays off in several ways. First, you get to demonstrate to the teaching staff that you're not a one-trick pony. Yes, reading is important, and it is your job to get books in students' hands, but you can offer a lot more.
Utilise the staff room
This is as simple as it sounds. I asked our head teacher if I could use a section of the staff break room to advertise library events, and he said yes. So, armed with posters, I cordoned off a 'What's on in the library' area in the staff room. Eyes tend to glaze over if you leave the same thing up for too long, so the key is to keep it up to date; I change it every month.
Start a blog
This is a free and easy way to keep all members of your school community up to date on what's happening in the library. I try to publish blog posts a few times a week, and send a link out to staff every half term. It won't happen overnight, but if you stick with it, your blog can become the base for everything that you do. It is by far my favourite tool for organising what I've done as a professional librarian.
Library programs
The programs in this section worked for me, but they may not be one-size-fits all approaches. The more you get to know your colleagues, the more you'll be able to tailor programs in ways that will keep them coming back for more.
Passive programs
Passive programming has been one of the most popular ways to get staff involved in library activities. This involves things like shredding photocopied pages from a classic novel and placing them in a jar in the staff room, and asking staff to guess the title using emojis or photos as clues. On other occasions, I've simply asked staff to tell me their favourite book for display purposes.
House reading challenge
I also run a reading challenge every year. Our school is divided into four Houses, and staff are included in this system. To gain points, Houses are encouraged to write book reviews. Every year we tally up the number of reviews by staff members to see who has read the most.

How do you keep staff interested in these passive programs? Prizes. It sounds simple, but it makes a huge difference. Make a big deal of it: show off the winning staff member around your school and on your social media accounts, and it will pay off.
Brownies and books
Another program that has brought staff into the library is 'Brownies and books'. I wanted to show off a giant pile of new books, and didn't have enough display space to do them justice. I shut the library down during a lunch hour, made a boatload of brownies, and told staff members that if they borrowed a book from the library, they'd get a free homemade brownie. I offered them to students as well, of course. I had to limit the numbers on both sides because a free brownie is a free brownie.
I put the books on tables, with each table allocated a different genre. I had reliable student library assistants walking around, book-talking, promoting the books, being helpful book-pushers. It was a huge success and I saw teachers in the library that I hadn't even met before.
Pop-up library
Our student library assistants and I created a pop-up library where we wheeled high-interest books out to the playground. Armed with a sign-up sheet, 50 books, and 50 donuts, we got to work, yelling out our services, and talking about the great books we had on offer. Again, there was a catch: borrow a book, you get a delicious, free donut. We were out of books within fifteen minutes. It was amazing to see staff and students in the same queue, waiting for their books. This guerrilla book fair worked so well that we are planning to make it a termly event. Again, there was a catch: borrow a book, you get a delicious, free donut. We were out of books within fifteen minutes. It was amazing to see staff and students in the same queue, waiting for their books. This guerrilla book fair worked so well that we are planning to make it a termly event.
Active programs
Active programming can be challenging, but the payoff is more rewarding. Examples of successful active programs that I've run in the library include:
'Poem in your pocket' day
This is an event that our library runs toward the end of the school year, though it can be done year-round. I print short poems onto library due-date slips, and put one in every staff member's pigeonhole a few weeks before the event. I invite students and staff to try to memorise their poem for our big poetry open mic event. At the event, students and staff 'compete' to see who could recite their poem word for word, with bonus points given for presentation style. It gets silly, it gets rowdy, and it's awesome.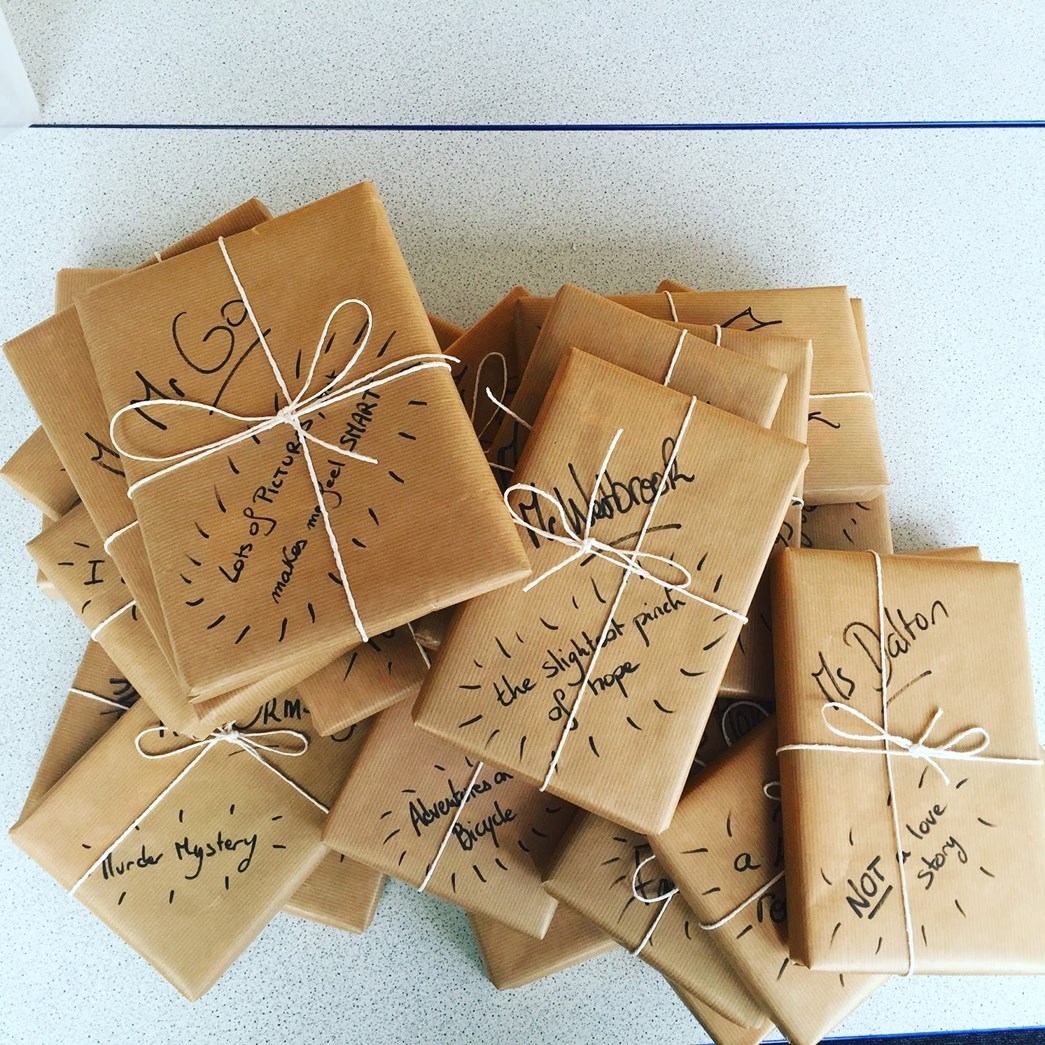 Surprise summer reads
This is by far our most popular staff program. A month before the end of the school year, I ask all staff members to tell me their favourite kind of book. It can be anything from 'mysteries' to 'books with a lot of explosions in them'. I find a book from our collection based on their interests, wrap it in brown paper, tie a string around it, and deliver it to the staff member in person. The idea is that the staff member will read the book over the course of the summer and write a short review of it on a revision card. When the book is returned after the summer, I re-wrap the book and stick their review to the front. Students are then encouraged to borrow the book and write their own review, which, once returned, I showcase next to the staff member's review.
Conclusion
Involving staff with your school library activities is an ever-changing process. In my experience, involving staff much like you'd involve the students pays off. If you promote your services and make them aware that you are there to support them, they will be more likely to support you in turn. It's a huge challenge, but it is extremely rewarding.