Looking back: school library catalogues and the online revolution
Former SCIS manager Lance Deveson looks back on teacher librarianship over the past 40 years, including the introduction of automated cataloguing and the early days of SCIS and Connections.
---
I was delighted to receive an invitation from the current Schools Catalogue Information Service (SCIS) team at Education Services Australia (ESA) to reflect on and write about the early days of teacher librarianship, SCIS and Connections. As the SCIS manager in the early 1990s, my staff and I came up with the idea to produce a newsletter for teacher libr­­­arians, and went on to produce the first six-page issue of Connect — now Connections.
Teacher librarianship in the 1970s and 1980s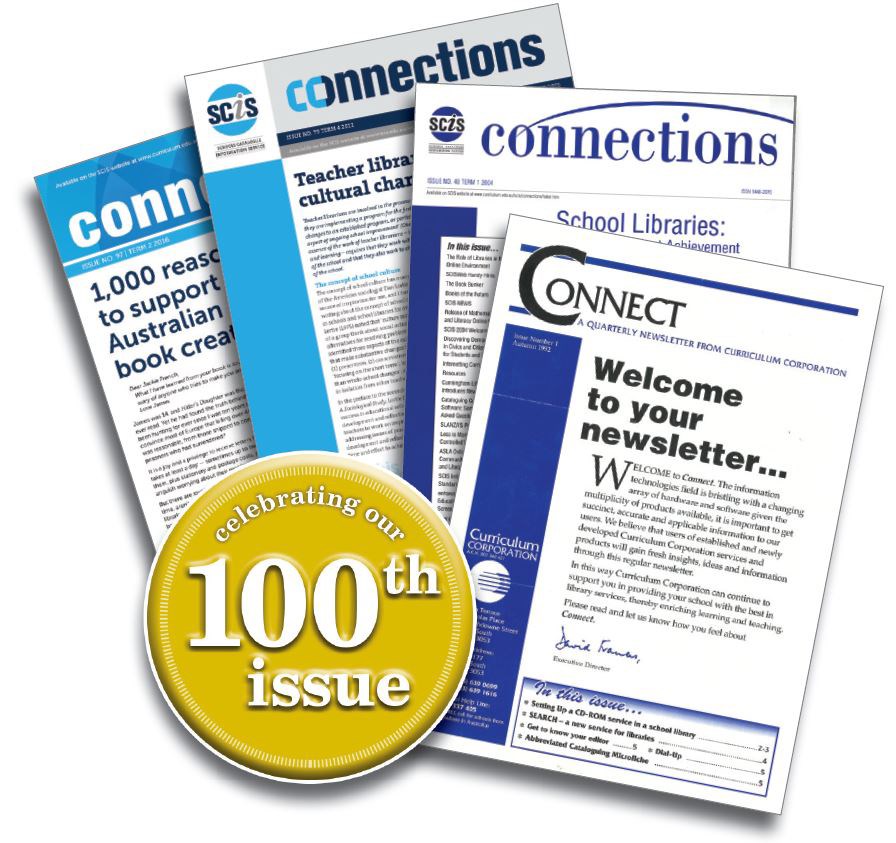 After finishing a primary teaching diploma in 1973, and hoping to further my studies and career in education, I applied for the Diploma of Librarianship at the Melbourne Centre for Adult Education, now part of Melbourne University. Soon after, I found myself sitting in a lecture theatre and listening to the dynamic duo Doug Down and Wes Young lecture on information management.
Sitting in those Wednesday afternoon lectures, little did I realise that, some 16 years later, I would be part of the organisation that their research and papers helped to create. Funded by the Commonwealth Schools Commission, Down and Young's research explored and analysed the concept of a national schools' cataloguing service, which would later become the model for the Australian Schools Catalogue Information Services (ASCIS) pilot project. But I get ahead of myself.

After graduating, my first appointment to a school library was Errol St Primary School in North Melbourne. This was when Victoria offered teaching studentships with guaranteed employment, and teacher librarians were invited to the School Library Branch to determine where they lived and if they wanted to work in an urban or rural school. I was living in North Melbourne at the time, and there was a vacancy at the school, so I was appointed to a full-time teacher librarian position.

This was a traditional school library of the time: reasonably well stocked with books and resources, an excellent budget, supportive principal and staff, and good parental support. I spent my days cataloguing and covering new books, ordering cards from the School Library Branch, and then filing them when they arrived; teaching some basic information skills; and spending time reading great books to the children such as Adrian Henri's Eric the Punk Cat and René Goscinny's Nicholas and the Gang.
I then moved on to Golden Point Primary School in Ballarat, where I made my first adventure into library automation — or what we considered automation at the time. The school built a portable building that became the library, and after years of ordering catalogue cards by searching the book catalogues from School Library Branch in Melbourne, the school purchased an Apple 2E computer, dot matrix printer, and a card cataloguing program.

With this program, we typed in each item's metadata, and printed a complete set of catalogue cards that were then duly placed in the wooden card catalogue. For every set of five or six cards, we would need to align the dot matrix card material, purchased in rolls. We usually wasted a complete set getting the cards to line up, which furthered our interest in computing and their use in libraries. But as a young teacher librarian, I was excited to be using this new technology, and thought it a major leap forward in getting books onto shelves more quickly.

Following some computer studies, and running a computer course for the school on Commodore VIC-20 and Commodore 64 computers, I was fortunate to be offered the role of Regional Library Consultant for the Central Highlands Wimmera Region. This was when VCE was first introduced in Victoria, and as information skills became more important in the curriculum, so did libraries, with most schools having at least one trained teacher librarian. Library automation became a major focus as many schools started looking at how to provide better access to their resources for students and staff.
SCIS and Curriculum Corporation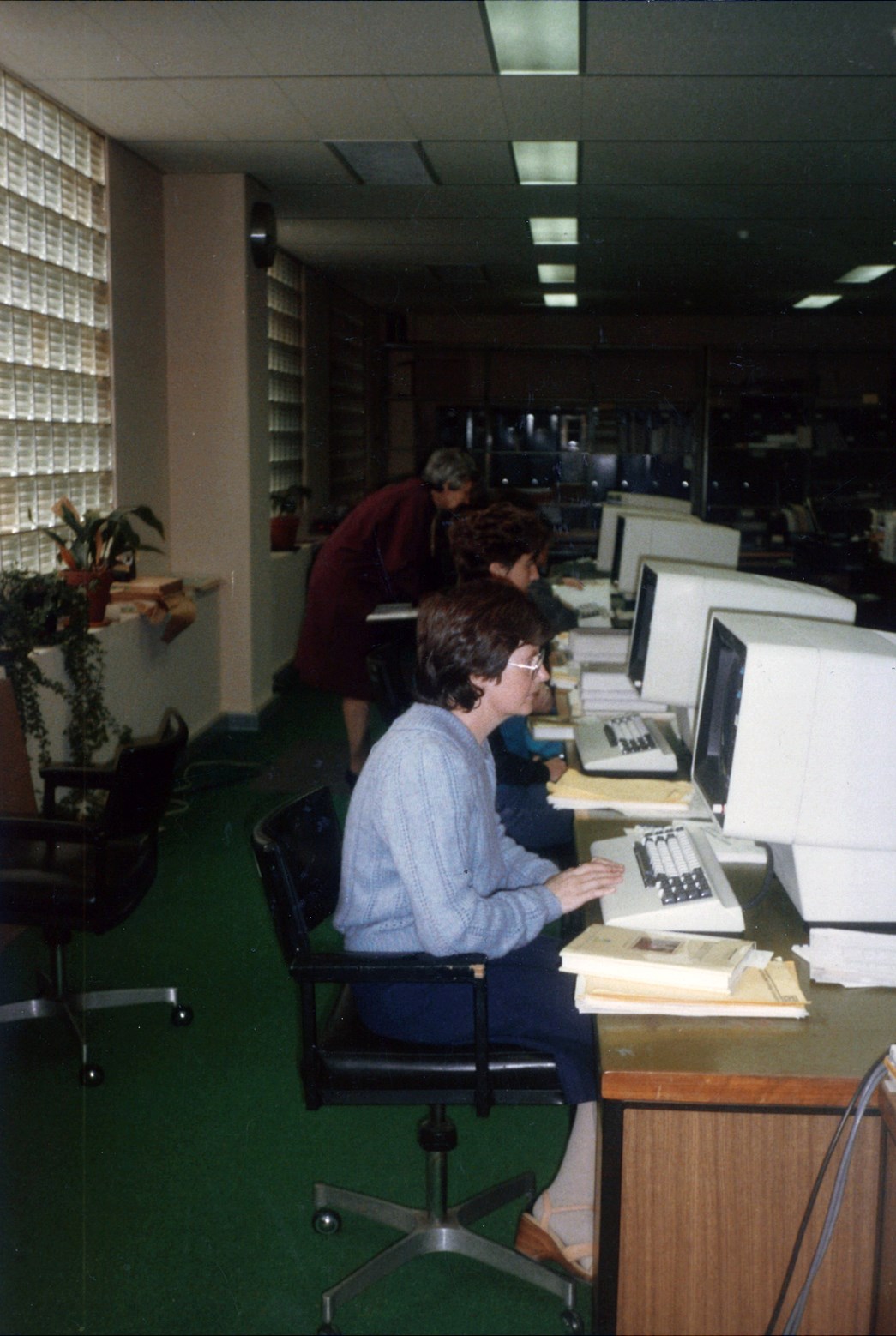 During my five years as the regional consultant, I watched with interest as word about a new national curriculum body was constantly discussed at district and state consultant meetings. Curriculum Corporation formed in 1990 to facilitate and publish developmental work supporting education systems and sectors. This became relevant to teacher librarians once we learned that the Australian Schools Catalogue Information Service (ASCIS) was to become part of this new organisation. ASCIS had been providing catalogue cards to schools in Australia for some years, searching on microfiche, and the inclusion was seen as great development for the service.

Soon after, I was invited to join ASCIS to assist in the transition to their new offices in Carlton and provide telephone support for one month — but ended up staying for seven years.
After New Zealand joined the Board of Curriculum Corporation in 1992, ASCIS dropped the 'A' to become the Schools Catalogue Information Service (SCIS). In the same year, I was selected to manage the SCIS program.

Curriculum Corporation sought to update SCIS's products and services, and a review was undertaken by staff from Ferntree Computer Corporation. This resulted in the decision to upgrade the cataloguing standards from DMARC to USMARC, and to move the database from the DOBIS/ LIBIS system to a new open access system. After much research, the then-untried and very raw Voyager system was selected, and Curriculum Corporation became the first site to install the system outside of the USA. Voyager was developed as a resource retrieval system, and at the time, the cataloguing module was nonexistent.
Voyager underwent a four-year system development to create a cataloguing module. We worked with technicians and developers at Endeavour Information Systems in the US; skilled staff at Ferntree Computer Corporation; SCIS staff Ellen Paxton — who worked tirelessly on the data conversion from AUSMARC to USMARC — and Nicole Webb, Heather Kerr, Barbara Burr, and Maxine Campbell, who assisted with the user interface; and the SCIS agency staff in all other states who assisted with development of the cataloguing module. As the project manager, this development was without doubt one of the highlights of my career in school libraries. We created a great system, which is still used by SCIS today.

Voyager was released to schools in 1996, together with SCISLINK, which enabled schools to dial up and download their records into their library systems, and SCIS CD for schools without dial up access. The Voyager development was outstanding, and made Australian and New Zealand school libraries the envy of others worldwide.

When I was in the US earlier this year, I visited the Library of Congress. It was with much pride that I asked to see the library system, Voyager, and let the librarians know that I was part of the team that developed the system they now use, and it still works well.
Connections
While the Voyager projects were the major focus for SCIS in the 1990s, the review also suggested we needed to develop a new form of communication in order to alert schools to the name change and our new products and services, and to give teacher librarians a voice. Out of this came the first edition of Connect — the name used for the first issue before it became Connections.

Connect was first edited by Dianne Lewis, teacher librarian at Mt Scopus College, and the aim was to be a newsletter by teacher librarians for teacher librarians. At the time there was no other newsletter specifically for school librarians not attached to a member organisation. Dianne was the obvious choice as the initial editor: she was a very experienced and creative teacher librarian, and was very active in the School Library Association of Victoria (SLAV). The first edition provided information on setting up a CD-ROM system in the school library, and reviewed new CD-ROM products. This was state of the art in regards to technology and information access in 1992.

Not long after the initial edition, and as the internet became more prominent in the library world, SCIS invited Nigel Paull to research and write an article on this new area. It is great to see that, in his retirement, Nigel is still contributing to the quarterly editions. With publications from many organisations now only available online, it is great to see that Connections is still available in printed form.

I feel very lucky to have been part of the online revolution that took place at Curriculum Corporation in the 1990s. To be part of this 100th edition of Connections is a privilege, and I thank the SCIS staff for the invitation.

I congratulate the SCIS team for maintaining this publication. Even in my retirement, I still look forward to reading every edition.

Long may it live in print.