School library spotlight: Galston High School
SCIS speaks to Jade Arnold of Galston High School in New South Wales about what's happening in her school library.
---
What is your job title, and what does your role entail?
My official job title is teacher librarian. My role within the library is multifaceted. As the manager of the library, I am responsible for acquisitions, resource management, and research services, and I manage two school administrative and support staff who job-share one part-time role. Additionally, I teach information literacy classes to years 7 and 8, run 'wide-reading' lessons with every year 7–10 English class once a fortnight, and team-teach with teachers across all subjects at their request. I coordinate all students undertaking courses via distance education, provide basic technology support for students and staff, and manage and coordinate the student librarian team — a new arm of our student leadership body that has 26 members from years 7–11. I juggle these roles along with other responsibilities outside the library, including being 2IC of the English faculty and the year 12 advisor.
What is the most rewarding aspect of working in a school library, and why?
Like any teacher, the most rewarding aspect of my job is the students I work with both in formal and informal settings. I've been teaching at Galston High School since 2013, but only took on the role of teacher librarian at the end of 2016. My transition from the classroom to the library has opened my eyes to students in informal, unstructured environments during break times, which has enriched my understanding of students' needs and affected my teaching practice. My moments of joy when teaching are dramatically different to those during my time as a classroom teacher. It's those tiny moments of wonder that I relish as a teacher librarian — seeing teenagers impatiently waiting outside the glass doors of the library in the morning and the smiles they crack as I unlock the door; connecting a student with a book they enjoyed; having students recommend books they enjoyed to me; watching my student librarians take ownership of the library by suggesting and implementing ideas.
What do you see as the most important part of the library's role in the school community?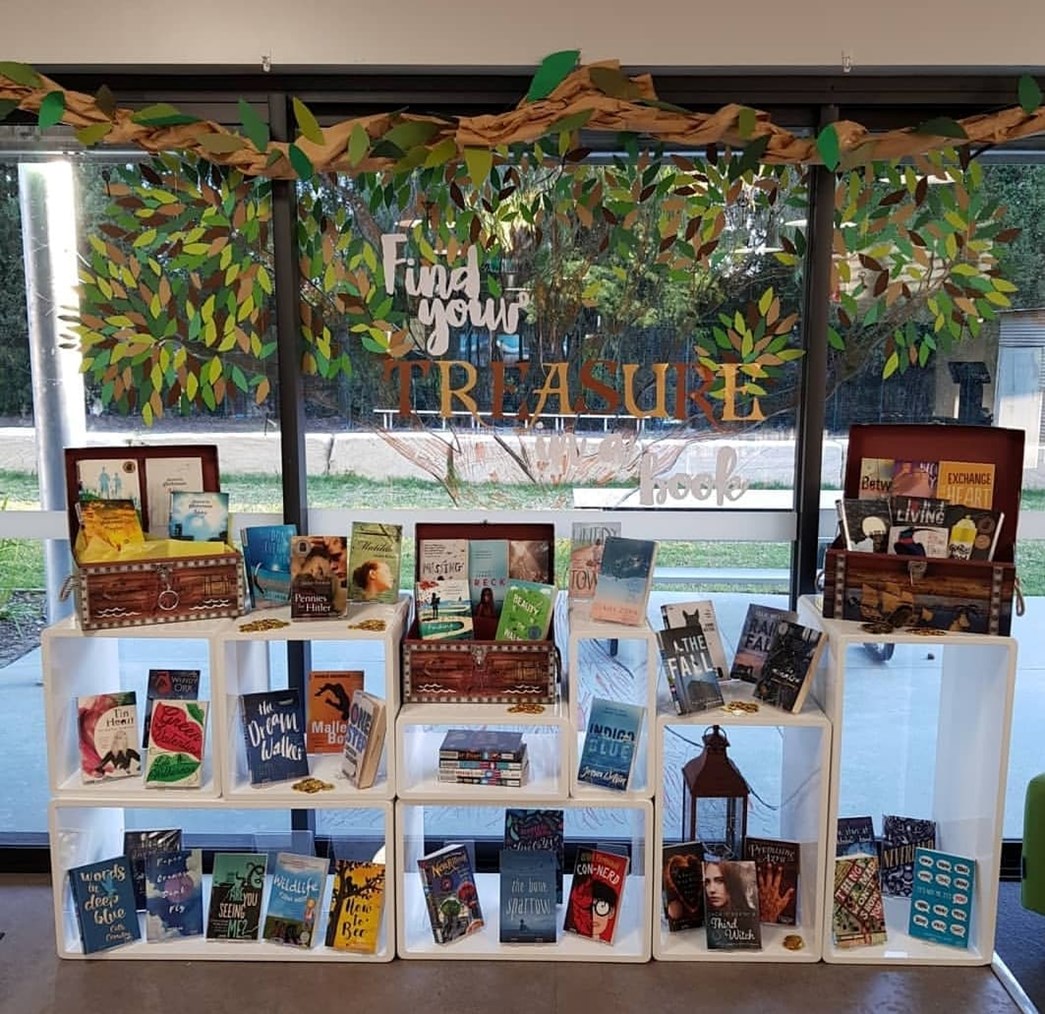 I believe that our library has two key roles within our school community. The first is to create literate students by instilling a lifelong love of reading and providing them with the skills and resources to confidently navigate an information-saturated world. The second is to support students' education in 'just-in-time' ways by directing them to an appropriate source of information, providing guidance with referencing, or even helping them submit assessment tasks. This will hopefully help them remember that there is always someone who can answer their questions, and that the library is often the best place to go for that help!
Are there any issues or challenges facing your library?
Our library was completely destroyed by fire in 2014 and took over three years to rebuild. The initial shock to the school and community was foreseeable, but the impact this had on the status of the library was less obvious. During the long process of designing and constructing a new library, the library resources were housed in a small demountable at the back of the school. Underused, under-resourced, and hidden away, the library slipped from the minds of staff and students, so making the new library a relevant centrepiece of the school was always going to be a big challenge. Providing tours for every class prior to our official opening helped pique student interest, which I maintain through regular announcements at assembly and social media posts. I also present at staff meetings and email staff regularly to remind them of the services offered by the library.
The greatest challenge I now face is collection development, as establishing a collection from scratch while running a library is extremely time-consuming. To address this, I encourage requests from students and staff, which has helped create a new, vibrant and extremely relevant collection that is constantly growing.
How do you promote reading and literacy in your school?
I believe the most effective way to promote reading and literacy within the school context is to provide students with ample time to read for leisure, and I'm fortunate to work at a school where the members of the executive understand this need. Our school was targeted for the Bump It Up initiative for literacy two years ago, which coincided with an adjustment in our timetable that resulted in the loss of roll call. The existing wide-reading model that operated during roll call wasn't working in the vast majority of classes for a number of reasons, so the head teacher of English and I saw this as a perfect opportunity to trial a new model of wide reading. Every year 7–10 English class visits the library once a fortnight. I provide a 10-minute 'book chat', then assist students in finding reading material that they will enjoy. The rest of the lesson is dedicated to quiet reading. This initiative has been extremely successful and has had a profound impact on the number of students borrowing and reading regularly.
How do you promote an interest in STEAM areas in your school?
I run a Makerspace club during break times, where students have the opportunity to learn to code robots, play with Makey Makey, and create and print 3D designs in a fun and collaborative environment. The biggest hurdle is finding the time to learn and plan new challenges for students, as I had no coding knowledge prior to retraining as a teacher librarian.
How do you encourage students to make use of the library?
Fortunately, our library is at the heart of the school and is also a major thoroughfare for staff and students, as the print room, attendance desk and sick bay are all located there. This means that signage is particularly effective, but I also run regular competitions to encourage less-frequent users to visit the library. These are advertised by hanging posters around the school, making regular announcements at assembly, and through the school library Instagram account, @galstonhslibrary.
What is your favourite thing about SCIS?
I love that SCIS provides consistent high-quality metadata that links in seamlessly with Oliver, our library management system. I find the genre and subject headings particularly useful as our collection is genrefied, and this makes accessioning new books considerably easier.
What would you like to see SCIS do more of? 
I would love to see greater coverage of Marvel and DC comic titles, as they are phenomenally popular. Being able to request SCIS records is extremely helpful, but the sheer volume of titles requested means it's often hard to keep up with student demand!
Image credit
Photo supplied by Jade Arnold