New Zealand school libraries respond to COVID-19
SLANZA President Glenys Bichan explores how school library staff across New Zealand responded to the COVID-19 crisis.
---
How do you run a school library when no-one can enter it? The lockdown made us all reflect on our practice and on the questions, 'Who are we?' and more importantly, 'Why are we?' School libraries are a place of transformation for our students and our staff. Students can flourish, grow and explore there. How do you provide that space when you are locked out of it?
The school librarians of Aotearoa have proved how adaptable, brave and determined they are, showing that our school libraries are indispensable. The School Library Association of New Zealand Aotearoa (SLANZA) has almost 600 members who have supported each other to ensure we could give our communities what they needed.
We set up a SLANZA Lockdown Book Club where members shared books they were reading and recommended titles to each other. Over 200 books were tagged, with much discussion as to the merits of some titles. What a great place for us to connect and chat over our mutual love – books!
We ran an online forum called 'Tips and Tricks for a School Librarian during COVID-19' to encourage each other to try new platforms, online tools and ways to connect with our communities. Many school librarians shared their brilliant ideas.
Raroa Intermediate School's Library Manager, Clare Forrest, put together Rahui Resources, providing this school community with a huge range of library goodness via links to e-books, online magazines, read-alouds and a great tab called 'Fun and cool stuff'.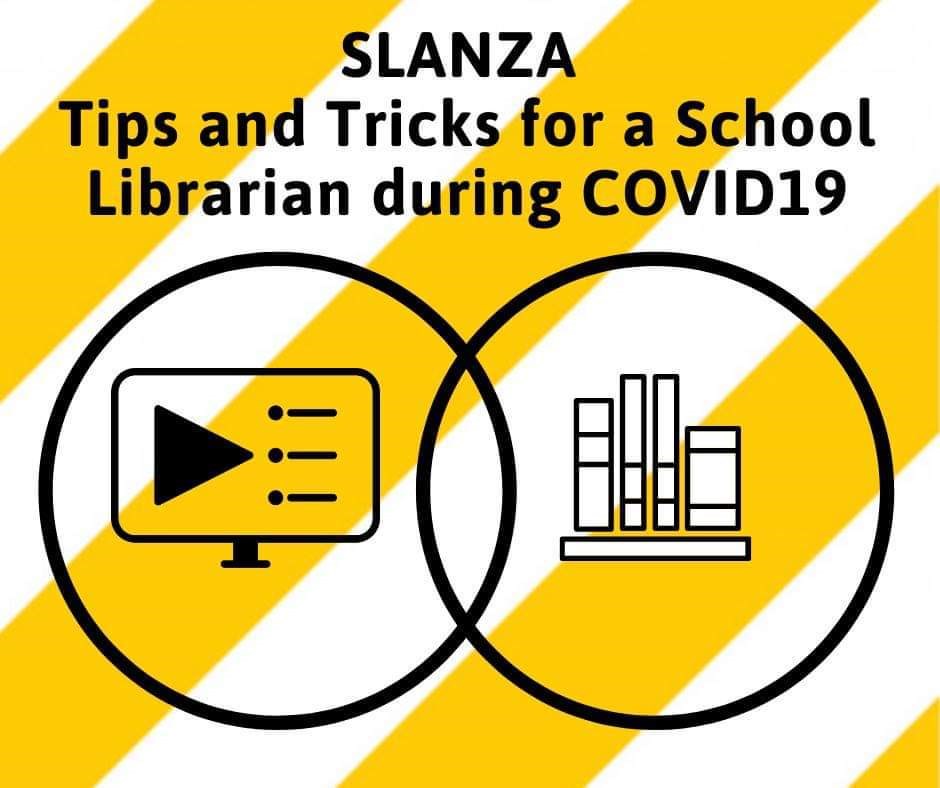 Helen Muxlow, a primary school librarian, shared her wakelet of digital resources to explore from home with children. This spirit of cooperation meant we could all harness the ocean of online information available for libraries.
Secondary school librarians often work with staff and students to provide online content and teach research skills. An English teacher asked for help with the topic 'Transformation through war'. How could we assist her students to locate trusted sources of information without spoon-feeding them? To enable student access to reliable information from home, I investigated LiveBinders, and then developed the LiveBinder Transformation through war The outcome has been very positive, with students attaining higher grades than in previous years and becoming more confident to explore online tools. The lockdown gave me time to refine my practice as a school librarian, with the flow-on effect of enabling our students to flourish too!
Sasha Eastwood Bennit organised family library packs. Families could make a request and a selection of adult, teen, primary or preschool books would be packaged up and delivered. One father wanted his children to discover the love of Asterix. He ordered the set for his family to 'getafix' over lockdown!
Lockdown also gave us a chance to do important tasks that everyday life prevented us from doing. Some librarians discovered Screencastify, then made staff and student video guides on using library tools such as their library management systems, Epic Databases and audio and e-book platforms. These guides will be valuable assets. School libraries are hubs where students gather and communicate in safety – havens for the lost where all are valued and accepted, debate is safe, and mindfulness is practised. How would our students go without this space? How would they discuss issues without boundaries of restraint applied to adolescent outbursts? Thanks to Zoom, our school librarians had weekly online gatherings, provided support, and dealt with lively debates.
SLANZA negotiated an agreement with The Coalition for Books that enabled our members to provide virtual story times during COVID-19 Alert Level 4. With copyright rules relaxed, librarians hosted online library session with families, reading books for students and families to enjoy.
It became apparent that many students lacked the necessary devices to access digital content and were simply not able
retrieve the online content prepared for them. This inequity is unacceptable. SLANZA believes that all students should have equitable access to the tools and technologies they need to enable them to flourish and grow.
SLANZA became signatory to 'The five point plan for digital inclusion'. We call on Government to implement this plan and have pledged our support in achieving these goals.
Affordable connectivity: government support to make connectivity affordable and accessible for New Zealanders on low incomes and who have recently become unemployed.
Getting devices to people who can't afford them: making devices available to low income New Zealanders at low (or no) cost.
Wrap around support for the newly connected: government funding for organisations providing support to get online and help with digital skills, motivation and trust.
Digital skills for displaced workers and our small businesses: government funded digital skills training and other support to help people find new jobs and make our businesses (including NGOs) more sustainable and resilient.
Longer term Internet resilience: 'Shovel ready' investment in our telecommunications infrastructure, to provide future resilience and create employment.
The COVID-19 lockdown provided us with a grand opportunity to prove our worth, explore new technologies and ensure student access to all they need to succeed. I am so proud of the school librarians of Aotearoa New Zealand. The lockdown gave us a chance to highlight just how innovative, hardworking and passionate they are and how vital school libraries are to the life of the community called a school.