SCIS is more
News and updates from the Schools Catalogue Information Service (SCIS)
---
Welcome to another edition of Connections and I'd like to take this opportunity to introduce myself. I have recently joined the SCIS team and have an extensive background working in educational and library technologies, e-learning, publishing and educational services across K–12 and higher education. I'm thrilled to join Education Services Australia and work with our school libraries.
The Schools Catalogue Information Service (SCIS) wishes to acknowledge the Kulin Nation, Traditional Custodians of the land on which our offices are located, and pay our respects to Elders past, present and emerging. We also acknowledge the Traditional Owners of the lands across Australia, their Elders, Ancestors, cultures and heritage.
Education Services Australia (ESA) and the SCIS team are proud to join more than 1000 organisations across Australia in developing a Reconciliation Action Plan (RAP) in partnership with Reconciliation Australia. Reconciliation involves building stronger relationships between Aboriginal and Torres Strait Islander peoples and non-Indigenous peoples, to benefit all Australians. Our Reflect RAP is an acknowledgement of our commitment to be active in this space.
ESA is committed to fostering respect, finding opportunities for reconciliation, and embedding reconciliation into our governance. We also continue to share and celebrate the positive groundswell of actions and attitudes that foster mutual understanding, respect and collaboration throughout Australia.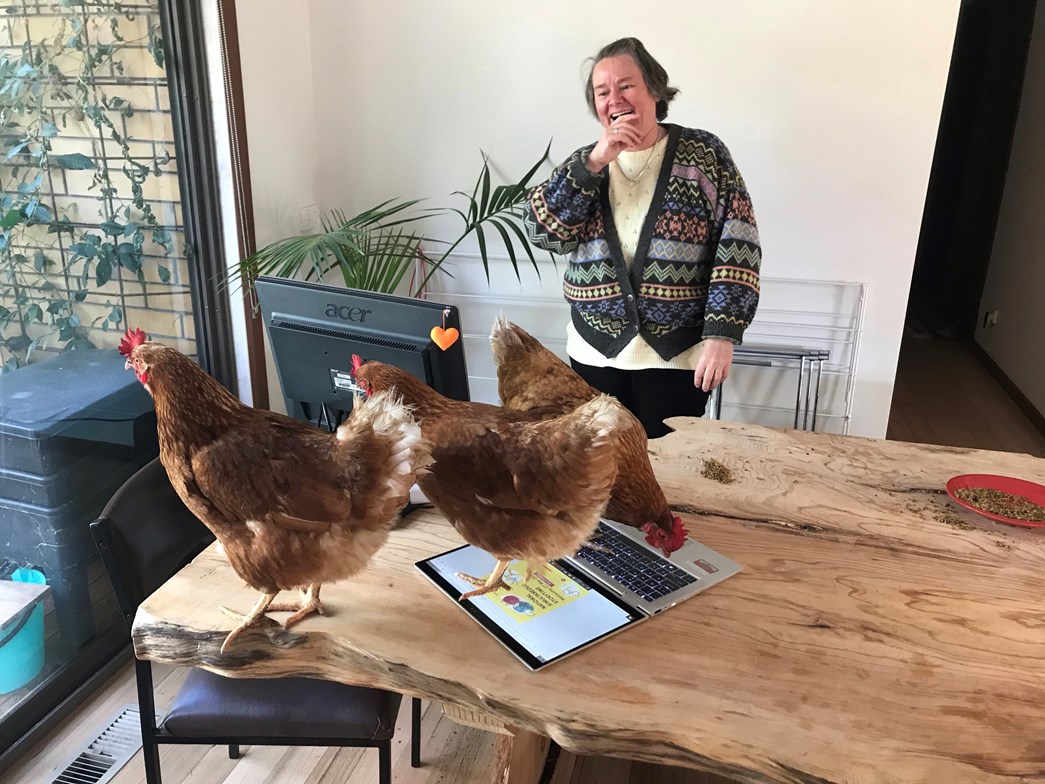 The theme for National Reconciliation Week 2020 was #InThisTogether2020, and this has never been more relevant.
During Library and Information Week 2020 we embraced ALIA's National Simultaneous Storytime as did many libraries across Australia and Zealand. Our wonderful Cataloguing team leader Renate Beilharz read the hilarious Whitney and Britney Chicken Divas (written and illustrated by Lucinda Gifford). Renate was accompanied by some lovely chickens of her own who won us all over.
Unfortunately, we are unable to offer face-to-face professional learning sessions for the foreseeable future; however, we are hosting regular webinars for SCIS subscribers. We held a very successful webinar on subject headings and authorities in SCIS recently which was very well attended, and we have more coming up shortly. Please see our professional learning page to register: scisdata.com/professionallearning.
Over recent months as remote delivery of education has been vital to support continuity of student learning, our colleagues within ESA have developed initiatives that support schools in their COVID-19 response. These initiatives include guest access to Scootle for parents who are supporting remote learning of their children, curated resources for educators, students and parents to support wellbeing in our Student Wellbeing Hub, and 'Learning @ Home' collections of age appropriate and curriculum-aligned science and technology activities in the Digita Technologies Hub to name just a few. Our CEO Andrew Smith advised that usage of ESA resources has increased on prior year as follows: Scootle, 80% increase; Student Wellbeing Hub, 53% increase; Digital Technologies Hub, 20% increase. We acknowledge the work of our colleagues for meeting the challenge of supporting teachers, students and parents and continuing to deliver high-value educational resources.
Finally, the SCIS team including Customer Service continue to work from home as per ESA's response to COVID-19. The team commenced working from home in mid-March and are now well versed in keeping connected with our colleagues and subscribers with online meetings, Skype calls and webinars. Please don't hesitate to get in touch with us for assistance or further information, to provide feedback or suggestions: scisdata.com/contact-scis