The need for diverse book collections
Helen Caple and Ping Tian explore how to approach bringing more diversity in to your library's book collection.
---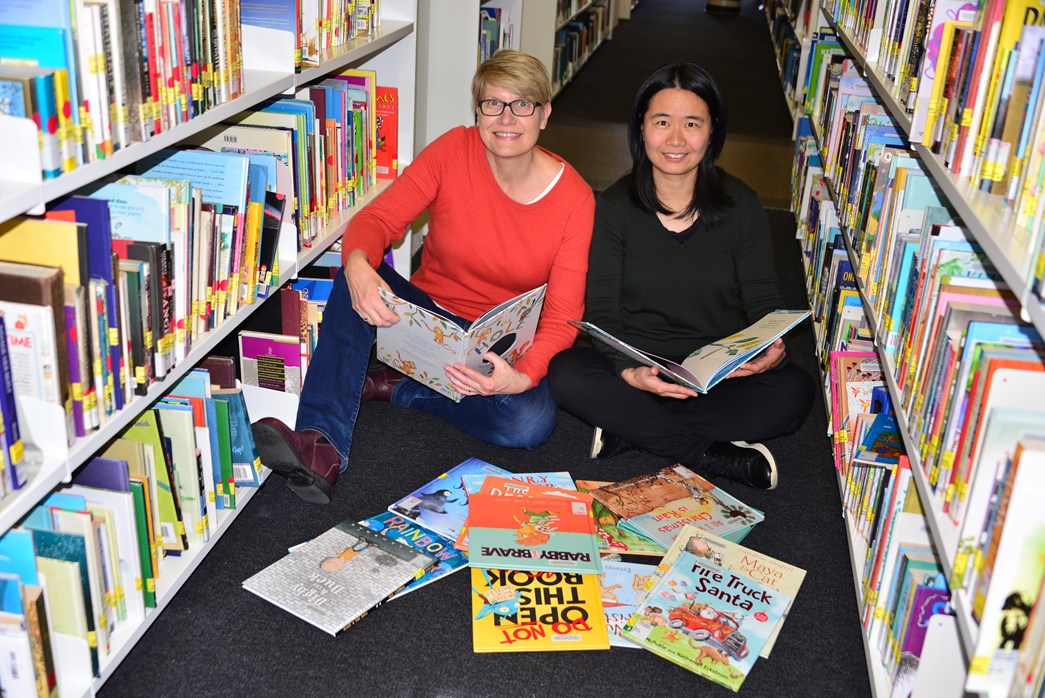 Australia is a diverse nation. Statistics from organisations such as the Australian Institute of Aboriginal and Torres Strait Islander Studies (AIATSIS, 2022), the Australian Bureau of Statistics 2016 Census (ABS 2017), and the Australian Institute of Health and Welfare (AIHW, 2019) have painted a very clear picture. In Australia:
Figure 1: how diverse is Australia?
there are more than 250 Indigenous languages including 800 dialects
120 Indigenous languages are still spoken
more than 300 languages are spoken, and we identify with more than 300 ancestries
21% of Australians speak a language other than English at home
26% of the population was born overseas
nearly 46,800 same-sex couples live together
51% of the population are women
1 in 7 families are one-parent families
more than 4 million Australians (18% of total population) live with a disability.
Recognising, respecting and valuing these diversities is firmly embedded in every level of the Australian Curriculum (ACARA 2020). The fourth principle of the Early Years Learning Framework, 'Respect for Diversity', states: 
When early childhood educators respect the diversity of families and communities, and the aspirations they hold for children, they are able to foster children's motivation to learn and reinforce their sense of themselves as competent learners.
They make curriculum decisions that uphold all children's rights to have their cultures, identities, abilities and strengths acknowledged and valued, and respond to the complexity of children's and families' lives (AGDET 2020, p. 14).
One of the ways in which children can see their cultures, identities, abilities and strengths acknowledged and valued is through reading. That is, in the literature  that they engage with both inside the classroom and at home. For the young reader, this literature usually comes in the form of a picture book, which, as Adam and Barratt-Pugh (2020, p. 1) note, 'can be a powerful tool for extending children's knowledge and understandings of themselves and others who may be different culturally, socially or historically'.
In 1990, Rudine Sims Bishop used a wonderfully powerful analogy to mirrors, windows and sliding glass doors to capture these ideas. Children not only need to see themselves reflected in the literature that they read, but also need to see through windows into the worlds of others. At the same time, they need to have the opportunity to step through those sliding glass doors and enter the world  of another. In this way, children expand their own horizons, developing a deeper understanding of others, and challenging the way they view the world and their place in it.
Fast forward to 2021, Sarah Mokrzycki wrote in Connections: 'representation in books should be a right, not a privilege'. This means the book collections we build need to be true to the times we live in, offering young readers mirrors, windows and sliding glass doors. 
So how do we go about bringing these diversities in the Australian community into our book collections?
One place to start is with the book lists that we have developed for the State Library of NSW. This resource is based on suggestions made by council library staff across New South Wales. The Diverse picture book collections website provides two different diverse picture book lists. 
There are two book lists on the site. One focuses exclusively on Australian titles and the other list includes internationally published picture books. The book lists include publishing information and the key diversity category that each book addresses.
The site also includes a list of featured books, as well as the criteria that we used to assess how the books address issues of diversity (in Figure 3). 
These criteria can be used to assess the books in your own collection or to build an entirely new one. Here we share a few tips to help you get started. 
(Accessible links to the text of Figure 2 and Figure 3 are available for those using screen readers)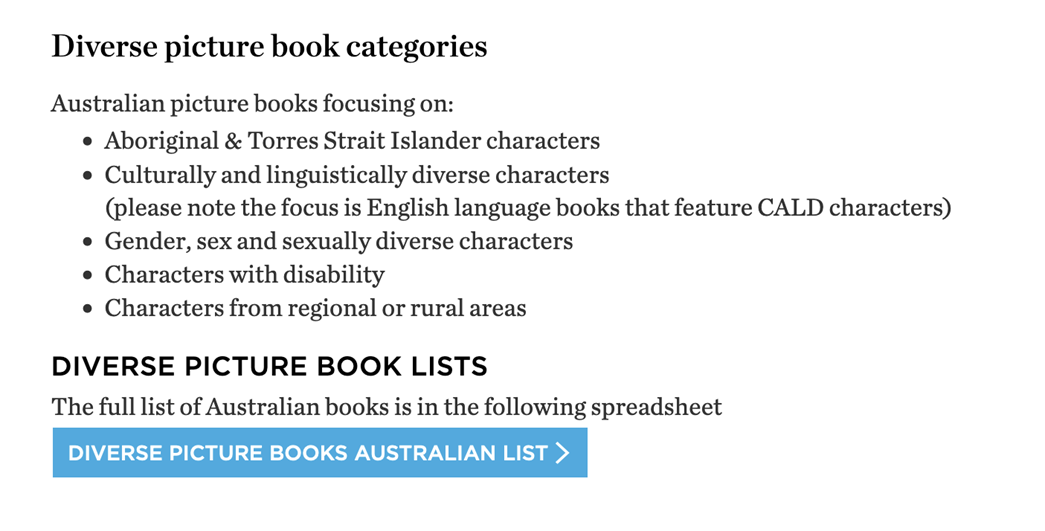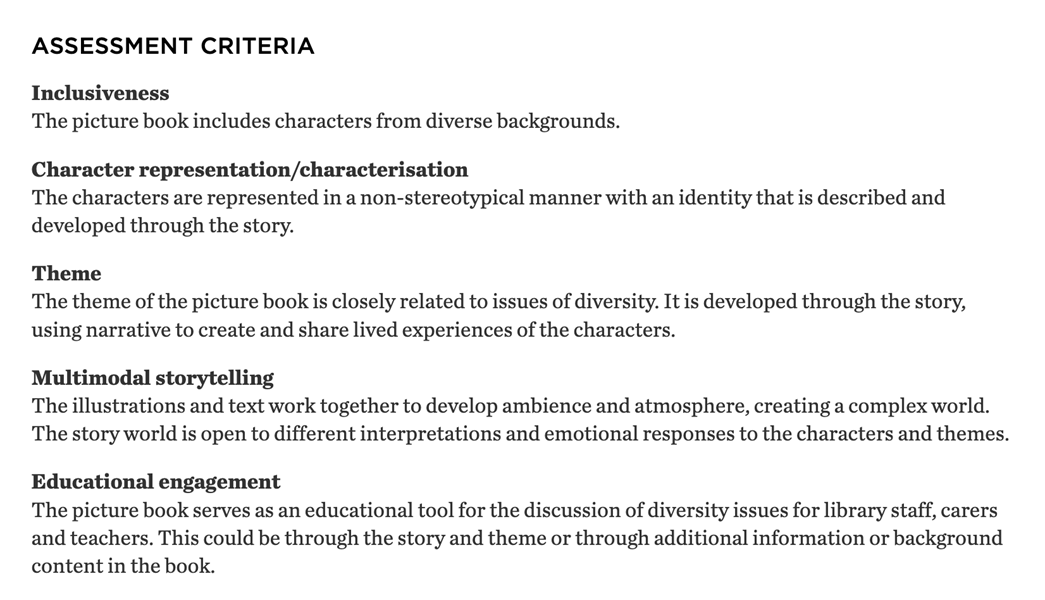 When selecting picture books that truly reflect these diversities in nuanced, respectful ways: 
choose books that do actually focus on marginalised groups in our society.
choose books that engage deeply with diverse characters where their identities and lived experiences are fully developed and explored
choose books where the storytelling comes from the diverse characters themselves, in their own voices
choose books where the illustrations represent diverse characters in non-stereotypical ways, and that reflect how we look and act in the real world.
Be on the look out to avoid the following:
Books that only offer tokenistic nods to diversity (e.g. a minor character in a wheelchair, a person of colour that might be present in the setting or the environment that the main characters live and act in) do not meaningfully engage with diversity.
 Avoid stereotypical representations of characters and diversity, especially in the illustrations.
Exploring the plurality of diversity
No single picture book is going to fully represent a diverse community in all of its richness, nor should it attempt to do this. This means that another important aspect of diversifying our book collections is to look for depth within a diversity category. This would offer readers a range of titles that tackle different aspects of one form of diversity. 
For example, for those wishing to explore the lived experiences of members of the LGBTIQA+ community, the picture books in Table 1 each focus on particular experiences and themes from the category 'Gender, sex and sexually diverse'. This small collection includes books on same-sex parenting, books that cover trans issues, or gender non-conforming characters and LGBTIQA+ history. 
Celebrating diversity
We all know the adage 'representation matters'. It matters from the earliest of ages. Picture books are a prime site for helping children to not only see themselves and their lived experiences represented, but also to see and experience the lives
of others. In this way we can learn about each other and learn to respect and celebrate the wonderful array of diversities that make up Australian society.
Resources
| Picture book | Theme |
| --- | --- |
| And Tango makes three Justin Richardson, Peter Parnell and Henry Cole | Based on true events, this book retells the story of two male penguins who raise a chick together in New York's Central Park Zoo. The book challenges the concept of family and addresses same-sex parenting. |
| Heather has two mummies, Leslea Newman and Laura Cornell | Heather is raised by lesbian women: her biological mother, Jane, who gave birth to her after artificial insemination, and her biological mother's same-sex partner, Kate. |
| I'm not a girl, Maddox Lyons, Jessica Verdi and Dana Simpson | This book, about a boy who is determined to be himself, is based on a true transgender identity journey. He battles his parents, friends and teachers to become the person he really is. |
| My shadow is pink, Scott Stuart | This book draws on Stuart's own experiences of fatherhood through his relationship with his son. The book challenges the gender stereotypes that Stuart had known throughout his own life, and explores toxic masculinity, gender identity, fatherhood, diversity, childhood bullying and self-expression. |
| Julián is a mermaid, Jessica Love | This is a story about a boy who wants to be a mermaid. This book will resonate with all kids who might be struggling with their identity. |
| Jacob's room to choose, Sarah and Ian Hoffman and Chris Case | 40 (35.1%) |
| The EALD students voluntarily use the library in break or study periods. (For study) | When Jacob and Sophie have negative experiences when trying to go the bathroom at school, their teacher uses this as a teachable moment: to respect one another regardless of how we choose to express our identity. |
Table 1: Picture books that focus on different aspects of the lived experiences of the LGBTIQA+ community
References
 ABS (Australian Bureau of Statistics).  (2017). Cultural diversity in Australia. Retrieved from: https://www. abs.gov.au/ausstats/[email protected]/ Lookup/2071.0main+features302016 
ACARA (Australian Curriculum, Assessment and Reporting Authority).  (2020). Australian curriculum:  English. Retrieved from: https://www. australiancurriculum.edu.au/f-10-curriculum/english/6 
Adam, H. & Barratt-Pugh, C. (2020). The challenge of monoculturalism: What books are educators sharing with children and what messages do they send? The Australian Educational Researcher. https://doi.org/10.1007/s1338 4-019-00375-7
AGDET (Australian Government Department of Education and Training). (2020). Belonging, being and becoming:  The early years learning framework  for Australia. Canberra, ACT: Council  of Australian Governments. Retrieved from: https://www.acecqa.gov.au/nqf/national-quality-standard/quality-area-1-educational-program-and-practice 
AIATSIS (Australian Institute of Aboriginal and Torres Strait Islander Studies). (2022). Living languages. Retrieved from:   https://aiatsis.gov.au/explore/living-languages
AIHW (Australian Institute of Health and Welfare). (2019). People with disability in Australia 2019: in brief. Retrieved from: https://www.aihw.gov.au/reports/disability/people-with-disability-in-australia-in-brief/contents/how-many-people-have-disability 
Mokrzycki, S. (2021) The need for family-diverse picture books. Connections, 119(4). Retrieved from: https://www.scisdata.com/connections/issue-119/the-need-for-family-diverse-picture-books/ 
Further reading
Adam, H. (2021). Transforming Practice: Transforming lives through diverse children's literature. Issue 128. Marrickville: PETAA.
Caple, H. & Tian, P. (2020). In 20 years of award-winning picture books, non-white people made up just 12% of main characters. The Conversation, 15 October, 2020. https://theconversation.com/in-20-years-of-award-winning-picture-books-non-white-people-made-up-just-12-of-main-characters-147026