Using the Medium blogging platform to teach critical and digital literacies in art
Tania Sheko, a teacher librarian from Melbourne High School, explores the value of dedicating time to collaboration and innovation.
---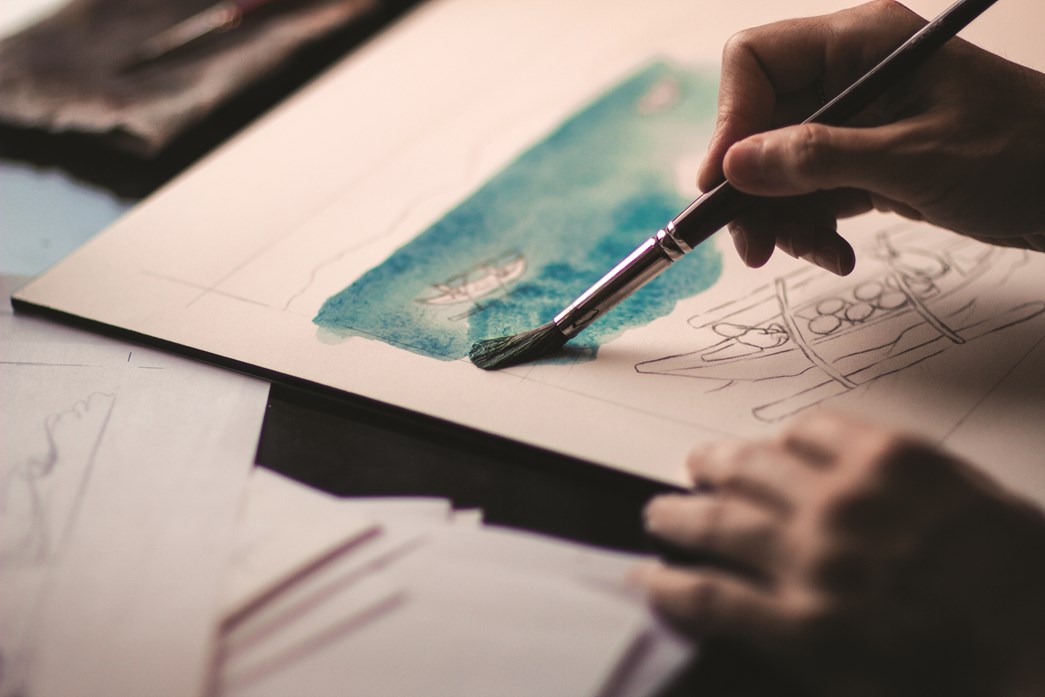 The teacher librarian role is elastic
What I love the most about the teacher librarian role is its elasticity; it can assume so many different shapes and play out in a variety of stories. In many cases, teacher librarians have come from classroom teaching and therefore bring their expertise and experience, as well as a passion for their areas of speciality. My teaching methods were English and languages (German and French), and this is what I taught before completing the Master of Education (Teacher Librarianship). However, I also have a passion for the arts, and love supporting and collaborating with teachers in the arts faculty.
New year, new challenges
Every year I challenge myself to a new project, aiming to forge new relationships with students and teachers while trying out something innovative, sometimes without knowing precisely what it will be until it happens. Collaborating with a teacher and their students over a longer period — at least a term, but ideally a year — gives me the opportunity to get to know them and experience their teaching/learning styles first hand.
This year I approached an art teacher with whom I had worked a couple of years ago with an idea I had been contemplating for some time. Previous experiences in the art classroom had me thinking, how can we:
solve students' blocks to creativity, and simultaneously broaden their exposure to a variety of art works and styles
improve their critical literacies when discussing or writing about art?
The first point stems from my ongoing role in supporting art teachers and students by creating online resources (LibGuides). The second relates to a recent realisation that if I'm supporting critical literacies — typically by working with English teachers — then why shouldn't I do it with art?
Using Medium as a blogging platform
The art teacher decided we would work with her Year 10 drawing and painting class. I suggested to her that we use Medium as a blogging platform for our purposes, for the following reasons:
The blog would be the space where we posted all our content and instructions.
Student blogs would be easily accessible in the followers list.
Students would be able to read and respond to each other's posts — in the form of 'clapping' or comments — resulting in the development of a reading/writing community.
Images, videos and other media — particularly important in art teaching — could be easily embedded in the posts.
Our blog and students' blogs would be situated within a global writing/blogging community, instead of sitting in isolation. The Medium homepage is cleverly designed to entice the reader into further reading, based on reading history, their network (as they follow people), and according to their self-appointed areas of interest. In this way, students have agency over their feed, in the same way as they feel a sense of ownership while designing their blog.
From archive to targeted post
Medium enabled me to feature online resources I have been creating for years in our LibGuides. This is exciting because it solves the issue of how to make archived online resources relevant to students and teachers. So, for example, when a teacher requested resources about artist William Kentridge or drawing techniques, I was able to pull these out of the LibGuides. This then meant that the blog post was all we needed for the lesson. It could be easily mirrored on the large screen so that students could follow the lesson, or set before the lesson, in 'flipped classroom' style.
Medium allows the creation of tabs at the top of each page. While thinking about blog design, I also realised that I could create tabs for 'drawing techniques', 'artists', 'artworks', 'critiques' and 'teacher posts', and tag posts accordingly. The blog becomes an interactive resource, providing students with a wealth of resources they can easily navigate.
The blog also allows for quick and easy 'just in time' posting; my role in resourcing becomes 'live' when things come up during the lesson and I'm able to create a post on the spot.
A real readership
When students post their writing on a blog in response to assigned tasks, they have a real audience, which is very different to writing for their teacher. They usually feel more motivated to write, to edit their work before it gets published, and — because we instruct them to read each others' posts — they learn from each other's posts. Students are familiar with the 'clapping' (liking) and commenting options, which are ubiquitous on all social media sites. They enjoy being connected to the class, and are motivated by the possibility of attracting a readership outside the school, too. Of course, it's my job to monitor the appropriateness of all interactions.
Digital literacies
In the first lesson, I spoke to students about the implications of being published externally. The acceptable behaviour policies are permanently in the blog's archive for students to revisit. I also posted a piece called 'How to comment on someone's writing in an online environment'.
Commenting is actually harder than it first seems. Writing a 'comment' following another student's post is much more than the monosyllabic or gif-laden comments on social media; it involves an understanding and evaluation of the post, and an articulate, constructive observation or even extension of the original ideas. These are additional literacies, which, if not taught explicitly or practised, will not be developed.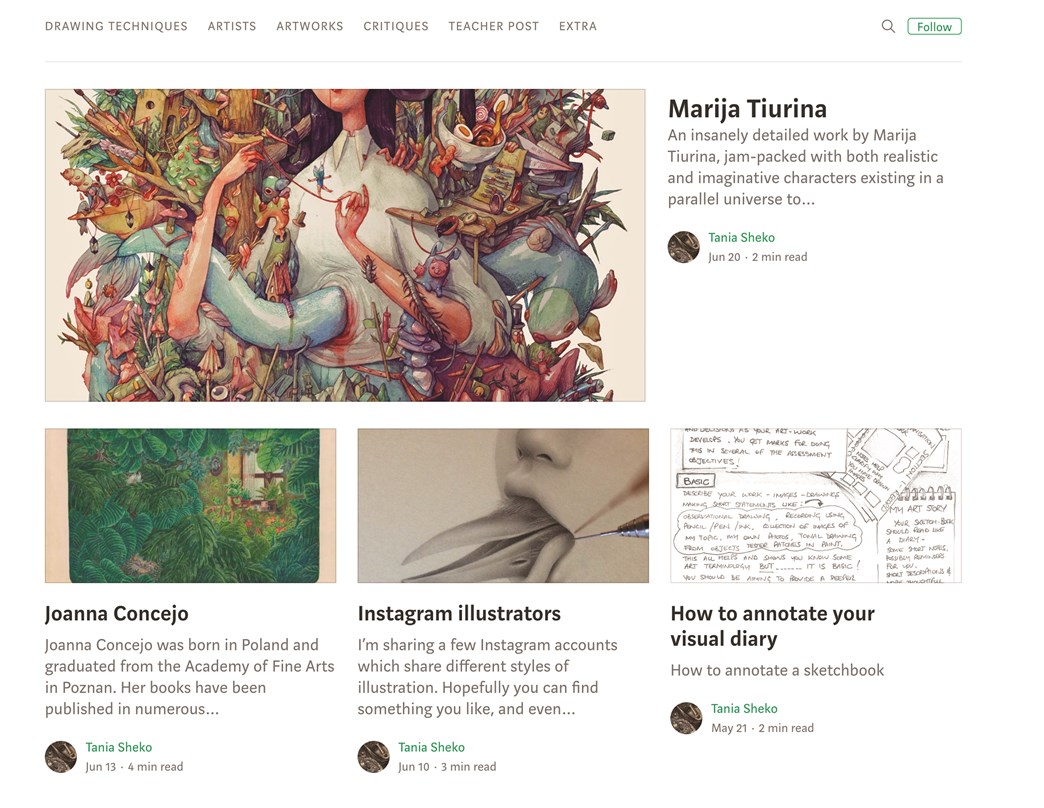 Critical literacies in art
We sometimes forget that critical literacy skills have been taught explicitly to students in art classes. These skills develop as students learn to see, then unpack, discuss, and finally write about an artwork.
Blogs lend themselves to short 'lessons' on what this might look like. For example, I posted 'How to critique someone else's art work', which begins with a cartoon, and then shows a video created by PBS Digital Studios' The Art Assignment. There is so much relevant media available online on this topic, and it's the teacher librarian's role to sift through and carefully curate the best resources for the class, as well as for the teacher. On the same topic, I also posted: 'Ways of seeing and writing about art', in which I included a video from Smart History, as well as one called 'How to understand a Picasso' by The Nerdwriter. As this kind of resourcing is time-consuming, teachers always appreciate additional help in this area.
Progress so far
Despite being in its early stages, our blog is growing in leaps and bounds. I appreciate being informed by the teacher's and students' needs that arise during class time, so that it evolves organically and often at the point of need. I find this works so much more effectively than my earlier experiences of emailing teachers to ask how I might support them. My participation in classes has resulted in many more ideas, and our collaborative teaching and conversations during class inform my work. As we bounce off one another during the lesson, ideas are generated in the most productive and creative way.
What is it about the blog format?
Since working with blogs in classes from 2008, I've had a chance to reflect on what works well and how to innovate for even better results. I think that the separation into posts of what might become too dense and difficult for students to take in in one sitting is one of the advantages of teaching and learning this way. Tags, categories (tabs) and hyperlinks all help students take in digestible amounts, and enable them to follow hyperlinks to further reading if they wish, or navigate the site to find what they need to revise their content. These are the digital literacies school library professionals will often teach and, in this way, we are not doing so in isolation, but in context.
Differentiation
When providing extension material for students, the blogging platform allows school library professionals to provide differentiation by posting content for depth and breadth, then tagging posts accordingly. In art, there are always more examples and opportunities to expand students' horizons with more artists, more techniques, art history, local exhibitions, art from featured museums and galleries, and articles or videos/podcasts about art issues. I've shared a range of broad and issues-based posts; for example, 'Who decides what art means?', 'Women artists and their struggle to be seen', and 'It seems art can help you if you're studying to become a doctor'.
Projects such as this one have me thinking about the issue of staffing in some school libraries. Even with well-staffed libraries, teacher librarians might not have the opportunity to explore and experiment. Some of my most valuable experiences have developed from a mere hunch that something worthwhile might eventuate. Frankly, there is always a positive outcome when you experiment with the stretchiness of your role, even if it is not what you expected. Let's hope that we hold our ground in schools so that we can prove our value.
Image credits
Photo by Nik MacMillan on Unsplash