Working together: collaboration between libraries and bookstores
Kristen Proud, the owner/manager of Squishy Minnie Bookstore, explores the variety of ways that schools, teachers and library staff can engage with bookstores.
---
My partner Lucky and I opened Squishy Minnie, a specialist childrens and young adults (YA) bookstore, just over two years ago in Kyneton, a small regional town in Victoria. Our main aim was to increase the access local children and young people had to quality literature and to literary events.
Prior to opening Squishy Minnie, I spent all of my adult work life in the community sector, working with vulnerable communities. I believed that we could create a bookstore that welcomed everyone, provided a sense of belonging and increased access to exceptional literature.
My vision for Squishy was that any child or young adult walking through the door of our bookstore would see themselves represented in our books, regardless of their skin colour, culture, religion, gender, ability, socio-economic background, family make-up, and so on. This would also ensure that children and young people have the opportunity to gain empathy and understanding from books that might portray characters from backgrounds different from their own.
Engaging with book-loving teachers, enthusiastic librarians and innovative principals is one of the most joyful parts of our existence. For us, we want to ensure that we are getting the right books into the hands of young folk — not just any books — because, even as adults, we know that reading the right book at the right time can be a formative experience. It might be a non-fiction book that grabs them, or it might be a coming of age one that shows someone with similar experiences, and that they are not alone.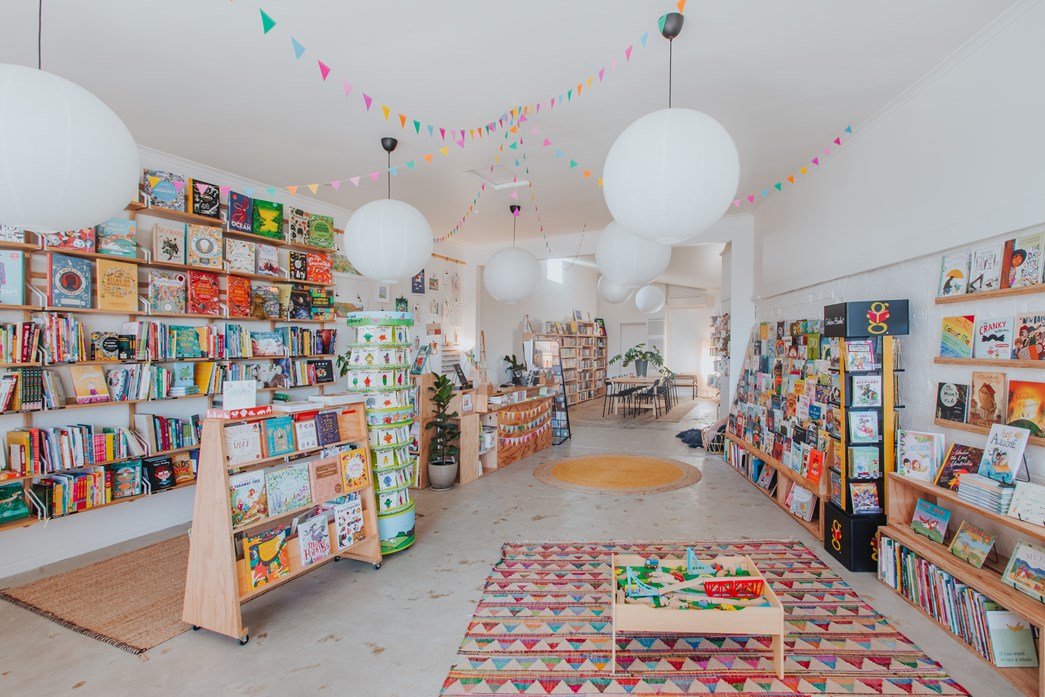 Opportunities for schools and independent bookstores to collaborate are vast, varied and rich.
Supporting librarians to choose excellent books that kids love and teachers feel enthusiastic about using as teaching resources is a wonderful way of achieving our goal of getting the right books into kids' hands at the right time.
Opportunities for schools and independent bookstores to collaborate are vast, varied and rich. Here are some of the programs and events we run with schools:
We currently organise five book clubs a month in store at Squishy, and have recently started outreach book clubs at a number of nearby schools. These monthly book clubs run after school finishes so that families who may not be able to get their child to the bookstore to participate only need to arrange for their child to get home one hour later. We received a small grant from Puffin, which means there is no cost to the schools for the books. After they have been read for book club, they can then be used as class sets.
With the support of our two local high schools, we run a years 10–12 English Study Club after school once per week. This is staffed by one of our bookstore team members who is also a secondary English teacher.
Recently Penguin offered for well-known author Andrew Daddo, and illustrator Stephen Michale King to visit three local schools. We approached several schools we have existing relationships with to see who was interested.
We have organised several other author visits to our local schools and even assisted a local youth detention centre to choose the novels most appropriate for them to establish a book club with.
We offer a 15 per cent discount to schools for our books, and we work with librarians and teachers to create a longlist of suggestions for them if they are looking for books on particular topics. For example, we have worked with a mobile librarian to create a selection of non-fiction books that might be suitable for a wide range of ages, given that the schools the librarian visited were often quite small, with students aged 5 through to 12.
We've put together lists of books for Catholic primary schools matched to their inquiry units each term.
We've developed lists of books related to grief, respectful relationships, climate change and Aboriginal Australians.
We've made suggestion for books to be used in literature circles. We frequently suggest books to be read to whole classes and, more recently, we have made suggestions for texts to be used in secondary schools to meet specific teaching outcomes.
We work with schools who get their fiction books through standing orders, but then order their non-fiction books through us. We have a broad selection of non-fiction titles and we are happy to provide a list of books (via our website) for teachers and teacher librarians to browse through, related to specific teaching topics.
There is an annual book fair for local primary schools where we give them back 20 per cent of sales in the form of a credit with Squishy Minnie, and we also assist them in choosing the books they spend their credit on.
Our ten-seater table is available for schools to use, and we recently had a group of mobile librarians use the table for a planning day. We organised for author and editor Davina Bell to meet with the librarians while she was visiting Squishy for story time.
We have had a number of class groups of younger ages visit for reading times, often themed with books relating to specific topics as requested by classroom teachers. This year we had a group look at friendship themes and, the week after, a different school brought a class of Year 2's who were asked to choose a book for their school library and then present to the class why the book is something that their school should have in the library.
There is a huge variety of ways that schools, teachers and library staff can engage with bookstores to not only benefit students, but also to support classroom teaching. For us, the biggest challenge is that schools and school library professionals sometimes do not understand that we are here to help and that we share their passion for literacy. I have found that the value base of independent bookstore owners is much more in line with teachers, librarians and schools than they might initially think.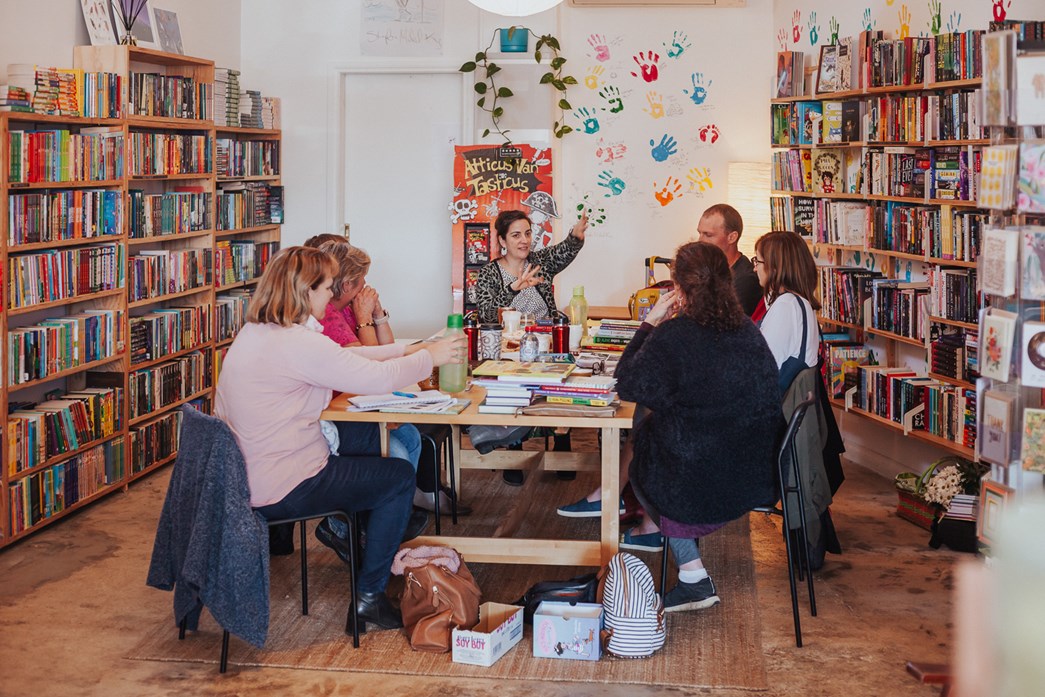 If your school is in a town or suburb with an independent bookstore, pop in and introduce yourself and see if there is an opportunity to partner with them. For us at Squishy Minnie, we are more interested in working with schools in a personalised, one-on-one manner (both face to face and via email and Skype etc.), but other independent bookstores may be able to conduct presentations for schools, or similar. Each independent bookstore is different and has booklovers working inside who hold varied expertise and knowledge that might help to make your job a little lighter.
Image credits
Lakshal Perera (lakshalperera.com)