Making an impact: A guide for new school librarians
With an increasing number of staff with little or no library training working in school libraries, Caroline Roche and some colleagues were inspired to write an A–Z guide to help untrained staff run their libraries with confidence.
---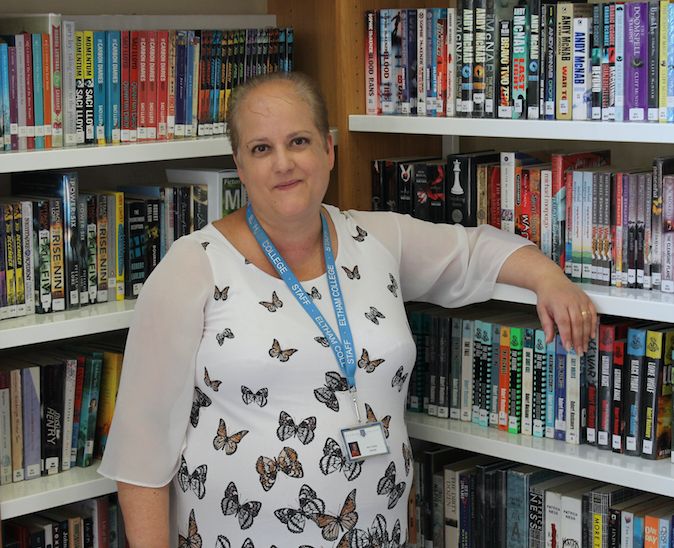 This book was borne out of a desire to help and inspire school librarians new to the job, and share the collective knowledge
of the UK School Librarians Group (SLG) Committee, which is a subgroup of CILIP (Chartered Institute of Library and Information Professionals), our professional organisation. The book is written at entry level, starting from the very first day you walk into your new role as a school librarian and wonder what your next step should be.
What was the perceived need for this book?
About two years ago, the SLG Committee noted the number of posts from newly appointed librarians asking the most basic of questions. The situation, in the UK at least, was exacerbated by the fact that sometimes people were being appointed with absolutely no knowledge of libraries at all. They had been thrown into the 'deep end'. Sometimes this was because the school's Senior Leadership did not understand the full extent of a school librarian's job, and sometimes (often) a desire to get somebody as cheaply as possible. This misunderstanding of the role – that it is more than simply stamping books – we feel does a disservice to the person appointed, the school and the students.
It has never been more vital that schools have libraries, and yet libraries are often the first to go when school budgets are being cut. Librarians' salaries in the UK can also be extremely low, with many librarians earning less than a cashier in a supermarket. Is it any wonder that the more highly skilled people look for jobs outside of school libraries? Yet the job of a school librarian is crucial in creating a literate public, with all the societal and economic benefits that brings (OECD, 2009).
What topics are covered in the book?
The book opens with what a new librarian will see and experience in their first days in the role. The first chapters detail not only the positioning of the library and librarian within the school, but also the physical environment. As Barbara Band notes in her chapter, 'the library environment is not just a matter of its physical components, the shelves, resources and staff, nor of its location and space within the school. It also encompasses the ethos and atmosphere that is created by the synergy of its parts …' This book aims to show how you can achieve that synergy.
Dealing with behavioural issues is one of the most frequently asked questions on the message boards we belong to. The chapter covering this is highly practical and will help the new librarian gain this skill. Sarah Pavey offers short vignettes to help librarians understand the challenging behaviour that may occur in the library, and how to deal with and prevent situations from escalating.
Other chapters cover topics that can be read as and when they become relevant to the new school librarian, once they have a grasp on behaviour in the library and have started to turn the library environment into the model they, and their Senior Leadership team, have chosen. For some schools, this can be a vibrant, buzzy atmosphere, while for other schools, the importance might be on having a quiet and studious place to study. Most schools – such as my own – are a mixture of both.  My school library is studious and quiet during lesson times, but  at break and lunchtimes it is buzzing, with students collaborating, borrowing books, reading and working. Achieving that balance  is a skill that needs to be mastered, and we show you how.
With years of experience in bringing authors into schools, Annie Everall expertly guides the new librarian through staging a successful author visit, running book clubs, shadowing book awards, and promoting reading. She shows us how to create
a reading-rich environment, and how to work with other professionals both within and outside the school to promote whole-school literacy. Her experience in this area is second to none in the UK, we believe.
Information and Digital Literacy is another key area for the school librarian. Teaching information literacy is a skill which shows our versatility and relevance to the whole school, from understanding that everything you read or see may not be the whole truth, to how to research projects skilfully and efficiently, and how to prepare for further studies. Many school librarians also teach academic referencing as part of their role, and Pavey guides us through this.
Primary school libraries have their own chapter, as primary libraries can be quite different to those in secondary schools. Often, they do not have a full-time member of staff but are run  on a part-time basis by teaching assistants or a classroom teacher with library responsibilities. These challenges are thoroughly explored, showing how you can run an excellent primary library with only a few hours a week if that is all the time you have. Indeed, the author of this chapter, Lucy Chambers, has done exactly that.
Why should you qualify?
Finally, the book ends with a chapter about becoming a qualified school librarian. In the UK, this means becoming a member of CILIP, and being Chartered. Overseas qualifications are recognised by CILIP, and more information can be found on their webpage. Chartership is something that you can do 'on the job', and it proves that you are working to a professional standard. If you have worked your way through the book for the first couple of years in the role, then you are a Chartership candidate. I am passionate about this because it is the route I took. I had (and still have) no professional library qualifications. I have a degree in English, and a Master in Education, but neither are library-based. I had six years' experience at a public library when I was put in charge of my first school library, and I learned on the job. Once I found out that I could apply for Chartership, I did. Although the qualification did not bring me promotion, or a pay rise, it was a stepping-stone to my current role in a prestigious fee-paying school. Schools like mine will usually only appoint qualified librarians. If I can do this, so can anybody else, which is what
I show readers in this chapter.
We hope you enjoy this book and that many new school librarians read it, grasp the principles, and go on to become qualified librarians. Sharing our knowledge is our passion, and we want to see more qualified and professional librarians leading in our schools. This is the way forward for our profession and it is worth our efforts. We can only do that by passing on our knowledge and skills to the next generation, and in this book, this is what we aim to do. We hope you read it, put it into practice, and pass it on.
References
OECD. (2009). Pisa 2009 results: What students know and can do. https://doi.org/10.1787/9789264091450-en
Roche, C., Band, B., Cavender, N., Chambers, L., Pavey, S., Everall, A., & Krajewski, E. (2022). Creating a School Library with Impact: A Beginner's Guide. UK: Facet Publishing.