School library spotlight: Cerdon college
Nancy Sylaprany takes us inside her school library at Cerdon College, Merrylands, NSW.
---
What is your job title, and what does your role entail?
My job title is Teacher Librarian and I work with a small team of library support staff to provide the library's services to our school community at Cerdon College. Our school is a Catholic girls' high school (years 7–12) located in West Merrylands in south-western Sydney, with a diverse multicultural student population of about 1,100 students. The College was founded by the Marist Sisters in 1960 and is part of Catholic Schools Parramatta Diocese. Our library is known as the Sr Ann Marie Learning Centre (named after Sr Ann Marie, a past Marist Principal of the College).
My role entails creating a welcoming and safe library environment for students and staff that is conducive for learning, recreation and extra-curricular activities. All English classes in years 7–10 have one lesson per fortnight in the library for wide reading, where I support students in discovering books and authors to read, and expanding their reading interests. I also work more intensively with six English classes in relation to students with identified literacy needs, and I work with classes across Key Learning Area (KLAs) with inquiry and research tasks. This may involve developing library guides or pathfinders to support students in their research efforts, as well as in-class instruction to model information literacy and digital literacy skills.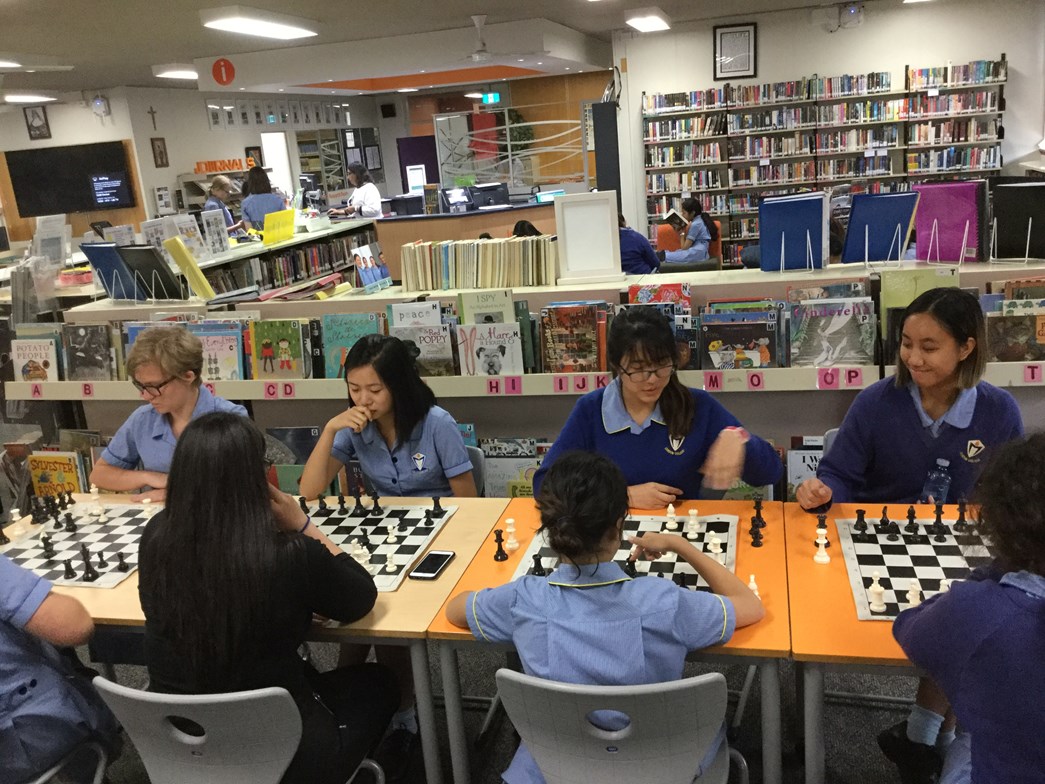 What is the most rewarding aspect of working in a school library, and why?
The most rewarding aspect of working in  a school library is the opportunity to help students along their personal journey of intellectual discovery, curiosity and pursuit – whether that's connecting them to a good book to read, guiding a student to great resources for a task, having a conversation about an interest they have in a particular area, or instructing them in skills to become discerning users of information. 
In school libraries, we are in a unique position to be able to develop relationships with students over a number of years. Students know that the library can be a trusted place to seek support and advice (or a trusty stapler, when required!). Informal conversations with students can lead to connections or discoveries for both students and myself, whether that's in relation to something they are currently working on, or their interests (which can help inform collection-development decisions). 
What do you see as the most important part of the library's role in the school community?
The library serves two important roles: it's a place for learning and intellectual pursuit, and it's a supportive community space for all. We constantly reflect on how we are achieving this and evaluate what we can do to improve. Sometimes the library is an important space for students just to 'be', to feel welcome and act as that 'third space', as well as being integrated in the learning culture of school life. 
Last year, a Year 12 student commented that she would spend 10 minutes on a Friday afternoon at the end of her study period reading a book on the sofas in our wide reading area. Amid the pressure of her Year 12 studies, she noted how she found this routine so peaceful and beneficial. Through this routine, the student was able to release some of the anxiety and pressure she had been feeling with her studies. 
Are there any current issues or challenges facing your library? How are you working to overcome these?
During the pandemic, there were periods of time when the library was not open to students or operated at a reduced capacity to manage student numbers in a COVID-safe way.
Keeping the library COVID safe  (particularly during the initial return of schools after lockdown and during exam periods) was necessary, but it has impacted the number of students who visit the library.
I think students became more accustomed to accessing digital resources and ebooks online during various lockdowns. When the library was not accessible, we delivered books to students' homerooms and reminded them about how to request books. Some days we set   up a 'pop-up' library in the playground area, where students could browse books and borrow outside the library. Information literacy sessions were held in classes or via Zoom, and resources taken to classes for lessons as well as digital pathfinders created to support student learning. However,  not all students engaged well online, so subsequent face-to-face class time and individual instruction has been important  to address information literacy skills gaps.
How do you promote reading and literacy in your school? Are there any challenges in doing so?
Wide reading lessons are an opportunity to broaden students' reading experiences and introduce them to new authors, genres and formats. In collaboration with our English department, I have recommended contemporary YA titles for differentiated novel study programs for Years 7, 8, and 9 that create a mini 'book club' experience for students. Our library's Book Club for students has been running for six years, with meetings held twice a term and supported by our Books & Reading blog page. What I like about Book Club is the ripple effect it can have across the wider school community through the additional conversations it generates.
I encourage students to place book requests for books they are interested in reading, which are not in the collection. I try to fulfil as many requests as possible if it has broader student appeal and meets the requirements of our collection development policy. Each year I invite students to participate in the NSW Premier's Reading Challenge. It's not compulsory, but I find that many students enjoy this personal reading challenge and the opportunity to discover new books and authors by taking part. I also promote our Diocese's end- of-year reading challenge, the Executive Director's Summer Reading Challenge, an annual challenge aimed at encouraging students to keep reading over the longer summer break.
How do you promote an interest in STEM/STEAM areas in your school? Are there any challenges in doing so?
The library supports STEM/STEAM initiatives by providing spaces for activities in the library or in the Makerspace (located in STEM spaces at the back of the library). One year, in collaboration with our Enrichment Coordinator, we held a special LEGO-building event, where students created their own design based on a favourite character or book. It was a lot of fun for both the students involved and those watching, and it was inspiring to see students' 'novel' ideas emerge.
Occasionally, STEM lessons will  spill over into the main library area, as students test-fly mini drones as they develop their drone-navigation skills or fly paper planes they have created as part of a task. The library also supports STEM/STEAM initiatives through resourcing. Over recent years, the STEM collection has been updated to include books on coding, drones, new technologies, engineering, and building structures (such as bridges). 
How do you encourage students to make use of the library?
The library is open to students before school, after school, at recess and lunch time. Senior students can access the library for study periods, and we have a few different spaces that can be booked for classes. We are fortunate to have a small classroom space that is used as well for clubs and study support. The clubs and activities help to connect the library within our school community and build relationships with students and staff.
To encourage use of the library, I regularly communicate via the library's Google Classroom and in general school announcements. For events or special news, our Year 11 Library Monitors will visit classes during homeroom to make announcements. Year 7 students and new students complete a library orientation program, and wide reading lessons provide an opportunity to speak with students about new programs or remind them about what's available. 
The logo for the Sr Ann Marie Learning Centre was created by one of our Art teachers a few years ago. I use it on our reading blog page and in internal communications. I like that it creates the feeling of entering the library (just as if you were walking into the physical library) and that you can see the word 'welcome' as you look into it. This sums up the feeling for our library – all are welcome to this space (physical and online)!
What is your favourite thing about SCIS?
I appreciate the services offered by SCIS, including ensuring the integrity of the catalogue records we copy into our library management system. Quality catalogue records are vital to ensure discoverability of resources by students and staff in our OPAC. The work of SCIS cataloguers saves school libraries time and contributes to the smooth functioning of our school library. 
SCIS Connections helps to keep me professionally up to date. I find that Connections covers topics of immediate relevance or in emerging areas of interest specific to school libraries (from research into reading, literacy, information literacy, collection development, and new technologies). I enjoy and appreciate the contributions by library professionals, academics and other educators to articles and other types of content. I find that Connections both affirms the work we do in our school library, as well as providing helpful, practical ideas to consider how we can improve and evolve our library services.
What would you like to see SCIS do more of? 
Please continue to recommend relevant websites and other non-fiction resources related to curriculum areas, as well as developments in best practice. It has been helpful to recently read about DET's Information Fluency Framework, and
I would be interested in reading about how school libraries are applying this in secondary school contexts. I am interested in reading about other schools' efforts to keep students reading quality YA literature.