Country to Canberra: empowering rural girls
Hannah Wandel discusses how the Country to Canberra initiative is empowering young rural women to reach their leadership potential. Country to Canberra runs an annual, national essay competition, which gives winners the opportunity to travel to Canberra to connect with our country's leaders.
---
Five months ago, seven young women were sitting around a boardroom table inside Parliament House. They were laughing, chatting about life in rural Australia, and discussing the prestigious essay competition they had recently won. As these teenagers excitedly engulfed the room in conversation, it was easy to forget where we were: in the office of Australia's Deputy Opposition Leader, Tanya Plibersek MP. Ms Plibersek had invited us to discuss key issues with these bright young minds. In this moment, I had to pinch myself — I was so thrilled that the organisation I had created, Country to Canberra, was successfully uniting generations of influential women.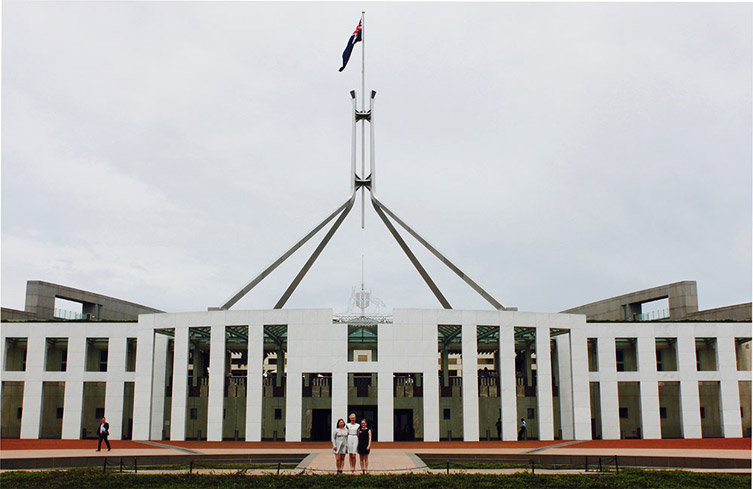 What is Country to Canberra?
Country to Canberra is a nationwide not-for-profit organisation that aims to empower young rural women to reach their leadership potential. We inspire selfconfidence, build leadership skills, and, importantly, connect young rural women to mentors and role models in order to help overcome gender and geographical barriers to success.
The reasons that Country to Canberra exists are simple, yet equally excruciating for me to explain. You see, I loved growing up on a farm in rural South Australia and admired my local community's robust spirit. However, at age 15, I moved away to boarding school, and it was there that I noticed extant career and education opportunity imbalances between the city and country. Metropolitan students had greater access to subject preferences, mentors, and work experience, while many young women were living in towns dependent on male-dominated industries. Further, my rural peers faced greater financial and emotional stresses if they wanted to attend university in a metropolitan area away from their friends, family and home.
I was also incredibly passionate about combating the gender barriers faced by rural women. Australia has a 17.3% gender pay gap (Workplace Gender Equality Agency, 2016), only 30% of our federal politicians are female (McCann & Wilson, 2014), and issues like domestic violence, unconscious bias and sexism are plaguing females every day. Passionate about these issues, and committed to ensuring that all young women across rural Australia are empowered to lead and achieve, I founded Country to Canberra.
Led by a dedicated team of volunteers, Country to Canberra delivers a number of different programs across Australia to help young women achieve their goals. Our main initiative is an essay competition and Power Trip, which has reached thousands of schools and has been featured in scores of media publications.
To qualify as rural, entrants' schools must be more than 50 kilometres away from a city with a population of over 50,000 residents.

Essay competition Power Trip
Every July, Country to Canberra launches a national essay competition for rural high school girls in Years 10 and 11, asking them to write on a particular topic linked to gender equality, empowerment, and leadership. Not only does this encourage young women to research, write, and strengthen their literacy skills, it also stimulates equality discourse in rural communities.
Excitingly, the winners of this competition receive an all-expenses paid trip to the ACT where they connect with university mentors, build skills, and gain exposure to Australia's political epicentre. To provide tangible inspiration, the winners also connect with high-profile female leaders at multiple events, in a bid to motivate more young women to take on leadership roles in their local communities. Foreign Minister Julie Bishop, the Nationals' Deputy Leader Senator Fiona Nash, Assistant Agriculture Minister Senator Anne Ruston, Senator Katy Gallagher, Senator Jacqui Lambie, federal members such as Gai Brodtmann and Cathy McGowan, as well as Tanya Plibersek, have all been involved in our Power Trips. Agriculture Minister Barnaby Joyce and Shadow Agriculture Minister Joel Fitzgibbon have also spent time inspiring and supporting our participants.
When I ask the winners about the highlights of their Power Trip, almost all of them mention our phenomenal Powerful Women's Breakfast. This is the first event held for the winners, and it is always intimate, special and engaging. Here, we bring together a mixture of politicians, not-for-profit leaders, entrepreneurs and senior public servants, such as Defence's whip-smart Deputy Secretary Rebecca Skinner, and the delightful HerCanberra Editor-In- Chief Amanda Whitely. This breakfast gives the winners a casual yet exclusive opportunity to ask the female leaders about their leadership journey, and for any pieces of advice.
The winners also get to practise their public speaking skills during an ABC Radio interview, and they receive a behind-the-scenes tour of Parliament House and the Australian War Memorial. They also score amazing one-on-one meetings with high profile women, including Julie Bishop and Tanya Plibersek, and are the guests of honour at an 'Evening with Senators' event in the parliamentary courtyards.
I will never forget saying goodbye to each of our Power Trip participants as they prepare to board their flights back to their home towns. I have seen sixteen-year-old students shed tears of joy and have received countless emails from young women who were grateful that we believed in their ability to thrive.
Fortunately, we ensure that we stay in touch with our participants to help them achieve their goals. During the Power Trip, the winners are connected to university mentors through the Raising Hope Education Foundation, and are eligible for six Skype mentorship sessions. This guarantees that their leadership skills are fostered after the Power Trip comes to a close. The top 15 winners and runners-up also have their essays published on the Country to Canberra website, which helps showcase their writing talents on a national stage. Lastly, after winning the competition, the young women form part of the Country to Canberra alumni, giving them continued access to our network of mentors and fellow trailblazers.
Since attending the Power Trips, our participants have gone on to achieve great things, like speaking at national mental health conferences, studying medicine, becoming a jillaroo, assuming school captaincy, and much, much more.
Blogger Team
Something that I am also incredibly proud of is Country to Canberra's Blogger Team initiative. Separate to the essay competition and Power Trip, this program strengthens literacy skills and provides an opportunity for young women to speak their minds in a safe and supported online community. The Blogger Team is aimed at young women between 13–18 years of age who are eager to write punchy, thought-provoking articles about their community, education, political affairs, and anything in between. The girls write a 300–600 word blog post each month, all of which are shared on our website and on social media platforms. Importantly, students' work is moderated and edited by our Blogger Team Director, who guides, mentors and supports the participants.
This program gives a voice to young women who might otherwise be isolated due to distance. It helps to shed light on the issues and concerns faced by rural teens, enhances discourse between rural and metropolitan communities, and showcases the important role that rural areas play in our nation. It also connects the teenage team members, helping them widen their professional and social networks beyond state lines.
How schools can get involved
It has been heartening to hear about teachers and librarians lending their support to Country to Canberra by spruiking the essay competition in their classrooms, libraries, and community clubs. A survey of last year's competition entrants indicated that the majority of applicants entered because their teacher had encouraged them to give it a go. If you think that young female students in your school would benefit from writing about equality, learning about empowerment, or having their essays published, then I encourage you to pass this opportunity on to them. Not only could they win the Power Trip of a lifetime, but they would also receive a significant resume booster and enhanced self-confidence to articulate their opinions and ambitions.
If it fits within your school's curriculum, you can incorporate the essay writing as a classroom activity. Although the competition is only open to girls, boys would deeply benefit from writing about equality and leadership issues, as gender equality advances society as a whole. Teachers and library staff can also distribute our competition flyer (set to be released in May 2016), and check out our website and social media for any additional information.
What is next for Country to Canberra?
Moving forward, Country to Canberra has big plans. We want to grow our fundraising base, our volunteer pool, and the number of participants in our programs. We aim to expand on our current initiatives, and also introduce new programs, such as a leadership workshop series in rural schools called Project Empower.
To help us positively influence more young women, we gratefully ask that schools get behind our initiatives. If we all band together, we believe that Country to Canberra can empower scores of young women and create long-lasting societal outcomes, such as more rural female board members and politicians, and a heightened understanding of equality discourse and related issues. Importantly, by empowering our future female leaders, we will generate a more balanced, productive, and strengthened rural Australia for the long term.
---
References