Supporting multiple literacies through robotics clubs
Chelsea Quake discusses the benefits of introducing a robotics club to your school library.
---
School libraries have long had a natural affinity with English and humanities departments. This is understandable, given school library professionals' long-standing involvement in literacy support and advocacy, and the traditional assumption that literacy belongs to these subjects. However, the recent broadening of the scholarly definition of literacy into multiple literacies (sometimes referred to as 'multiliteracies' or 'new literacies') has revealed what school library professionals have known for a long time: the whole curriculum is the school library's business. Furthermore, literacy extends beyond the classroom. It encompasses a seemingly endless range of non-academic skills and capabilities, including those commonly referred to as '21st-century skills', such as communication, problem-solving and creative thinking.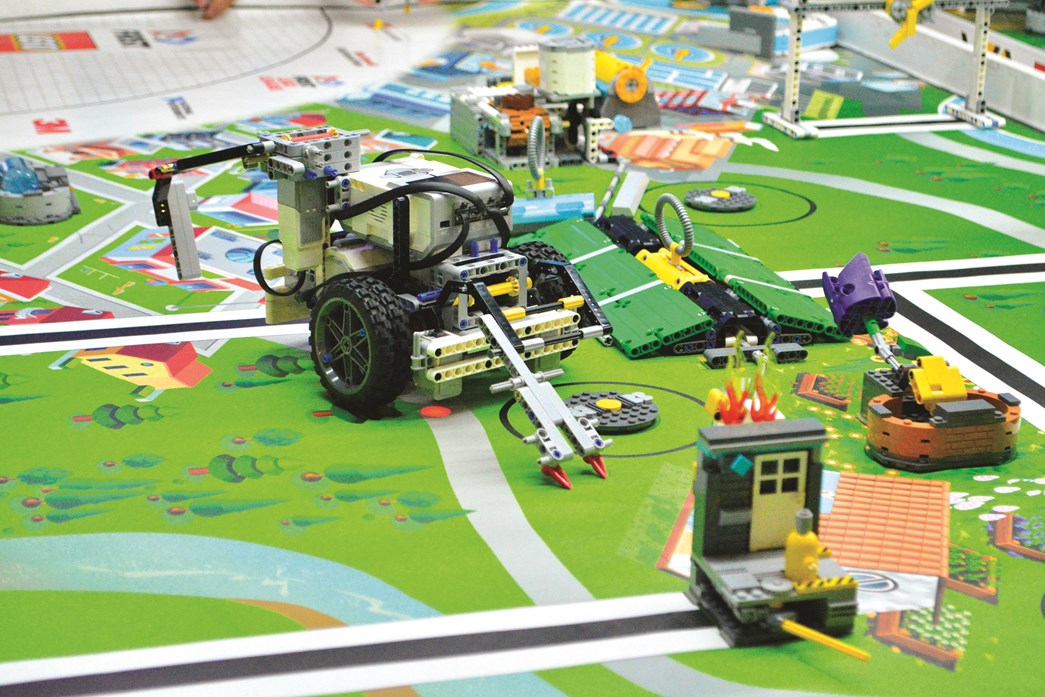 Why robotics and why the school library?
ICT, technology and multimodal resources are well suited to programs designed around a multiple literacy approach (Walsh, 2017). This is where robotics comes in. When run through a school library as an extracurricular program, robotics offers students an opportunity to explore outside the bounds of a linear learning path and a prescribed assessable outcome. The self-driven but collaborative nature of an extracurricular robotics program requires that students embrace higher order communication skills in order to cooperate and co-create with others. It also requires trouble-shooting, inventiveness, creative problemsolving, decision-making, strategic thinking, planning, and lots of self-regulation. These skills and other so-called 'non-academic skills', are becoming increasingly relevant to the future world of work (World Economic Forum, 2016).
Soft skills and the future world of work
According to the Future of Jobs report from the World Economic Forum (2016), today's students will be entering an employment landscape where demand for:
technical skills and knowledge across all key industries will
decline significantly
social skills 'such as persuasion, emotional intelligence and
teaching others, [and] strong social and collaboration skills'
will boom.
This report, along with many others, points to a widening gap between the skills students leave school with and the skills they need to participate fully in the job market. This was confirmed by the findings of a recent report by the Mitchell Institute (Torii & O'Connell, 2017) in which the warning to educators was: 'young people need to bring more than knowledge to the modern workforce' and 'the most crucial
capabilities for the future include critical thinking, creativity, curiosity and communication skills'.
But I am not tech savvy …
For the less tech savvy among us, simply wondering where to start with a library robotics club may seem daunting. However, it can be as simple or as complicated as you want it to be. With the advent of drag-and-drop block coding, and umpteen YouTube tutorials for neophytes, 'simple' can be 'very simple' if it needs to be. In truth, once students engage with robotics, their knowledge will surpass yours, and you probably won't have time to catch up. It turns out that this is okay because, by that stage, students will tend to prefer turning to each other to solve problems collaboratively. This is one of the things that makes robotics so appealing to me as a teacher librarian. Robotics has such an immense capacity to inspire inquiry-based learning, collaboration and knowledge-sharing between students.
Recent broadening of the scholarly definition of literacy into multiple literacies has revealed what school library professionals have known for a long time: the whole curriculum is the school library's business.
Partnering with STEM/STEAM teachers
If you can, convince a STEM/STEAM teacher to partner with you in your robotics adventure. At my previous school our new technology teacher, Brother Barry Parker, was eager to get involved. After a couple of weeks working with Barry in the library, it was clear to me that his expertise and experience could take the robotics program to a whole new level! Later that year, our robotics club entered the regional and then the state Robocup competition. We earnt first and second place at the former, but missed out on a place at the latter. However, we had an amazing experience visiting the University of Melbourne and chatting with students and mentors from 56 different Victorian schools. To my knowledge, our two teams were the only ones who entered through a school library. This in itself was a point of pride for the students, since the library held a special place in their lives.
Eighteen months on, and I am now working at a different school, managing a different library, and beginning the process of drawing tech programs into the library space once again. This time, I went straight to the 7–9 STEAM coordinator. Andrew Wilkinson ('Wilko') has been running extracurricular robotics clubs through the college for many years with huge success and much involvement with international competitions. He and I have plans for a new junior library robotics club, using very basic robots and block coding.
The hope is that Year 7 students, in particular, will get involved with what the library offers and will eventually 'graduate' from the library program into Wilko's more advanced robotics clubs. Clearly, this is a mutually beneficial arrangement for Wilko and me. He gets an additional support structure for his program and I gain the benefit of his support and expertise.
Robotics builds community
I recently spoke with Wilko about something I have noticed for some time now: the tremendous capacity of robotics clubs to build community within a school. He commented:
It brings a variety of kids together to do a variety of different jobs. Robotics projects need many hands, many different skills and many different interests. Sometimes you end up with kids you never would have guessed would be interested, but they are, and it works.
Wilko also spoke about the friendships that emerged from parental involvement:
So many parents want to help with this kind of thing. It's good for the students, it's good for the school, and it's also good for the parents ... It's a real community that gets built through robotics, and real friendships emerge. So much voluntary effort is put in — time, money, parents' expertise — and it's all for the kids' learning. It's just amazing.
Final practical considerations
You will need to budget for a robotics club. However, it does not need to cost a fortune. If funds are limited, check out simple robots such as the Edison. These little robots have a lot of functionality despite their simple appearance. If money is not an issue and you are willing to spend a little time learning the software, take a look at the Lego EV3 robots. There are many more options out there. However, I do recommend making sure that you are actually buying a robot and not a toy. Look for sensors, flexibility to adjust and build on the body (attachments and extensions), and the ability to program the robot to perform tasks.
Image Credits
Photo by Phi Hùng Nguyễn on Unsplash
References
Torii, K & O'Connell, M 2017, Preparing Young People for the Future of Work: Mitchell Institute Policy Paper, No. 01, Mitchell Institute, Melbourne, www.mitchellinstitute.org.au/reports/preparingyoung-people-for-the-future-of-work
Walsh, M 2017, 'Multiliteracies, Multimodality, New Literacies and … What Do These Mean for Literacy Education? in Inclusive Principles and Practices in Literacy Education, Emerald Publishing, 19–33
World Economic Forum 2016, The Future of Jobs: Employment, Skills and Workforce Strategy for the Fourth Industrial Revolution,
World Economic Forum, Geneva, www.weforum.org/reports/thefuture-of-jobs