School library spotlight: Academy of Mary Immaculate
SCIS speaks to Anne Chowne, Learning Leader at McAuley Resource Centre, Academy of Mary Immaculate in Fitzroy, about what is happening in her school library.
---
What is your job title, and what does your role entail?
I am a qualified teacher librarian with over 30 years' experience, employed at a years 7–12 Catholic girls' secondary school in inner-city Melbourne. My role is to implement the library's strategic plan, update policy and procedures, oversee the day-to-day management of the library, promote reading, collaborate with teachers to source resources for their curriculum, and provide a warm and friendly space. 
On any day, I could be helping students find relevant resources, listening to their oral presentations, helping them with their bibliographies, finding them a book to read, running a book club, or in a class helping with research.
What is the most rewarding aspect of working in the school library, and why?
It is hard to pinpoint one thing. It is about making connections with students over a book, finding information, helping them with their work, or just having a chat. It is a challenging job because you are always looking for new ideas to promote books, getting information out to the students, learning about new tools and resources, and seeking out new ways to teach.
What do you see as the most important part of the library's role in the school community?
The library is central to the school community. It is not only a place for research, study or reading, but a gathering space. We host many events and activities for some of our school groups, such as Justice, LOTE and Maths Help, as well as various clubs, such as Book Club, Chess Club and Knitting Club.
During school hours, the library is open to all students, and lunch-time and recess see many students gather to chat and play games.
Are there any current issues or challenges facing your library? How are you working to overcome these?
Students need to know how to search for information effectively, ensuring it is relevant and understandable.
Teachers often rely on Google, but I'm not sure it helps the students find authentic, reliable sites, nor do they learn how to achieve better results by, for example, using keyword searches or shortcuts.
Over the past four years, I have worked in partnership with the Education Team at the State Library of Victoria (SLV) to run research workshops for our years 7, 9 and VCE students. SLV has so many resources, databases, images and newspapers that the students can access for free.
How do you promote literacy and reading in your school? Are there any challenges in doing so?
When I took up the position in 2016, a library review had just taken place. One of the key areas of concern was the drop in reading and borrowing by students, and 'Wide Reading' classes for years 7 and 8 students had disappeared. We have since worked hard to build the fiction collection, weeding out old stuff, and putting some of it into genres.
After lots of effort and building relationships with the English teachers, Wide Reading has been reinstated. It is so important to give students the time to develop the skill of reading for pleasure.
The highlight of all this effort is the RAGE Book Club, which has grown to nearly 40 members. The students are all very keen to talk about the books they are reading, and lots of feisty discussion takes place. We take the club members to the SLV and the Melbourne Writers Festival, and we end each term with a book lunch.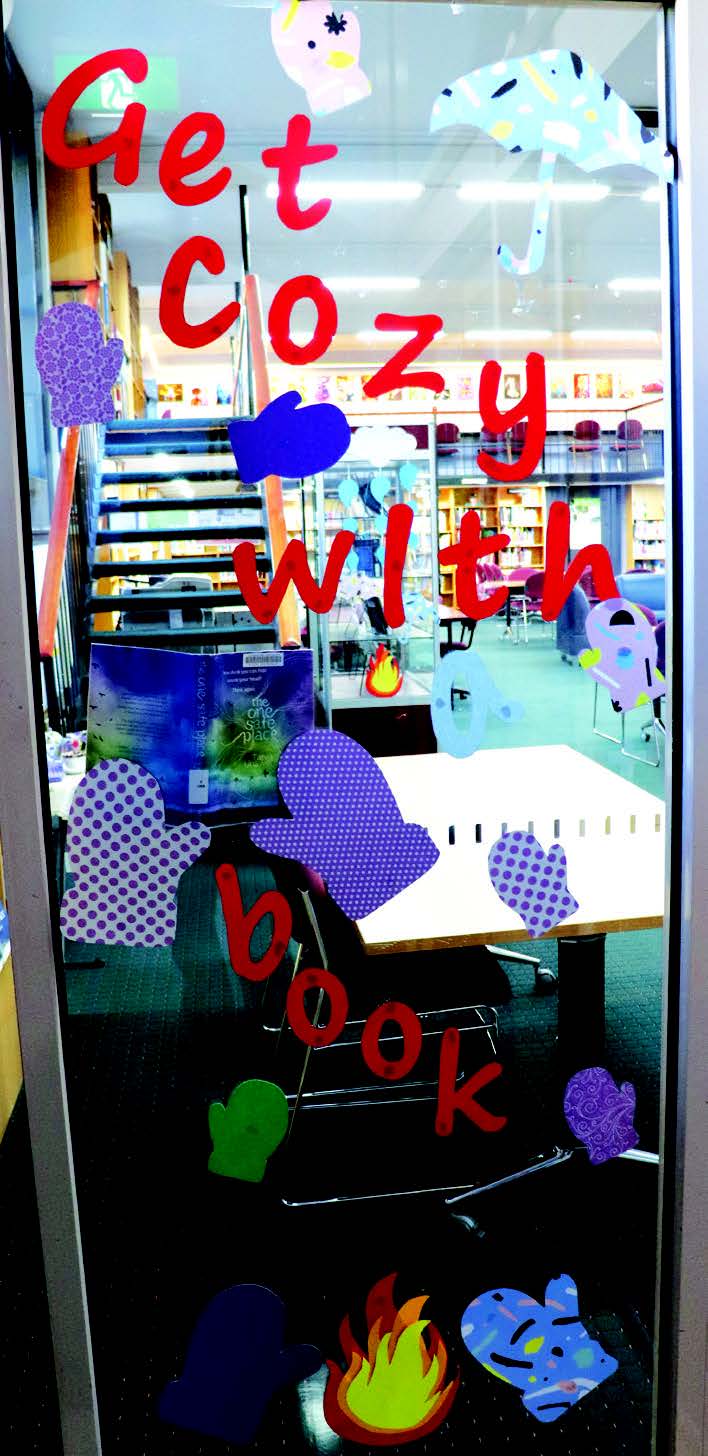 Our library is buzzing with students at recess and lunchtime.
How do you encourage students to make use of the library?
Our library is buzzing with students at recess and lunchtime. Board games and cards are a real hit. As well as hosting various clubs, we provide lunch-time activities such as jigsaws, book-making, art and craft, author talks, and competitions. If students want a quiet space to read, they venture into the fiction library across the hall.
What is your favourite thing about SCIS?
The best thing about SCIS is not having to do original cataloguing or use microfiche to find the records (now I'm showing my age!), and we can download records instantly. It saves time and helps to build consistent library catalogues. The SCIS cataloguers are so efficient at cataloguing any new resources we send in. I also look forward to reading Connections; I always find something I can use or reflect on.
What would you like to see SCIS do more of?
We have ClickView, and I would like to see SCIS have input into the subject headings/ ScOT terms they use. Please keep producing Connections and tapping into the wonderful
things that are happening out there in school libraries.
Image credits
Images supplied by Anne Chowne