Supporting Australian book creators
Jeannie Baker, award-winning author and illustrator of children's picture books, on the essential role libraries played in developing her love for books and directing her to a path of book creation.
---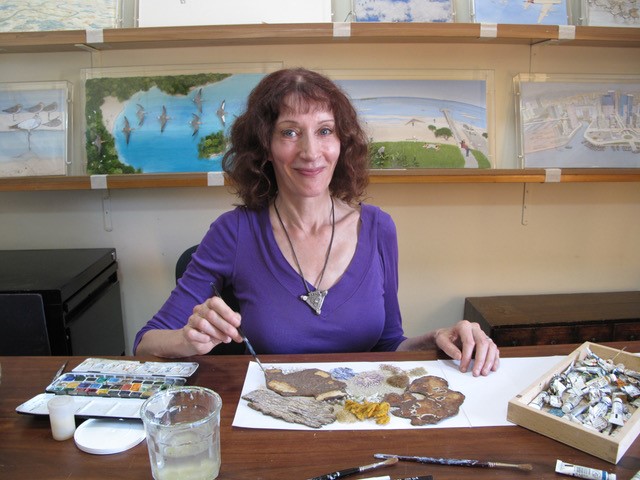 Australian book creators, including Jeannie Baker, lose income through the free multiple use of their work in Australian public and educational lending libraries. That is why the two Australian Lending Right Schemes (ELR and PLR) are so important to all of them.
The Educational Lending Right (ELR) scheme oversees the lending rights for school, TAFE and university libraries.
I was lucky enough to correspond with Jeannie Baker recently to find out what ELR means for her and her book creation process.
Assistance from the lending right schemes gives Australian authors a greater chance to focus on creating their works, which are enjoyed by children and adults alike. I remember being in primary school and having Jeannie Baker's Where the Forest Meets the Sea read to me by the school librarian. At the time, I was struck by the pictures in the book. I remember the librarian explaining how the collages would have been made, thinking about the great dedication and passion it would take to be able to create a whole book's worth of such beautiful and intricate images.
In Jeannie's correspondence with me, she described her creative process, writing about how painstakingly slow it is because there is no fast way of achieving the results she strives for. For her, 'the process is rather like a puzzle: trying to work out how the different bits of the puzzle best fit together – with some pieces being very hard to find'.
It takes Jeannie about four years of consistent work to create a picture book. In her words:

I strive to find worthwhile projects that will communicate to various age groups through different layers of meaning, so that a young child may look at the book and find a simple pleasure in it, and then some years later pick it up again and find layers of meaning that they had not previously understood.
Jeannie's source of inspiration comes in many forms. It can be as simple as the idea of telling a story in the captured view of a window, or as complex as immersion in a different culture and interaction with the locals of a different country.
Libraries played a significant role in developing Jeannie's love for books and directing her to a path of book creation.
As a young child, Jeannie well remembers 'the sense of comfort and excitement of listening to her mother's voice reading a story from a library book before falling asleep'. Her father worked hard to make ends meet. They did not have the money to spare on buying books, so both public and school libraries were important to her development. In Jeannie's words:

Books sparked my imagination, stimulated my curiosity and helped me make sense of the world. Books widened my horizons, enabling me to experience other 'worlds' and possibilities I would otherwise have had no understanding of.
Books and stories are wonderful mediums that feed the imagination. The books we read can inspire us to create our own stories. It was like this for Jeannie, for me, and I am sure for many others. So, having access to books is a very important part of a child's development – and libraries, especially school libraries, play an essential role in providing that access.

From being a reader inspired, comforted and entertained by books from her school library to someone who creates her own books now found in school libraries, in Jeannie we see the full circle made possible by the nurturing environment of school libraries.
When Jeannie sees her own titles on library bookshelves, she feels heart-warmed and comforted to see that others value her work, for it is not an easy road to go from reading books to creating books. Like Jeannie, many creators spend a significant amount of time on each creation. So how can school libraries such as yours further support our Australian book creators? Well, each year a sample selection of schools in Australia are invited to participate in the ELR school library survey. It is very simple to complete. All you have to do is click a few buttons.

So please keep an eye out for the invitation in your school's email inbox or post and follow its easy instructions. With your participation, we will be able to collect
the data we need to produce reports for the Department of Communications and the Arts, which can then calculate the payments for ELR 2019–20.
Let's work together and support ELR to make a difference and help our book creators, including Jeannie Baker, to continue doing what they do best.
Image credits
Images supplied by Jeannie Baker
ELR — Encouraging the growth and development of Australian writing and publishing.