Collaborative learning with Scootle Community
Leigh Murphy provides an overview of Scootle Community and how it can help educators connect and reflect on their teaching and learning.
---
Building connections with colleagues has become a catch cry internationally. Education Services Australia has introduced Scootle Community to provide educators across the nation with the ability to collaborate with peers, across faculties and year levels, suburbs, states, and sectors.

Funded by the Australian Government and developed in collaboration with the Australian teaching profession, Scootle Community is a private space for teachers to give and receive advice and information online.

The platform's search functionality enables educators to locate curriculum resources and discussions about the year level, learning area, or topics that inspire and interest them.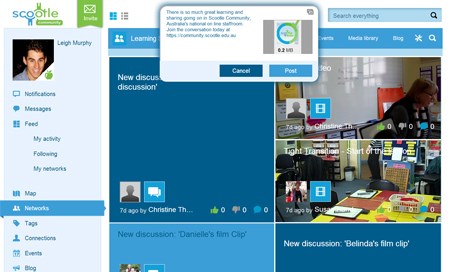 School leaders have been quick to embrace the potential of Scootle Community to support professional learning. Whether it is lesson plans, resources and research relevant to the Australian Curriculum, or just a helpful peer perspective on a classroom challenge, Scootle Community can put a world of ideas and information at educators' fingertips.
'Scootle Community means your learning advisers are no longer the people sitting next to you,' says Lauren Sayer, Head of Teaching and Learning at the Royal Children's Hospital Education Institute. 'I equate it to a big staffroom. I've always found the larger the staffroom the better the talks. Beginning teachers would walk up and ask you how you teach something and kick off a conversation that gets everyone involved. With Scootle Community, all teachers can be in the same staffroom. We can all join that conversation, ask questions and help each other. We can talk about what really works but also what doesn't work and why. That's an incredible support for teachers.'

Sayer is one of over 14,000 educators from across Australia who has been contributing to Scootle Community site its inception in May last year. Teachers can join networks or create their own. Scootle Community can also be a collaborative platform for school teams. Scootle Community is simple, intuitive to use, and is even available as a mobile app. Thousands of teachers from schools across Australia have already registered. Join the conversation in Australia's biggest staffroom.