The Question of Artificial Intelligence (AI)
With debate raging about the impacts of generative AI on learning, Catherine Barnes suggests some ways that it might impact teaching practices.
---
With all the talk of artificial intelligence (AI), specifically ChatGPT and its implications for education, many of us have started consider our own roles in the school. As school library professionals, we are often at the forefront of many of the technological, ethical and moral issues that arise. However, while many in education are worried about the future, the currency and publicity of the topic should prompt us to consider our past and current practices.
Some of us would remember a time when school library staff searched databases and the internet for students through the use of complex Boolean queries we developed, and then retrieved the resources for students. Others would remember a time when we used dot commands to query databases in a command line format, with a cost associated with each query.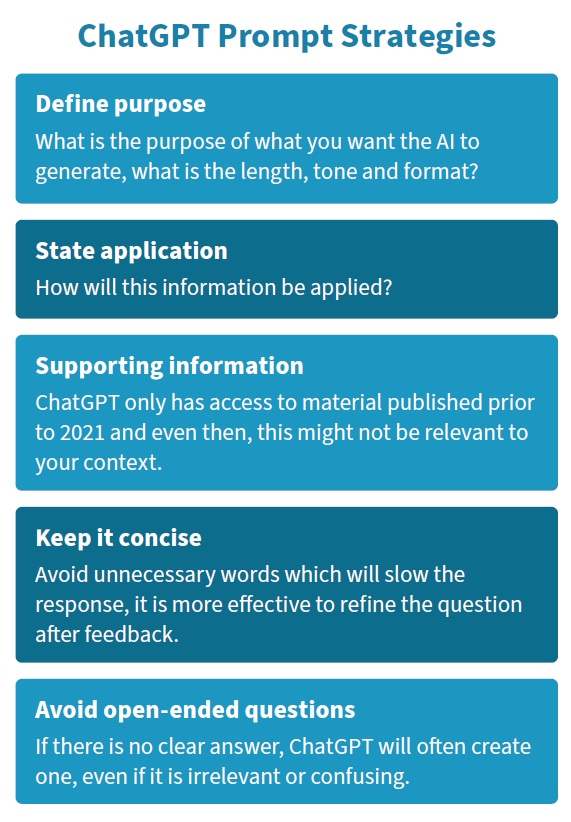 Happily, we moved on from this to teaching our students to create search queries and search for themselves. We then worked with students to refine their search skills to improve not only the recall, but the precision of their results. Now, we have moved onto the next step, that is, students creating search queries and refining their own queries through artificial intelligence.
Artificial intelligence may be able to write an essay at the touch of a button, but it cannot determine if the essay is relevant, biased, creative or even 'good enough'.
However, school library staff still have an important role in all this. The use of natural language processing (NLP) models, such as ChatGPT, involves an understanding of how to use prompts to refine and further build one's query. Just as we once taught lessons on 'how to Google', we need to work with students to develop their questioning skills, not just their search skills.
As a teacher of secondary students, I have spent recent weeks engaging with students to develop research questions, and sub-questions, for a major assessment task. This is the bread and butter of the teacher librarian, enabling students to develop powerful questions which are personally relevant, manageable, interesting and ethical. Working with students to build topic knowledge to phrase the question, refine purpose, and define audience. These are the same skills required to effectively use conversational AI tools, such as ChatGPT.
While much of the discussion of ChatGPT has related to plagiarism, due to the technical ability of the AI tools to write an essay, unless students ask the 'right' questions and provide prompts which accurately articulate the assessment criteria, it is likely a ChatGPT-generated paper will miss the context.
When we consider the scope from which we teach question design, there are two vectors: knowledge and skills. Students need to develop topic knowledge, through teaching or preresearch, to use the right vocabulary in the questions. They then need to use skills to develop questions and refine them for purpose. This is our role, as school library staff, working with the students to develop information-seeking skills, rather than information-production skills. Now that it's possible for a machine to produce a document of information, we need to focus on the unique attributes of our learners as curious and critical information seekers.
Artificial intelligence may be able to write an essay at the touch of a button, but it cannot determine if the essay is relevant, biased, creative or even 'good enough'. The ability to determine this is far more powerful than the act of writing, and our assessment tasks need to reflect this.