Engaging students with emerging technologies
Chelsea Wright, Library and Learning Resources Leader at Salesian College Rupertswood VIC, discusses how a library-run Tech and Gaming Club can benefit students and schools, as well as achieve top-level library objectives. She also outlines a number of suggested activities.
---
'Why would a school library run a Tech and Gaming Club?'
The obvious quick response is 'why not?' However, in reality a more comprehensive answer is required, because the question needs to be considered in terms of place (the library institution) and profession (librarianship). There are some people who just don't think the school library is the place for tech clubs or maker spaces. As strange as it is to still be having this conversation, we have not yet convinced every raised eyebrow to relax when it comes to the evolving identity of school libraries. If the school library is not seen as a natural place for new technologies to appear, and if technology-oriented initiatives such as a Tech and Gaming Club are assumed to fall outside the librarian's zone of professional competency, then an urgent update on the evolution of school libraries is required. The usual rhetoric, 'we are about more than books and study rooms', will not suffice in this instance.

I believe that Tech and Gaming Clubs align perfectly with the ethos of the school library institution. They achieve a number of top-level objectives, such as:
enhancing access and equity
inspiring personal growth
opening new thought horizons
supporting and complimenting the curriculum
representing the school's values
conjuring wonder and creativity through investigative learning
providing collaborative activities that serve as anchors for the development and reinforcement of positive human relationships.

It is my hope that this article will not only offer some useful examples of Tech and Gaming Club activities, but will also provide professional ammunition for those among us who are being confronted with the above question. If I fail to achieve this, or if you are just not the arguing type, then 'why not?' is a still a valid response.
Starting a Tech and Gaming Club
One and a half years after its inception, my Tech and Gaming Club consists of a loyal group of eight to fifteen enthusiastic students, ranging from year 7 to year 10. I run the club like a drop-in session; there is no obligation to attend each week, since commitment can be a barrier for some students, and I don't want anyone excluded on this basis. The bulk of the group are male and in year 8 or 9. Several members are identified as being on the autism spectrum, and it is incredibly rewarding to see these students engage with their peers as they work side-by-side on tasks.

I focus on beginner to intermediate level activities, as this is what suits our club at the moment; but things might change down the track. Advanced activities would require more structure, and for me to take part in some professional learning. I keep our activities short, so they are usually achievable in a single lunchtime. Activities requiring more time can be broken into sections and run across more than one week.. If a student engages with an activity, and wishes to keep working on it for the entire term, they are welcome to. We do not all have to do the same thing each session. Students tend to dip in and out of each other's projects and check up on each other's progress. This results in a lot of 'cross-pollination' learning. I always have name tag stickers ready to attach to works in progress. The students are understandably very protective of their creations.o achieve this, or if you are just not the arguing type, then 'why not?' is a still a valid response.
Suggested activities for a Tech and Gaming Club
Gaming
A lot of new and emerging technology is being built around the concept of playful interaction. It would be difficult to run a technology oriented club and avoid gaming altogether. Learning about virtual reality or augmented reality (AR), is learning that the game development industry is a huge contender in this area. Additionally, playing and talking about video games gives students a chance to swap skills, recommend upgrades or alternatives, and share both their frustrations and elations. Ratings are adhered to, and graphic violence or sexism is not allowed.
Activity: Makey Makey game controllers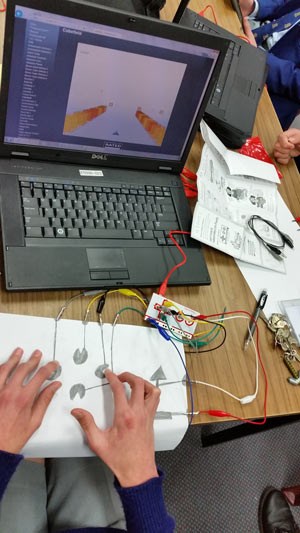 Description:
This single-lunchtime activity is based on the use of Makey Makey kits, which are tiny electronics invention kits used to turn inanimate objects into touch pads or substitute keyboard keys. This is a beginners level activity, suitable for both primary and high school aged students. This, and other great activities for Makey Makey kits can be found on the Makey Makey website, and elsewhere online, such as www.instructables.com.

Required Materials:
Makey Makey Kits (I recommend no more than 1 - 2 students per kit)
laptops or desktop computers
blank paper
lead pencils
a simple computer game–Pacman is perfect.
Instructions:
Use the lead pencil to draw a set of game controllers on a piece of blank paper.
Attach the Makey Makey Kit to a laptop or desktop computer via a USB cable (included in the kit).
Use alligator clips (also included in kit) to link each controller with the designated spot on the Makey Makey.
Open a simple game in your computer browser, and use the paper controllers to play.
Virtual Reality (VR)
Activity: Cardboard virtual reality headsets
Required Materials:
Cardboard VR kits (about $20 each). I bought kits from Unofficial Cardboard which included everything we needed. Straps were an optional extra.
Smart phone/s (iOS or Android) capable of running virtual reality apps-most phones do.
Apps. Search with the keyword 'AR' in the iStore or Playstore. Rollercoaster apps are particularly impressive. Some of the apps featuring zombies, ghosts, etc. are not suitable for primary students.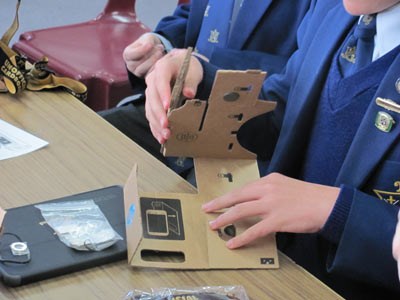 Instructions:
Ask students to assemble the headsets (it took my group about 10 minutes) then use the rest of the available time to play with them.
Electronic sound synthesisers
Activity: Electronic sound art, using Drawdio
Description:
Drawdio is a simple electronic sound synthesiser (a machine which generates sound). Drawing or touching items with a Drawdio will produce sound. Drawdio is extremely accessible for primary and high school students.

If you are looking for something more challenging, try building a Drawdio-like gadget from scratch, by purchasing the individual generic electronics pieces. A tutorial for this is offered by MAKE Magazine.

Required Materials:
Instructions:
Students use the Drawdio to draw onto blank paper. The tone emitted by the Drawdio adjusts according to the resistance between two points (for example, between two blobs drawn on a line).
Augmented reality (AR)
Augmented reality involves a virtual layer that is overlaid on top of the real world. This is opposed to virtual reality, where the experience is entirely 'virtual'.
Activity: AR display, hosted by the Tech and Gaming Club
Our Tech and Gaming Club recently hosted an AR display in the library. It ran for a week and was open to all students at lunchtime. Science teachers were encouraged to bring their classes to the library for a look. This very popular event raised the profile of the Tech and Gaming Club, and assisted students to recognise that the school library is indeed a natural place for new and emerging technology to be explored.
Required Materials:
ipads or android devices (tablets and/or phones)
Tables for display
Print-outs of the target images (when a device is pointed at the target image, the animation layer activates)
Apps: we selected the following free ones:
Guinness Book of World Records (2013, 2014, 2015)
Particular pages become target images which activate animations when viewed through a device.
Anatomy 4D - by DAQRI
Add and remove layers and systems of the human body or heart. This is a wonderful app. We have laminated a class set of the target images, and our IT team have pushed the app to all year 10 science students' ipads.
Elements - by DAQRI
See what each chemical element looks like (appears as though it is in a glass cube). Watch as they combine to make a compound. Downloadable lesson plans are available.
Blueprint - by DAQRI
Customise the architecture and design of a California dream home.
Enchantium Fisticuffs boxing game and Enchantium Musical Strings - by DAQRI
Target images are downloadable from within the app itself.
Crayola Colour Alive - by DAQRI
Colour in the image and watch it come to life! Find the target images via Google Images.
Animal4D+ - by Octagon Studio
View and feed the animals.
Instructions:
Download the app and lay the target image on the table.
Point the device at the target image, ensuring you are using the correct app for that image.
Watch and interact with the image as it comes to life.
Some final comments
A well-run Tech and Gaming Club requires at least 2-3 hours per week for planning and testing activities, purchasing materials, setting up and packing away, and professional development (blogs, tweets, forums, online video and magazines). In particular it is important to be up-to-date with the technologies and games that students are currently interested in, as this demonstrates that you care about their interests.

Please don't let the time commitment dissuade you from starting a Tech and Gaming Club. No other activity or service I have offered has raised the profile of the school library more than this club. A Tech and Gaming Club is an amazing ongoing journey. You will get back what you put in, ten-fold, through the responses you receive from students.
Two closing points:
You do not have to be a computer programmer or know a lot about technology to start up a Tech and Gaming Club. The students, the blogosphere, and the instructions in the box will bring you quickly up to scratch.
Have fun!
---
Image credits
All images photography by Chelsea Wright. CC BY.